Accounts Receivable Aging: Definition, Importance, & Aging AR Report Guide
What Is AR Aging?
AR aging is an accounts receivable and collections performance metric that lists unpaid customer invoices and unused credit memos by date ranges (referred to in an AR aging report as the aging schedule). It's a powerful metric that shows how efficiently a company collects cash and can point to potential issues with customers' financial health.
These reports organize customer invoices by your aging schedule —  incremental 30-day date "buckets" that represent periods of time since the invoice's due date. The buckets allow you to recognize upcoming cash inflow from customers and identify customers with late payments, who may pose credit risks over time.
There are few things more important for finance leaders than maintaining a clear understanding of past, present, and future cash flow. But it's not enough to just track bank balances and runway — you need a detailed cash flow analysis that helps you dive deeper into the metrics and gain valuable insight into your company's profitability and operational efficiency.
One of the most valuable tools in that cash flow analysis is the AR aging report. Effective AR aging reports help you understand the financial security of your business and whether or not you have cash flow issues that could impact your growth rate and goals.
Here's how you can get the most out of your AR aging report to improve your cash flow with more strategic decisions.
AR Aging Reports: How They Work and Why Companies Need Them
An AR aging report works by organizing outstanding customer invoices into the different buckets of your aging schedule. Most commonly, this breaks out into four buckets:
1 to 30 days. Invoices due within 30 days
31 to 60 days. Past due invoices in the 31-60 day range
61 to 90 days. Past due invoices in the 61-90 day range
90+ days. Invoices that have been past due for over 90 days
But your AR aging report doesn't just organize customer invoice dates — it helps you improve your collections processes and drives more visibility into your cash inflows. Here's why companies need to make the most out of this simple, but exciting metric.
Identify Late Payments
Late payments impede on a healthy cash flow. If outstanding balances and invoices continue to move from bucket to bucket, you may be offering your product or services essentially for free. You can sever ties with these struggling customers or come to a solution with payment plans or potential discounts or service downgrades. You can also look at your collections process to identify where you can improve your follow-up communication.
Avoid Bad Debts
Once an unpaid invoice goes beyond your aging schedule, you may assume it's lost cash. That's a bad debt, yet you must record it for your financial statements as an expense. These uncollectible debts pile up, and while you can write them off, you should have late payment fee policies in place make up for debt. You should also consider offering early payment discounts and using payment reminders to discourage customers from accumulating debt. Make sure to factor bad debts into your worst-case scenario for operational budgets to help extend your runway in case of a market downturn.
Track Your Company's Financial Health
Your AR aging report allows you to stay on top of your billings and collections processes to ensure optimal operational efficiency. If cash inflow takes a dip, investigate these processes to see where you can improve: Is it sending out earlier follow-up invoice reminders? Or do you need to discuss finances deeper with the customer? When you manage accounts receivable processes and policies efficiently, you pave the way for more accurate cash flow forecasting and greater trust between you and your investors.
How to Prepare an Accounts Receivable Aging Report (+ Important Features You Need to Include)
AR aging reports have various columns and presentations, but the baseline of the report always answers who, how much, and payment timelines.
The essential information you need to create an AR aging report is:
Customer name. You want to see the overall amount customers owe your business along with the total amount of money you've received from them over the course of the relationship.
Invoice number and amount. Tracking open customer invoices by number ensures proper filing.
Timing of outstanding payments. Depending on your SaaS pricing strategy, customer payments may vary around contract terms and start dates. Keep a "Notes/Terms" column for any memos regarding payment stipulations (like discount plans and durations). A column listing the invoice's due date also helps ensure that each invoice falls into the correct bucket along with the aging schedule.
Aging schedule/30-day buckets. While the standard aging schedule is the breakdown of 30-day buckets listed above, you can adjust the buckets to represent whatever number of days is appropriate for your business.
AR Aging Report Example
A quick search for an AR aging report example leads you to plenty of blank templates that may look something like this: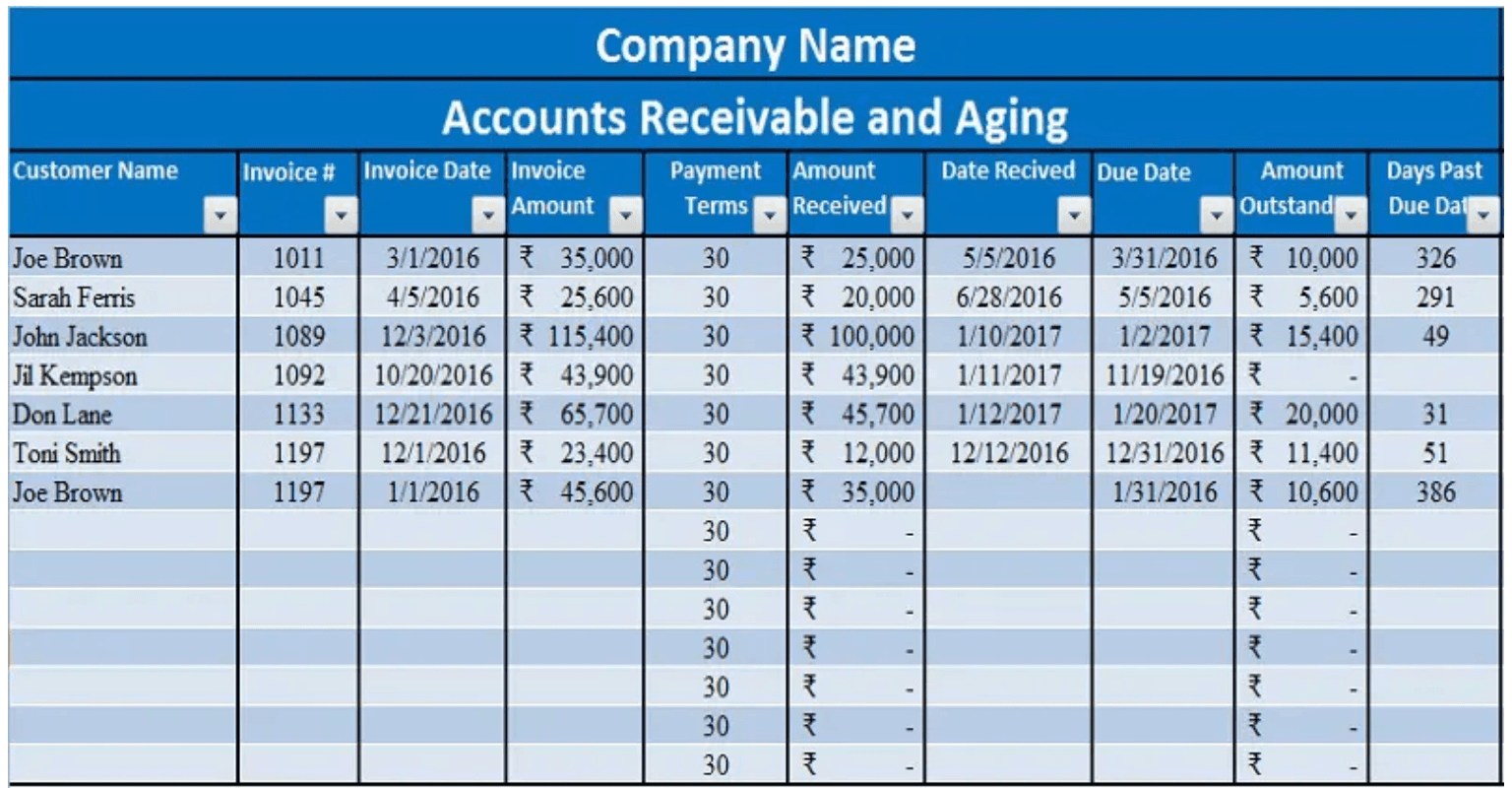 Example AR aging report in a spreadsheet
The issue with any Excel or Google Sheets-based template is that you still have to input the necessary data from your ERP manually. This can take hours to manually input, reconcile, then continually cross-reference for any errors or updates.
Your AR aging report provides valuable information that informs your cash flow and operational efficiency. But that information will grow stale if it bogs your team down in data entry work instead of the more strategic tasks that push your company's financial health forward.
AR Aging Best Practices
Both AP aging and AR aging reports are only valuable if you can fully trust the accuracy and relevance of their data. If you can only get insight into collections issues after a lengthy month-end close process, you may miss out on opportunities to proactively address cash flow concerns.
Implementing a financial close software can greatly expedite this process, providing timely, accurate insights, and thereby enabling you to address potential cash flow issues more efficiently.
Here's how you can prepare and run your AR aging report so that you can focus on the next-level insights that keep the company on top of its cash inflow.
Embrace Automation
Your collections process is a prime candidate for finance automation: It's a repetitive process that requires structure. And your cash rules everything, from individual department budgets to overall headcount planning.
Automating your data collection and aggregation from your core source systems reduces the potential for human error while saving your team time. You can also automate your bookkeeping process to send invoice notices and reminders to customers, which promotes timelier follow-up conversations with customers and enhances overall transparency into your collections process.
Get a Deeper Understanding of Doubtful Accounts
Your invoice status count serves as a baseline for paid invoices in a given time period and your AR aging report helps you estimate uncollectible debts. But running customer cohort analysis provides further visibility into particular industries that may contribute to your allowance for doubtful accounts.
If customers fall into the late stages of your aging schedule or payment terms, you can identify them as a doubtful or delinquent account. This information gives you two opportunities to partner with other departments. You can collaborate with customer success to closely monitor these accounts for potential downgrades or churn. And you can work with sales to identify potential accounts in your pipeline that may fall into the profile of common doubtful accounts, or reconsider any discounts for those accounts to maintain a reasonable CAC payback period.
Drive Accountability for Debt Resolution
Your AR aging report provides an opportunity to build strong customer relationships by embracing transparency and accountability between your business and customers. If customers want your product and the benefits that come with it, they need to pay. But how your team and company approach conversations around late invoices and debt with customers makes a lasting impression as a valuable vendor and business partner.
A collection agency may be a last resort for customer accounts that go beyond your aging schedule. But with your AR aging report, you can track and let customers know about incurring any late penalties before they happen. Collaborate with the customer success team to gain insight into what customers may be experiencing, and find a solution that keeps everyone accountable and customer satisfaction high.
Generate an AR Aging Report in Minutes with Mosaic
As a basic accounting report, your AR aging shouldn't take hours of manual effort to build out. You get the most out of your AR aging metrics and report when you're able to build the report with real-time actuals, which propels your accounting function into a more strategic position.
Spreadsheets are not the ideal platform to build your AR aging report, as they leave plenty of room for manual error. Mosaic comes pre-loaded with AR aging as part of the Metrics Catalog along with 120+ other metrics for analyzing your business. The basic view provides high-level insight into the basic building blocks of an AR aging report.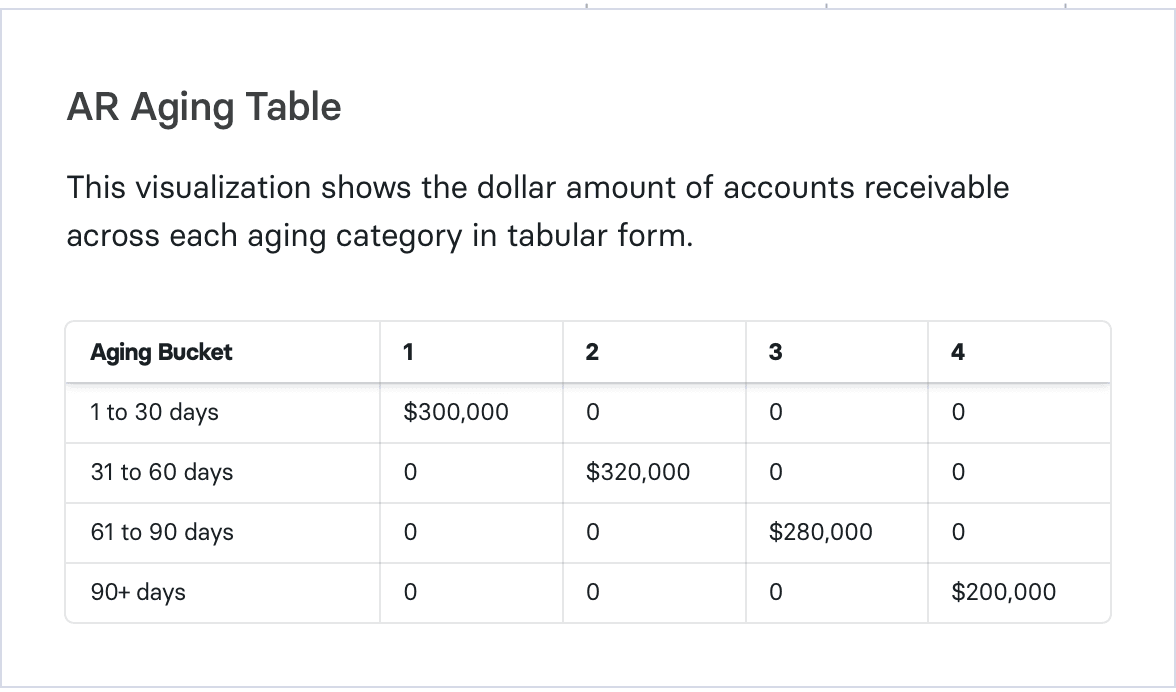 Basic AR aging report table in Mosaic
But with a few clicks, you can get a more granular view of your AR aging buckets. Drill down into the specific accounts from each bucket to quickly see who you should follow up with and who might become a doubtful account.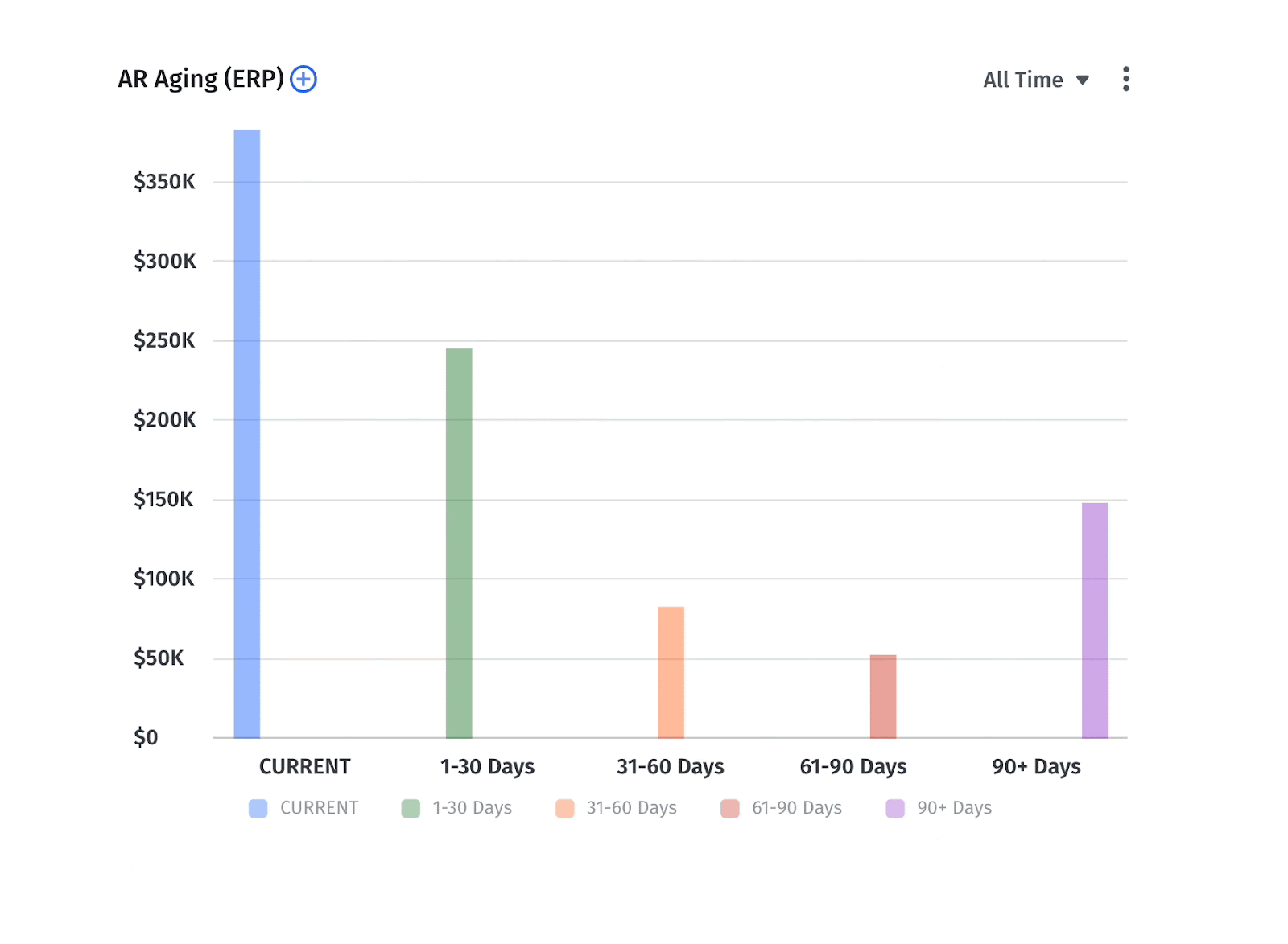 Example AR aging report chart with drill-down
By integrating with your key source systems, Mosaic provides real-time insight into the data that matters most to your company.
If you want to learn how Mosaic can help you dive deeper into your cash flow and focus more on uncovering strategic, forward-looking insights for your executives and business partners, request a personalized demo of the platform.
AR Aging FAQs
What is an accounts receivable aging report?
An accounts receivable aging report, or AR aging report, organizes unused credit memos and outstanding invoices by the length of time they have been past due. AR aging reports help businesses understand whether their collections functions are working efficiently.
Why is AR aging important?
What is a good AR aging percentage?
What is the difference between AP aging and AR aging?