AP Aging
What Is AP Aging?
AP aging is a metric that digs deeper into the status of accounts payable and how any debt from overdue payables to vendors may impact future quarters.
Calculating this metric is simple: You take any outstanding vendor invoices and add them together. Your accounts payable fall under the "expense" category of your general ledger. Once you accumulate all accounts payable, check them against your balance sheet to ensure the information is up to date as you run your AP aging report.
An AP aging summary report generally organizes the total amount into "buckets," which represent 30-day increments of time since the individual bill's due date. These buckets allow business owners to recognize current and upcoming payments to ensure as timely payment and resolution of any debt as possible. The buckets also allow you to track any potential debt that may accumulate due to any payment terms and past-due stipulations within your vendors' contracts.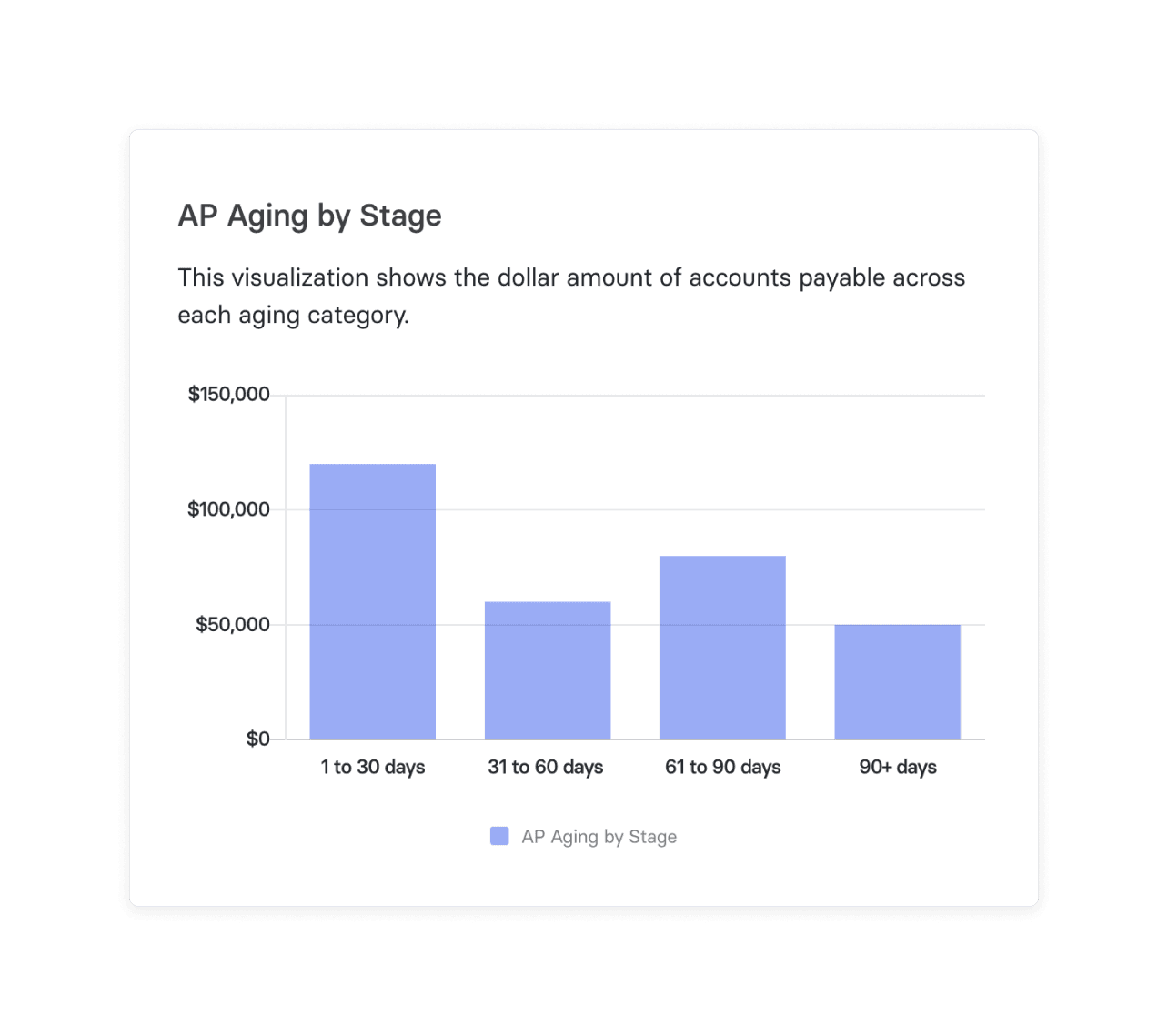 Knowing the timing of your cash flow is critical to protecting your bottom line. Tracking your cash inflows and outflows allows you to create benchmarks for your business, especially when it comes to debt, investments, and operating activities.
When you conduct a cash flow analysis, you focus on where cash comes in and where it goes out. While inflow focuses on the potential for profitability, your outflow focuses on operative efficiency — which includes your accounts payable (AP) and accounts receivable (AR).
You want to dive as deeply as possible into both metrics to flag and understand any cash flow problems, but knowing your accounts payable (a cash outflow) provides a higher sense of security for your company's runway and future growth.
Here's how your AP aging report positions your company to make better, more strategic decisions to improve cash flow and growth.
AP Aging Report Elements and Example
While AP aging reports may have various columns and presentations, they have a baseline of essential elements. You want to be sure to provide insight into the who, how much, and timeline of payments.
The essential information you'll see in an AP aging report includes:
Vendor name. At the highest level, you want to be able to see the overall amount you owe each specific vendor.
Invoice amount and number. The amount populates per vendor, but for more granularity and security, track each invoice's number to ensure proper filing.
Timing of outstanding debts. This information breaks out into two columns. You want a "Notes/Terms" column to include any memos regarding payment stipulations (like a NET 10 or 15) and a column that indicates the invoice's due date. These columns help you track the amount of time debts are outstanding.
Buckets with a 30-day date range. Vendor invoices fall into "buckets" that indicate if payments are past due and how long they've been overdue. The first column (and bucket) could serve as a "current" invoice date range, meaning the invoice is not past due. The subsequent columns are then grouped into 30-day increments to indicate their aging, such as "Days 1-30 overdue," then 31-60, 61-90, and 90+ overdue.
If you do a quick search, you'll find plenty of blank templates to get a starting point that looks something like this: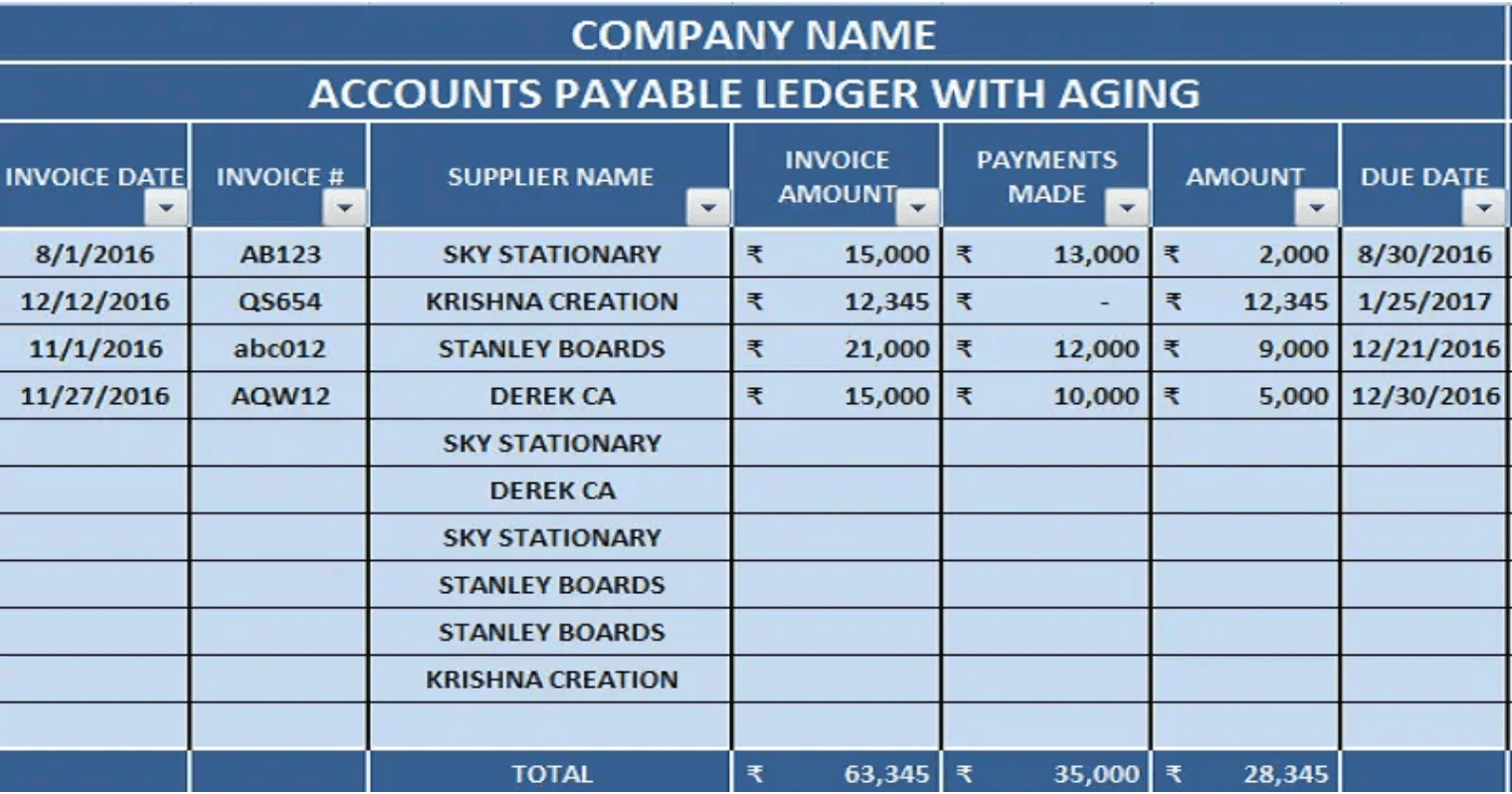 Example AP aging report in Excel
The problem is that Excel-based or Google Sheets-based templates still leave you with hours of manual work to input the necessary data from your ERP. An AP aging report is valuable — but not if it's bogging your team down in data entry work and taking away from more strategic tasks.
What Are the Benefits of AP Aging Reports?
Accounts payable aging reports may not be as exciting as their inverse, the accounts receivable aging report, which tells you what customers owe you. But your AP aging report provides an accountability of cash flow and builds the type of forward-thinking awareness that impacts the company's overall runway. This is especially important for VC-backed small businesses, which spend most of their money on operating costs to ensure their employees have the tools they need to carry out their day-to-day responsibilities while building up market awareness to gain customers (which means more cash inflow).
The examples above indicate how various approaches provide particular insights. Here's how you can ensure that your AP aging report provides the next-level insight you need to have the strongest handle on your cash outflow.
Discover Cash Flow Problems
Using "aging buckets" to group overdue invoices is an opportunity to gain insight into your debt accumulation over a period of time. If the debt lingers, there are some cash flow problems, which you can investigate by conducting a cash flow analysis. The analysis can then point toward specific issues in regards to churn or overall customer satisfaction — which requires you to go to the sales, marketing, and customer success departments to ask them to investigate deeper.
Identify Opportunities to Avoid Debt
A "current" bucket provides a quick look at what's impacting cash flow in the near term and foresight into potentially preventing future debt. Knowing that these invoices are due later allows you to efficiently manage accounts payable and focus on any debt that needs prioritization to ensure good standing with the vendor. You can also couple your AP aging with an understanding of when vendor bills are due, which allows you to proactively manage cash flow or even save money by paying early and avoiding any penalties.
Eliminate Potential Department Overspending
By breaking buckets out at the vendor level, you can see where the most spend occurs. Is marketing using too many tools that offer similar services? Did you have to buy more seats for the engineering platform, and how does that impact debt? These questions allow departments to evaluate their tools and see what is truly essential. The report lends itself to potentially give information to negotiate terms with vendors or find competitors who offer the same functions for less.
Create Accountability for Debt Resolution
Stakeholders keep an eye on how companies accumulate and resolve debt. Noting the specific number of days something is overdue allows you to track cash flow in terms of how the company resolves debt. Were you able to pay off the last invoice faster than the previous one? That's a sign of the company growing its cash inflow and making strides toward profitability while remaining accountable to its vendors and stakeholders.
See AP Aging Metrics in Seconds Using Mosaic
Your AP aging report is a basic accounting report that shouldn't take much manual effort. But pulling data from an ERP to build an AP Aging report in your spreadsheet isn't ideal. Fueling the report with real-time actuals can save accounting time and help them be more strategic.
Accounting software is making advancements, thanks in large part to automation that can calculate metrics and move invoices from one bucket to the next. But with so many options on the market, it can be hard to move forward, as invoices may be spread across multiple source systems and still require manual labor to accumulate. And even if you have a tool that can spit out a solid AP aging report and covers other accounting features, you still have to solve for the manual efforts on the forward-looking side of finance.
Mosaic integrates with your ERP to gather all your bookkeeping data — and will update your reports in real-time to ensure accuracy, which pushes you toward less backward-looking invoice gathering to more forward-thinking strategies on your cash flow.
Mosaic offers a pre-loaded AP aging report template and data visualization that provides the high-glance debt accumulation stakeholders want in seconds. The below chart focuses on an X- and Y-axis, with the "X" serving as our buckets and "Y" noting the amount of debt: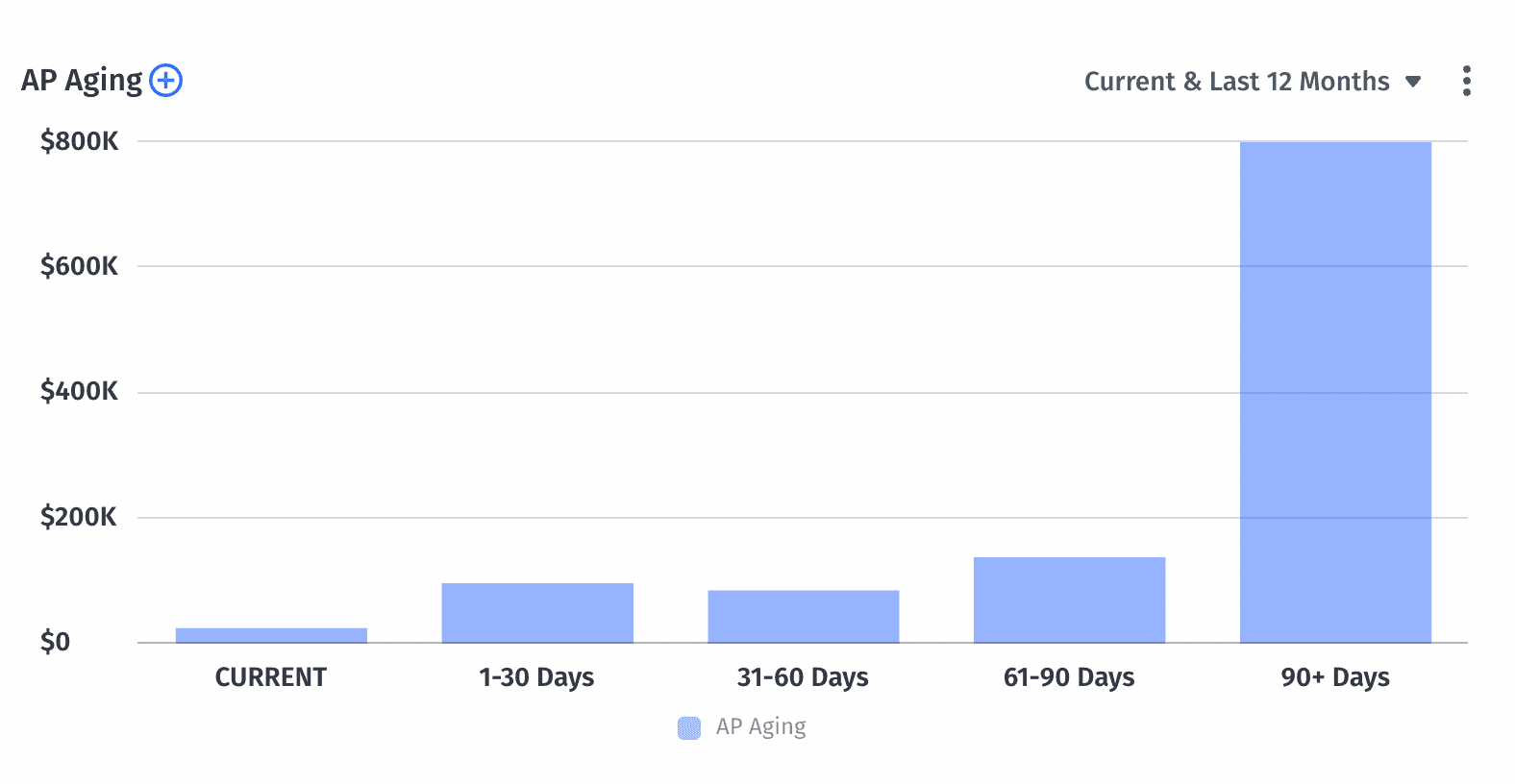 Basic AP aging report in Mosaic
Because it automatically pulls data from your ERP, you can get more granular with a few clicks. Look at it in table view, add aging buckets, days overdue, and vendor name: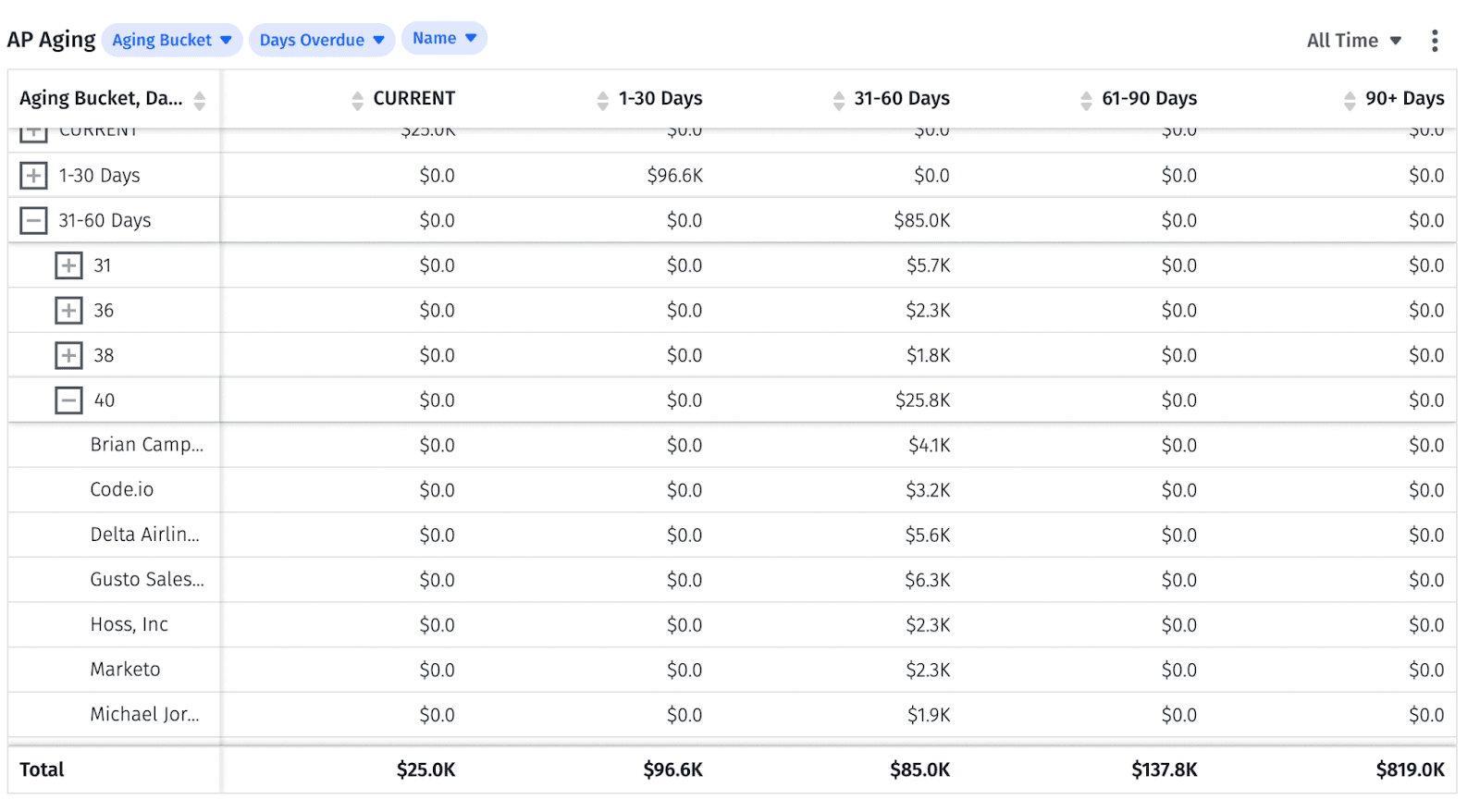 Granular AP aging report in Mosaic
Getting deeper insights that impact your cash flow in a matter of minutes is indispensable for any company. Mosaic offers agile planning capabilities and pre-loaded metrics that take your analytics to the next level. Request a personalized demo today, and discover how you can make your financial metrics and insights speak volumes as the company works toward profitability.
AP Aging FAQs
Why is AP Aging important?
AP aging reports are a useful tool to identify issues in your cash flow by giving you an overview of your accounts payable balance and debt accumulation over time. This way, you can prioritize debts as needed and remain accountable to vendors and stakeholders.
How do you prepare an AP aging report?