NetSuite Report Builder: How to Tell Your Unique Financial Story
Out-of-the-box financial reports in ERPs like NetSuite give you a basic foundation of insights about a business. But strategic finance leaders have to go a step further. Learn how Mosaic Custom Reports take NetSuite financial reporting to the next strategic level.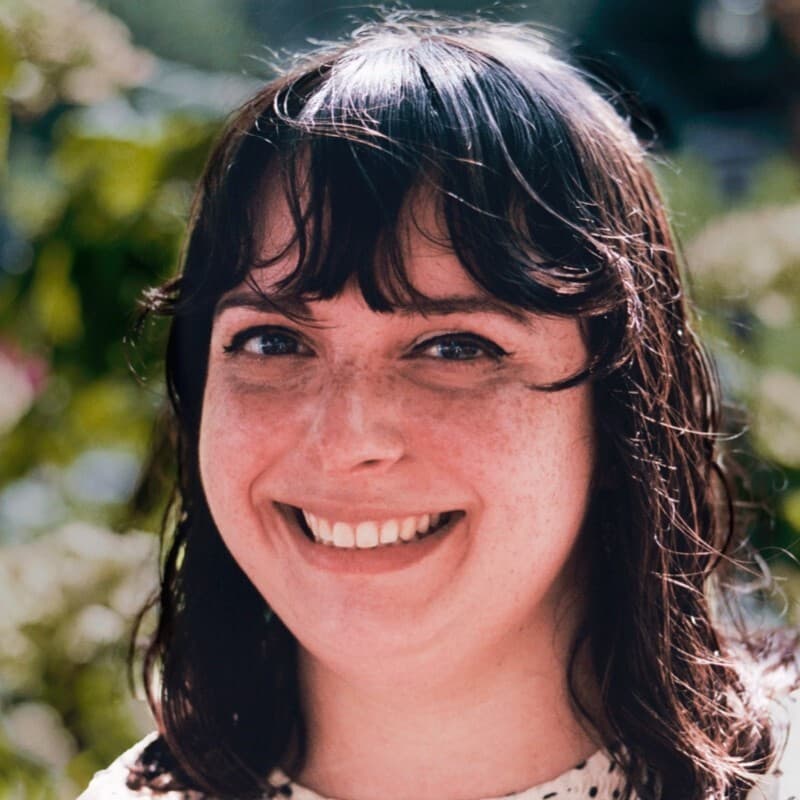 Carly Miller
Content Marketing Writer
Published on July 23, 2022
Sal Abdulla founded Nixsheets, a workflow and automation platform for accountants, because financial data organization and reporting at mid-market companies, in particular, is broken. "Mid-sized companies have moved away from all-in-one systems," said Abdullah. "They've built a distributed ERP that they cobbled together using a bunch of different point systems. And 90% of the work is being done in those point systems."
What finance has long needed is an intentional architecture for all the numbers flowing in from different corners of the business. An ERP system like NetSuite is an important component of that architecture — but it's not the centralized system that was once expected from the market.
Creating a cohesive, connective tissue between all your different point systems is key to trusting your data, getting deeper insights from your metrics, and unlocking more agile decision-making. That's why you need to integrate source systems with a Strategic Finance Platform like Mosaic rather than trying to build financial reports out of point solutions.
What Is NetSuite Financial Reporting and How Does It Work?
NetSuite financial reporting software is the company's answer to a financial business intelligence solution within its flagship ERP system.
Through the NetSuite report builder, NetSuite financial reporting provides prebuilt and customizable financial reports. These tools promise to allow accounting and finance teams to pull data and create reports that provide the company's narrative for executive leadership to share with the board and potential investors and venture capitalists.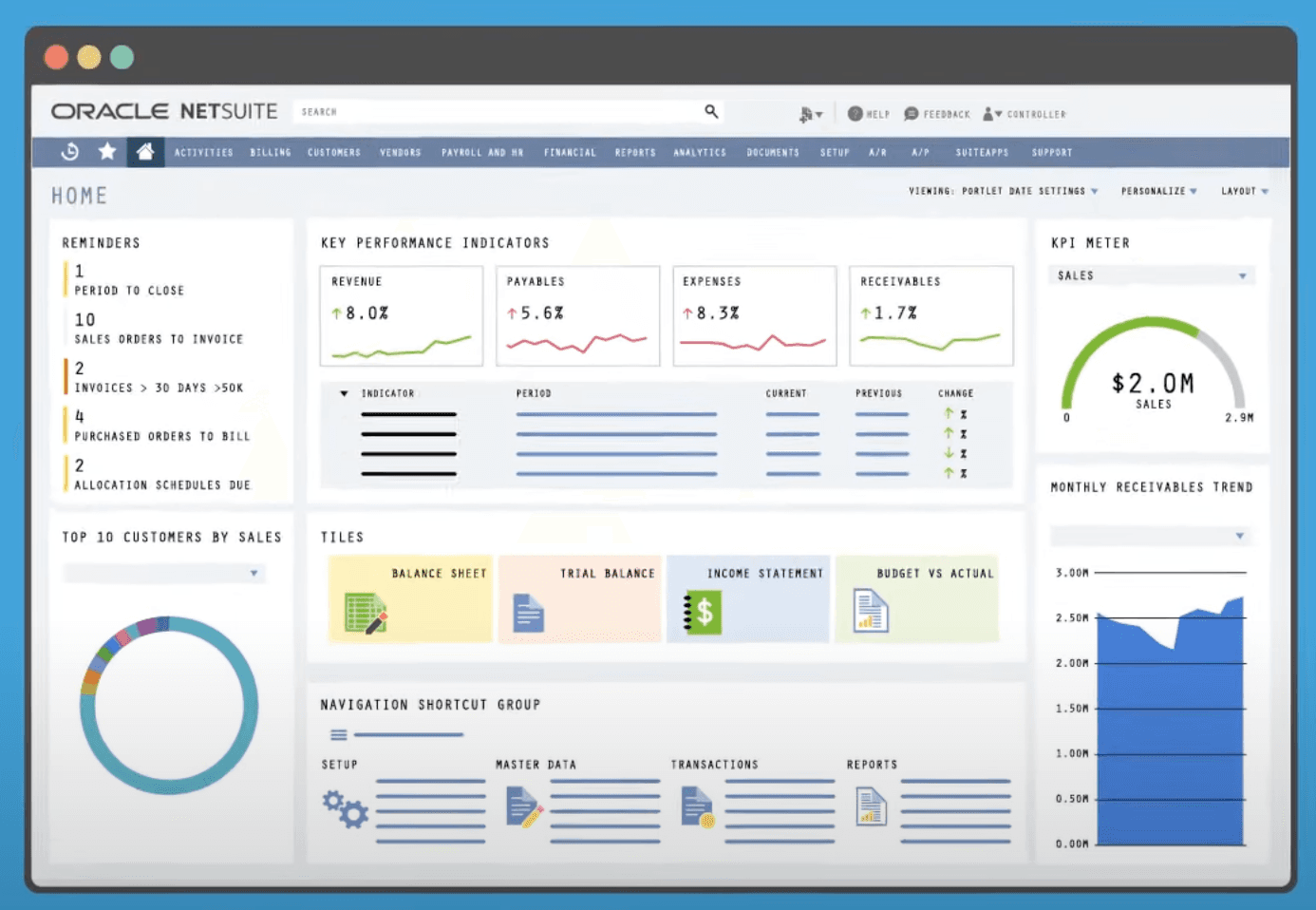 The NetSuite dashboard links directly to your key performance indicators (KPIs) and NetSuite financial reporting, which you can set to ensure quick access to the reports you look at most often. NetSuite also pulls operational and statistical data which allows finance teams to look at financial performance from both a high overview level and deeper granularity. NetSuite report builder allows you to customize any preloaded report or layout to ensure you're telling the right story.
What Reports Are Available in NetSuite Financial Reporting?
NetSuite financial reporting offers hundreds of prebuilt reports that comply with generally accepted accounting practices (GAAP), international financial reporting standards (IFRS), and other accounting standards.
Here's a sample of the most popular reports for accounting and finance teams:
Income statement
Balance sheet
Cash flow statement
Chart of accounts
Budget vs. actual
General ledger
While the financial statements provide insight into the company's financial performance in a given time period through a traditional layout, the dashboards offer more graphical data visualizations. NetSuite preloads the CFO dashboard with the standard metrics and KPIs that CFOs traditionally review, such as payroll data and budget trends, summary financial statements, and accounts receivable (AR) and accounts payable turnover.
How to Build Your NetSuite Financial Report in 13 Steps
While NetSuite offers standard reports out of the box, the process of customizing them for your unique story isn't intuitive. What's supposed to be a streamlined way to customize financial reports often becomes a tedious process that might leave you wondering why you didn't just build everything in spreadsheets instead.
As an example, here are the steps it takes to build out a monthly balance sheet from the NetSuite report builder:
Step 1. Go to the "Financial" category from the top navigation. From the drop-down menu, click "Reports," then select what report you want. For this tutorial, select "Balance Sheet."
Step 2. Select "Customize Summary."
Step 3. In the report's navigation row, select "Edit Column."
Step 4. You must create a column for every month you want to cover. The column that appears in green is your first column, which you must label. Under the "Column Label" field, select the next month from the data you want to analyze. For example, if you pull data through April 2021, type in "May21."
Step 5. Go to "Alternate Period Range Type" field. Select "Relative to today's date" from the drop-down selections.
Step 6. Check the box under "Cumulative Value."
Step 7. In the "Alternate Period Range," select "(Custom)" from the drop-down selections.
Step 8. Under "Periods," select "May 2021."
Step 9. Add a second column for "June21" by going to the "Financial" sidebar on the left-hand side of the dashboard (under "Add Fields"). Select "Amount," and the column will appear.
Step 10. Continue to select "Amount" to add additional columns.
Step 11. Go to "Column Label" and rename each new column(s) with the appropriate month. The name will apply to the next open column.
Step 12. Repeat steps 5-8 for the rest of the periods. You can include up to 30 periods per report.
Step 13. Select "Preview" to preview what your report will look like. If satisfied, exit the preview and select "Save."
Once you've completed all of these steps, you'll have a balance sheet report to show key stakeholders and investors — but you still have to build out more reports to tell the company's story. And because so much of your financial data lives in systems other than the ERP, you'll need other tools to create other critical reports.
Why NetSuite Report Builder Is Not Enough for Financial Reports
NetSuite is great for certain basic reports — but creating any advanced report or more complex dashboards will take hours to days to complete.
ERP systems were designed to ingest accounting data in a very specific format and present it in a uniform way. Over time, NetSuite and other ERPs have been able to add newer features and capabilities, such as real-time updates and sharing capabilities, but the limitation is inherent to the underlying architecture of these systems.
For SaaS businesses, the unit economics are completely different than an eCommerce business. SaaS businesses need to pull operational information in a certain way, such as annual recurring revenue (ARR), since their SaaS pricing strategy may include freemiums or subscriptions. eCommerce businesses, on the other hand, emphasize supply chain metrics and repeat customer trends in their business model and financial reporting.
SaaS requires additional help in the form of a BI or FP&A tool that truly understands the type of data the company requires to run smoothly and act strategically toward its growth goals.
Integrate NetSuite with Mosaic and Get More Out of Your Financial Reports
NetSuite implementation is an important step for businesses, as the system can handle more transaction volume and complexity than a system like QuickBooks or Xero.
But while NetSuite financial reporting offers prebuilt reports, NetSuite itself is not configured when you purchase it. Managing the process of cleansing and migrating into NetSuite takes hours and plenty of energy. And once you're there, you continue investing precious time into customizing financial reports and dashboards in the NetSuite Report Builder, which leads to stale data and non-actionable solutions.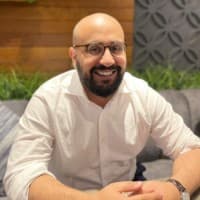 Anybody who's worked in finance has the experience of waiting 15 to 20 days to be able to kind of understand how they did in the previous month or quarter, which I think, by that time, you've lost the ability to make a positive impact on the current period in any kind of substantial way.
Sal Abdulla,
Founder and CEO, Nixsheets
Mosaic's NetSuite integration and integrations with other critical source systems allow you to manipulate real-time actuals to streamline custom financial reporting. The Custom Reports feature gives users the power and flexibility to create 360-degree views of financial and non-financial data in just a few clicks.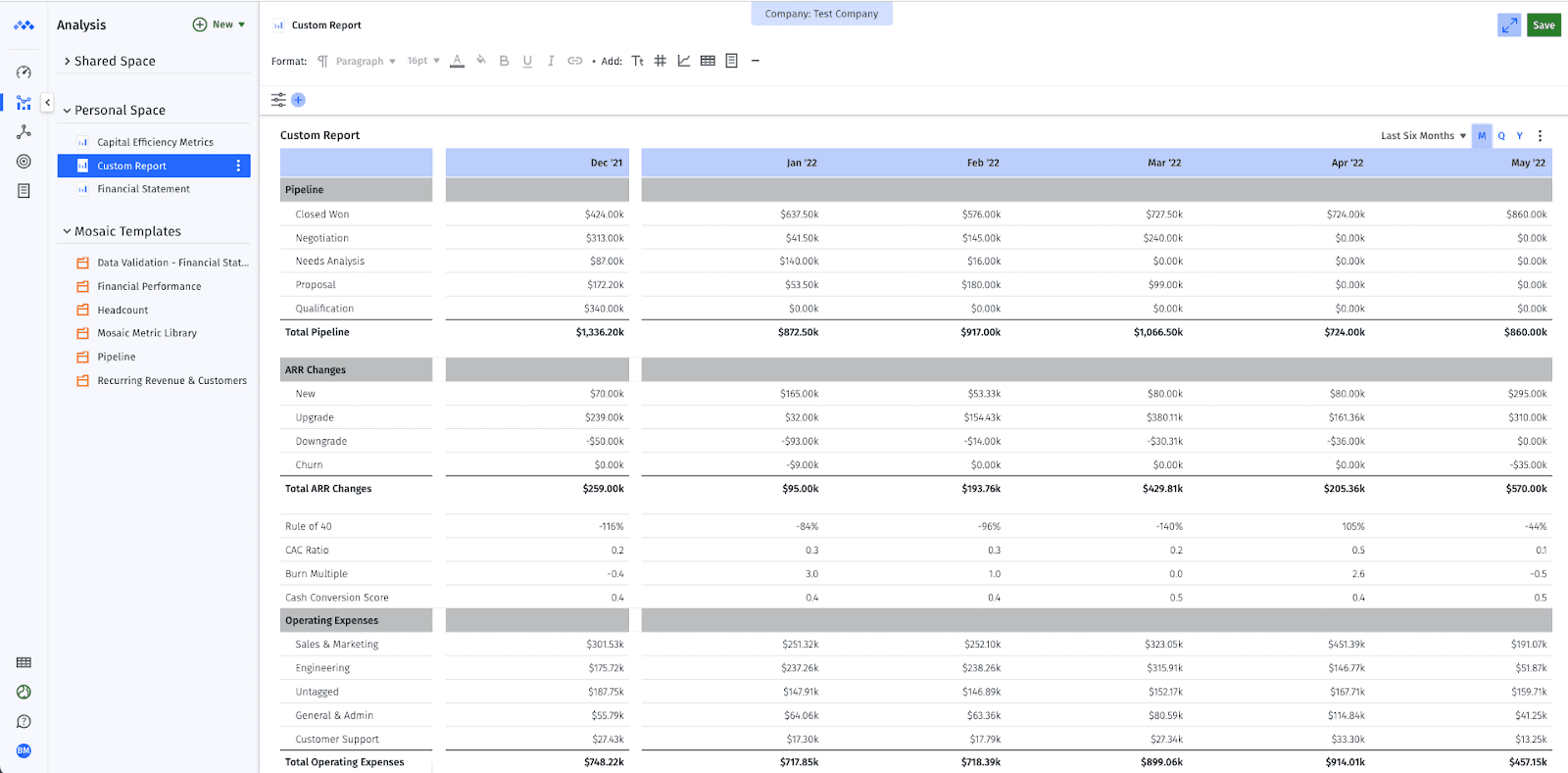 Example of a custom financial report in Mosaic
You can build reports exactly how you want in three different ways:
Start with pre-built GAAP P&L, balance sheet, and cash flow statements and then add non-financial metrics, customizing the layout as needed.
Use one of Mosaic's pre-built Report Templates as a starting point and expand it with the unique needs of your business.
Start with a blank slate Report and customize it from the ground up with any financial or non-financial metrics in the platform.
Department managers, executive leadership, investors, and your board of directors want to learn about the company's story through a specific lens. Instead of taking hours to build each report, you can select a preloaded report that includes essential SaaS metrics or, with a few clicks, create a custom report that automatically calculates and updates in real time to ensure the most accurate insights that lead to more actionable, strategic decision-making across the company.
How Gem Uses NetSuite and Mosaic to Save 60 Hours of Board Meeting Prep
Gem, a talent engagement and CRM software solution, was at a pivotal point in its growth journey. They needed to ensure sales, finance, and the board of directors remained in sync as they scaled quickly. The finance and sales team spent the typical two weeks before a board meeting gathering information which, while valuable, was time-consuming and repetitive.
Beyond wanting to save time from board deck prep, Gem had another goal: to have a larger handle on their metrics to ensure knowledgeable, on-the-spot answers that could lead to more strategic insights.
Integrating NetSuite and Salesforce with Mosaic allowed all finance and sales data to be easily accessible from a central location. With a simple click, Mosaic saved Gem hours from data manipulation and human error. And Mosaic's preloaded analysis dashboard allowed Gem to give time back to their designers, as the dashboard came with its own visualizations and metrics to present to the board.
With all the time Gem saved from consolidating data and designing slides, the sales and finance teams were able to focus on more collaborative, strategic initiatives and decision-making with better accuracy and deeper insights.
Take NetSuite Reporting Tools to the Next Level with Mosaic
SaaS companies' growth strategies rely not only on receiving information faster but receiving the right type of information that will make an immediate impact. But the financial tech stack has been stuck in terms of development for years. That's why Abdulla decided to move farther away from traditional Excel spreadsheets and embrace the next generation of financial tools.
"These next-gen FP&A solutions act as kind of a proxy statement for the fact that we're onto something because the fact that you need a tool like Mosaic is an indication that the tech stack itself has fragmented," said Abdulla.
And while NetSuite Report Builder offers simple, standard reports, your company's story is anything but standard. Mosaic Custom Reports empower you to go beyond basic NetSuite reports to:
Tell the whole story. Combine business metrics with GAAP financials in any layout order, overlay multiple scenarios, and customize time periods all in one report for more effective financial storytelling.
Tell it your way. Add custom formatting like titles, colors, spacing, borders, number scaling, and decimal precision to bring your story to life — exactly how you want to tell it.
Align with your audience. Share your reports directly with key stakeholders, so the right people see the right information at the right time.
Request a personalized demo to see how Mosaic creates a connective tissue for your key source systems and provides deeper insights into your financial data.
NetSuite Report Builder FAQs
What is the role of NetSuite in financial reporting?
NetSuite provides prebuilt and customizable financial reports through its financial report builder. These reports help finance and accounting teams to draw insights and construct narratives about the company's performance.
What are the limitations of NetSuite's Report Builder?
How does Mosaic improve the financial reporting process?
How can Mosaic help to save time during financial report preparation?
What is the advantage of integrating NetSuite with Mosaic?