SaaS Board Deck Template, Tips, and How to Prepare Your Own
The perfect board deck can make all the difference between crushing your board meeting and wasting time just trying to align on the company's numbers. But the process of preparing a board deck can take weeks away from strategic tasks that will grow your business. Find out exactly what VCs want to see in your board deck and how to streamline the preparation process.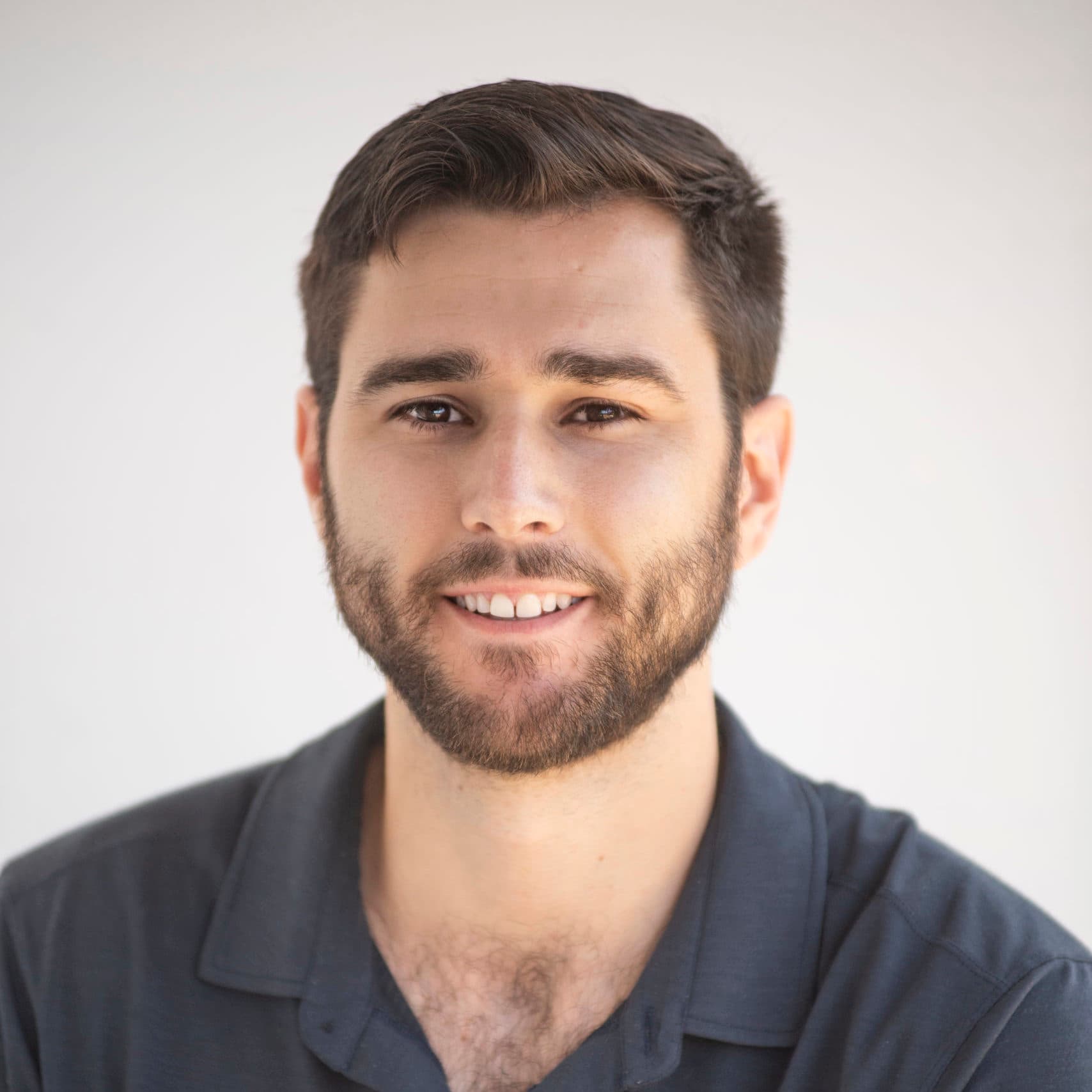 Brian Campbell
Founder and CPO
Published on December 10, 2020
The quarterly cycle of SaaS board meetings often forces finance teams and leadership teams to spend multiple sleepless nights bringing together the perfect board deck.
All that time you invest in preparation pays off when your deck allows founders, co-founders, CEOs, COOs, and other board members to understand your business and focus on delivering strategic value. But streamlining the board deck preparation process could help you focus more time and resources on strategic thinking that will drive growth.
Want to get a head start on running more effective board meetings? Download our SaaS board deck template so you can focus more time on telling your company's growth story and less time figuring out best practices for building slides.
The template gives you a plug-and-play slide deck that covers the most important sections every board meeting needs. And when you couple that with real-time access to current, accurate financial data from your board reporting software, you'll be well on your way to cutting board deck prep time from 2 weeks to 15 minutes.
How to Structure Your SaaS Board Deck
The basic structure of a SaaS board deck is fairly universal. Every company will adjust the sections based on their specific needs and business maturity. Generally speaking, there are the five core sections the board of directors wants to see in every presentation (and how long they should take to present during the board meeting):
The CEO Update (40-45 minutes)
Department Updates (60 minutes)
Financial Statement Review (30 minutes)
Administrative (10 minutes)
Discussion (20 minutes)
You can adjust the specific contents according to your business needs and maturity. But the following overviews should give you a good idea of what to include on your slides.
1. Start with the Strategic Overview in a CEO Update
The CEO update should be your first board deck section. The first slide in this section is where the CEO can give a birds-eye view of what's going well and what isn't going well across the organization.
Sample CEO update slide from Mosaic board deck template
Beyond the high-level overview, the CEO update section should also include slides for:
Strategic lessons learned in the quarter since the previous board meeting
The 3-5 top priorities for your company in the upcoming quarter
An executive-level summary of critical metrics like ARR growth, customer count, headcount, cash balance, churn rate, and burn rate
Throughout this strategic overview, the CEO should highlight areas of need and action items for the company. The goal is to create a shared understanding with investors and surface opportunities for the board to offer value.  ‍
2. Provide Detailed Departmental Updates 
After the CEO's strategic overview, your board deck should get more granular with insights into key departments.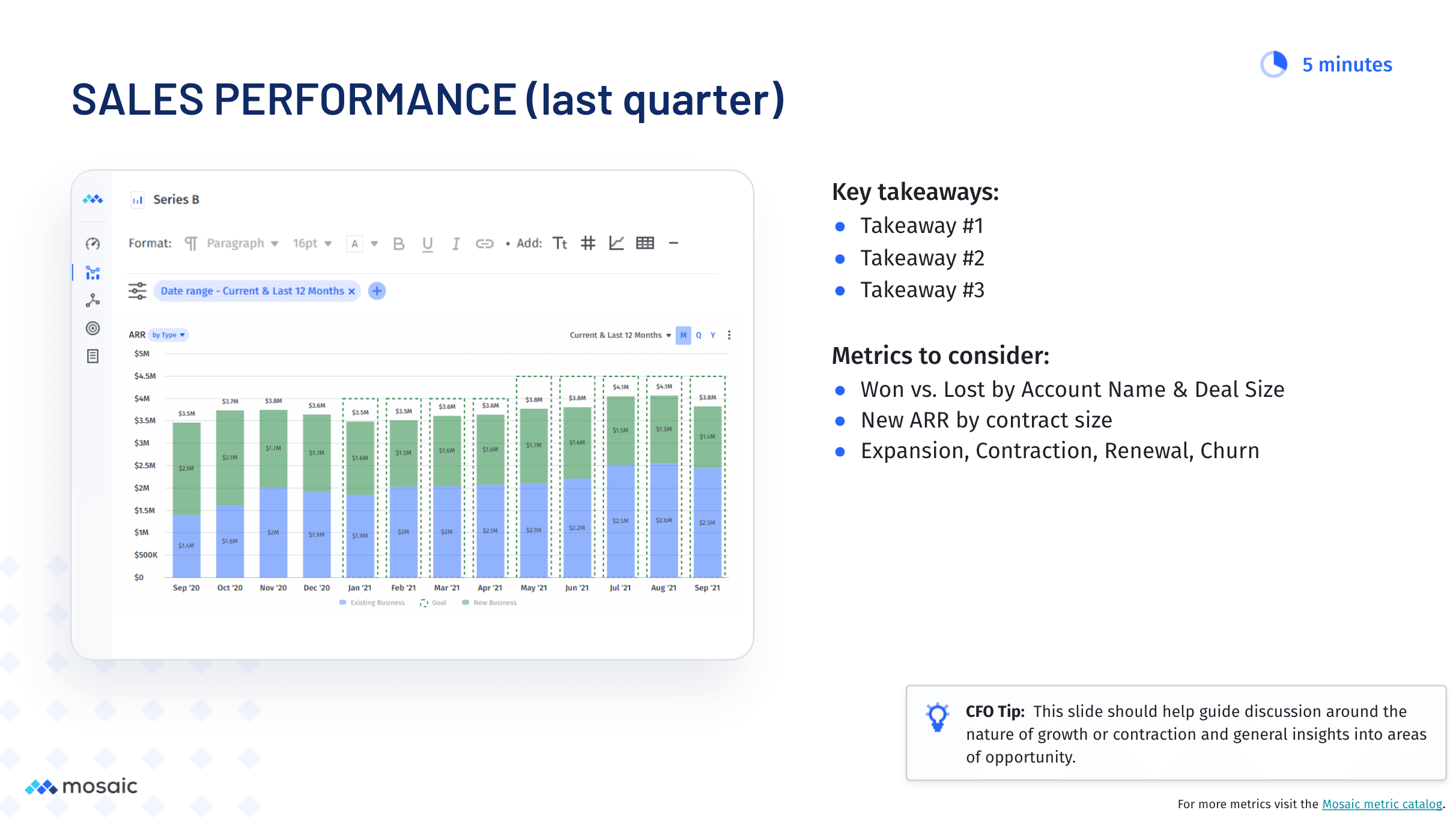 Sample sales performance slide from Mosaic board deck template
There are three main department updates you should have slides for:
Sales:
This will likely be your longest department update. It should cover relevant metrics that give board members insight into the prior quarter's sales performance metrics, bookings, SaaS quick ratio, best seller data, and changes to your customer base, as well as pipeline health and forecasted ARR/MRR. All of these metrics help you tell the story of your company's growth.
Product:
This is an opportunity to explain what went well with product releases in the prior quarter and what needs improvement moving forward. You can also provide an overview of what's coming up on the product roadmap. Your overview might include mockups or even product demos for more significant feature releases. One thing that can help give better context into the success of your SaaS product is a slide for monthly NPS scores.
Marketing:
Add this section to your department updates when you've ramped up marketing investments. Include Tier 1 efforts, milestones, and metrics that highlight funnel efficiency (traffic, leads, ROAS, CAC payback, etc.)
There are a lot of board materials to cover in this 60-minute portion of the meeting. You can dedicate five minutes to every slide that highlights a key SaaS metric. But try not to go down a rabbit hole with granular data points and lose the overall narrative in the process.
3. Dig into the Financial Statements 
After walking through the key departments and team slides, dive into an overview of your financial statements. The goal should be to give board members a better understanding of the overall status and scale of the business.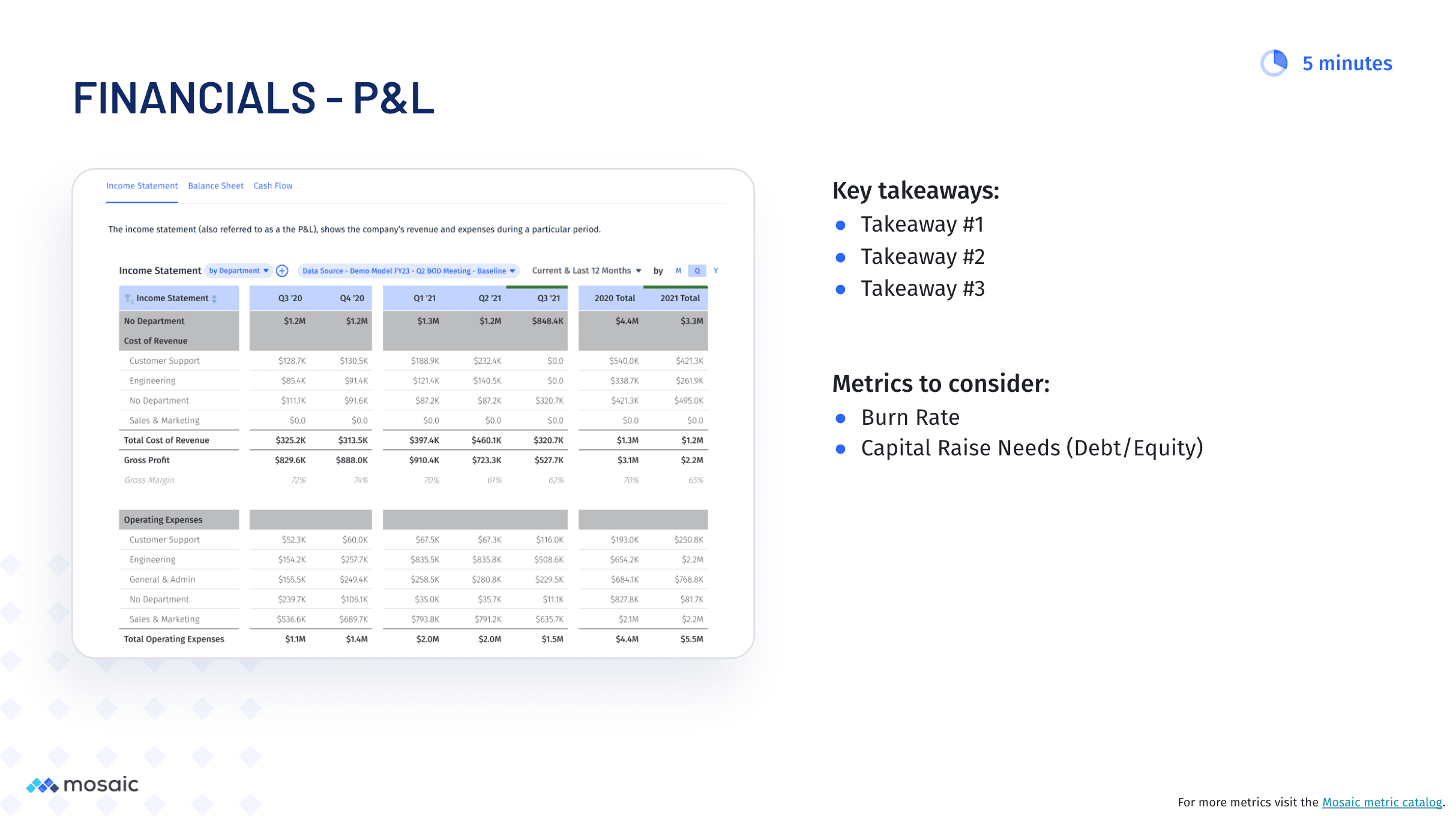 Sample P&L statement slide from Mosaic board deck template
You should include slides with key takeaways from your P&L, cash flow statement, and balance sheet. But beyond the basic financial statements, add overviews of:
Your budget vs. actuals report for the previous quarter
The current team, including headcount composition, headcount changes, key hires, and length of employment
Hiring plans and recruiting initiatives for areas that need the most help
Additional SaaS financial metrics like runway, ARR changes by category, and cohorted retention rates.
The financial statements overview gives board members the most cross-functional view of the business. That vantage point makes it easier for them to fulfill the board's job—providing strategic advice for overcoming roadblocks to growth. Be sure to tap into their expertise during your financial statement walkthrough.
4. Mention Administrative Changes If Necessary
The administrative section of a board deck typically revolves around your employee stock ownership plan (ESOP) and relevant data. In most cases, you can communicate this information through digital documents or one-off discussions well before the board meeting.
However, you may want to include a 10-minute discussion of administrative matters if you expect major changes to options you're distributing. You may need to discuss this topic in your board meeting when you're considering another round of venture capital or otherwise evaluating potential investors.
5. Discuss Any Gaps in the Board Deck Presentation
Dedicate the final 20 minutes of your board meetings to open discussion about your business. By the time you reach the discussion phase of the board meeting, everyone should be on the same page with the data.
Instead of investigating discrepancies in the data, you can focus on forward-looking discussions about big picture things that will affect your current priorities, like your business model, fundraising, competitive landscape and market analysis, building product-market fit (for early-stage SaaS companies), or identifying new KPIs to track growth better.
One area that isn't specifically called out in the department slides, but that might warrant discussion is customer success. Digging into questions about the health of your customer base could surface new opportunities to improve customer service or adjust the business model to increase net revenue retention.
15-Minute Board Deck Prep with a Template and Real-Time Data
How do you turn the high-stress, two-week board deck prep process into a painless 15 minutes for your next meeting? You combine a SaaS board deck template built on best practices with real-time visibility into your financial data.
Your board meeting is prime time—the moment your entire organization comes together to align on the numbers and report on how specific functions contribute to the overarching business strategy. But because all of those numbers live in siloed spreadsheets, it takes the average SaaS business one to two full weeks to get all the data needed for a board pack.
The 15-minute version of board deck prep hinges on your ability to draw financial insights straight from your most critical business systems. And Mosaic integrates with your ERP, CRM, HRIS, and billing systems to provide that real-time visibility.
That way, when a board member asks second- and third-level questions about a specific metric or forecast, you don't have to spend hours or days reworking models, graphs, and spreadsheets before the board meeting. Instead, you can look at flexible cuts of data and get precise answers with a few clicks. And that can make all the difference between a passable board meeting and a great one.
Want to learn how to run a board meeting and put yourself in a position to crush it? Download the SaaS board deck template to make sure you have everything you need to tell your story and impress your investors.
SaaS Board Deck FAQs
What should be included in a board deck?
A SaaS startup's board deck should contain:
An update on the last quarter

Plans for the upcoming quarter from the CEO

Detailed department updates

Key financial metrics and KPIs

Administrative changes
You should also leave room for an open discussion.
How do you give a good board presentation?
What does a board of directors want to know?
What questions does a board of directors ask?
What is a board deck in business?