SaaS Bookings: Bookings vs. Revenue vs. Billings
What Are SaaS Bookings?
SaaS bookings are the total value of new contracts signed. In other words, SaaS bookings record an income in full at the time of the agreement before any money is actually paid or collected.
You record the contract's total value even if it spans multiple years. For instance, suppose a customer signs a 2-year contract for an annual contract value (ACV) of $10,000. In that case, you'll record a value of $20,000 under your SaaS bookings.
Your SaaS business will likely have more than one booking in a period of time. To calculate your SaaS bookings, sum the individual bookings.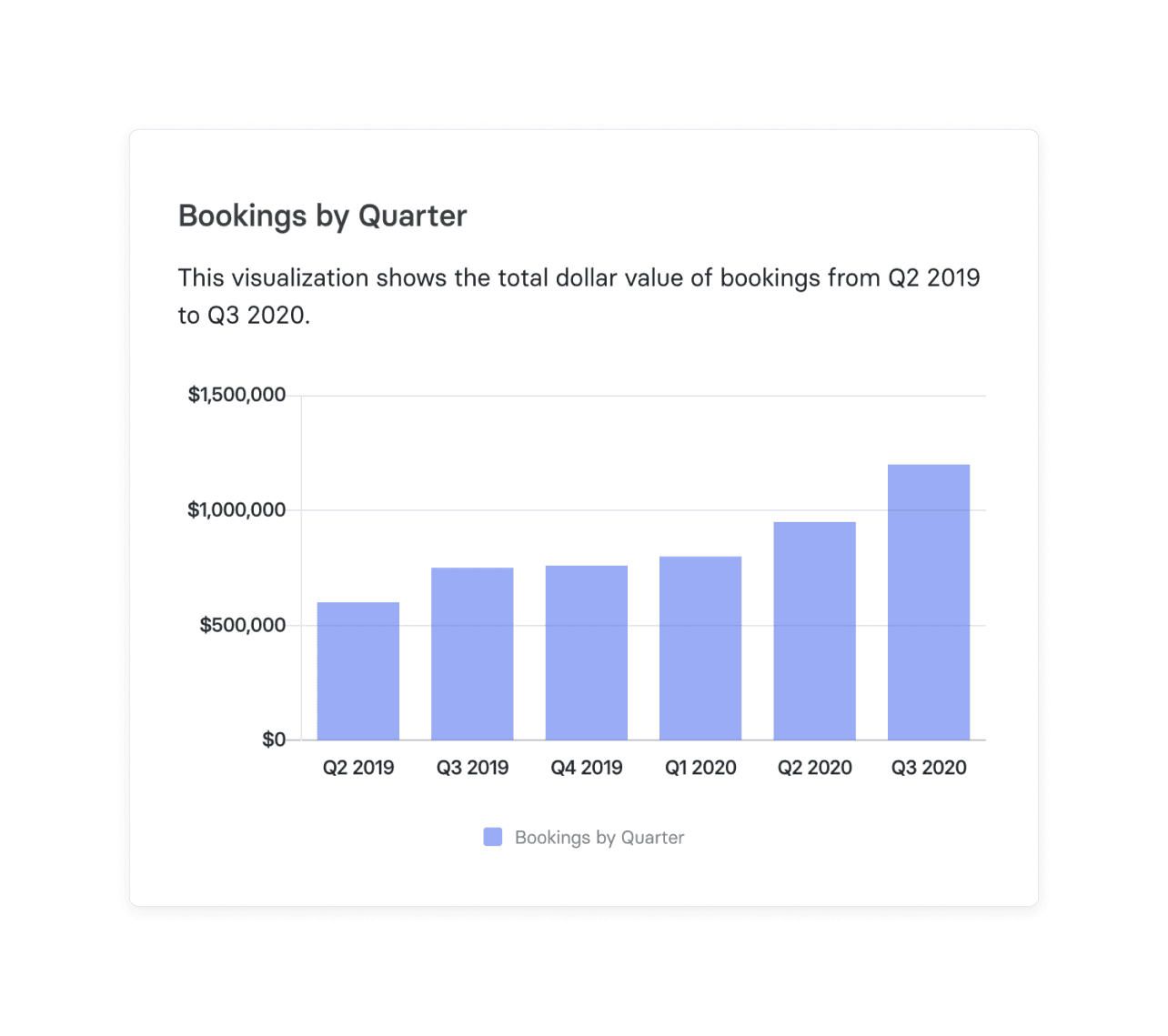 Types of SaaS Bookings
There are three main types of SaaS bookings:
New bookings — New customer acquisitions
Renewal bookings — Existing customers who renew their contracts
Upsell bookings — Also known as expansion bookings or upgrades, current customers who renew at a higher rate
Segmenting your SaaS bookings into these three groups can help you better understand what's working and not working when it comes to sales and customer retention. This information is valuable for finance teams, sales teams, and strategic decision makers within a business.
Why SaaS Bookings Are Important
The SaaS bookings metric paints a detailed picture of how customers are engaging with your product and how effective your business is at converting new customers. This insight gives you a preview of your revenue growth potential and do accurate revenue forecasting. This is vital given that 55% of sales leaders said they don't trust their forecast accuracy.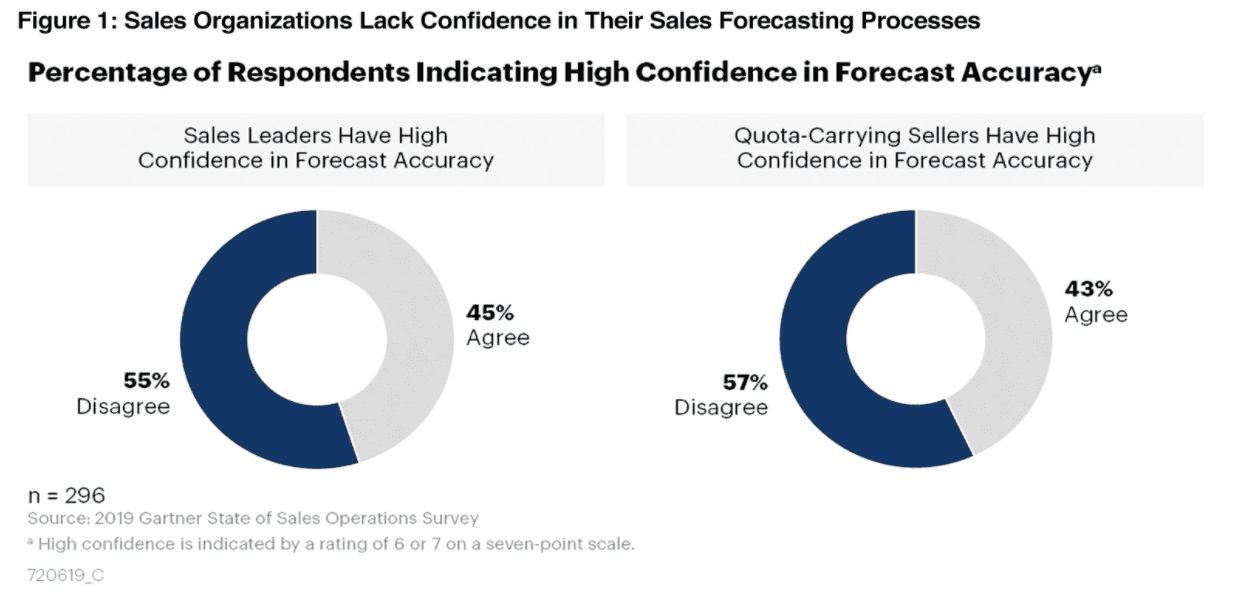 Sales leader confidence in forecast accuracy
Besides forecasting revenue, SaaS bookings help you calculate the SaaS quick ratio, which is one of the most important financial ratios to analyze a company, especially for startups and SaaS business models in the early stages.
Additionally, when you further break down SaaS bookings by subscription, sales rep, and other metrics, you can measure the effectiveness of each element in your business and work to improve upon weaknesses.
The Limitations of SaaS Bookings
Like other financial metrics, you need to consider SaaS bookings while keeping the backdrop in view, as various situations can skew this metric.
For example, suppose a business signs numerous contracts due to an aggressive but temporary discount. In that case, high SaaS bookings may artificially inflate your future revenue projections. In reality, as soon as the deal ends, you will likely secure fewer contracts.
Also, SaaS bookings cannot completely account for contracts up for renewal or at risk of churn.
That's why bookings are rarely the only metric used to understand how well a business performs.
SaaS Bookings vs. Billings vs. Revenue
Measuring bookings is only the tip of the iceberg when it comes to tracking your top-line growth. Once you've recorded total contract value, you have to track how that booked revenue turns into cash. And that means contextualizing with two additional SaaS finance metrics — billings and SaaS revenue.

Comparison chart for bookings, billings, and revenue
Here's how billings and revenue compare to bookings.
SaaS Billings
SaaS billing refers to money you actually invoice to your customers. This invoice depends on whether they pay just one time, every month, or annually.
For example, if a customer signs a 2-year contract for an ACV of 10,000 and pays monthly. In that case, the SaaS billing will be $833 every month.
Unless you're billing customers upfront for the entire contract value, billings will always be lower than bookings because you're only invoicing for a specific period.
While SaaS bookings give you a broader look at your finances, billings show if you have enough cash flow to maintain operations. In other words, billings give you a clear insight into your business' health each month.
SaaS Revenue
Revenue is a portion of the money you count once actually "earned."
For a SaaS subscription, the revenue gets recognized each month evenly.
Using the example above, consider a customer on a 2-year contract that pays an upfront cost of $10,000 for the first year of service.
Even though you have technically collected that money, you can't recognize all of it in the first month since you haven't yet delivered a full year of service. Instead, you recognize $833 of revenue each month from that contract.
In other words, you recognize the revenue as you provide the service, even if the customer has paid you upfront.
The revenue you bill but can't recognize is known as deferred revenue. This is set aside and accounted for as a liability on the balance sheet until it officially becomes recognized revenue.
This is per GAAP (Generally Accepted Accounting Principles) and the ASC 606 standard for revenue recognition. ASC 606 outlines a five-step process for revenue recognition.

Process for ASC 606 revenue recognition
Revenue is often the most accurate metric to see how your business is performing, but it shouldn't be used as the only measure of your company's success.
Use it with bookings, monthly recurring revenue (MRR), SaaS quick ratio, and other similar metrics to better understand how money is moving in your business.
How To Track SaaS Bookings, Billings, and Revenue
Manually tracking and reporting these metrics can become a time-consuming task. This leaves small teams and new businesses strapped, choosing between losing time or valuable insights.
But with software like Mosaic, tracking these important SaaS metrics and other financial reporting is easy. Here's how:
Track SaaS Bookings
Mosaic pulls data from your CRM or billing system and compiles the data into helpful visuals.
For instance, you can see your bookings at a high level with a quarterly chart. You can view how many bookings came from the existing customers and how many from the new ones.
When you click a specific part of the chart, you can also view a list of new accounts: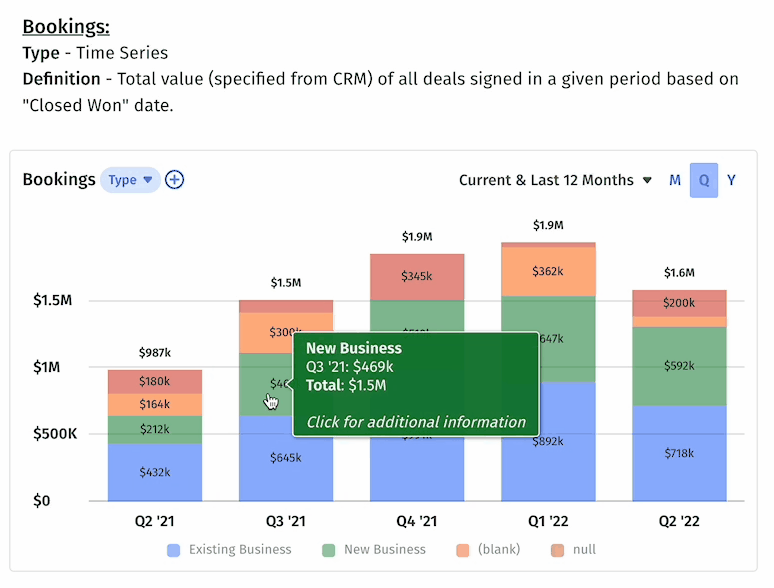 Bookings in Mosaic by account
Plus, you can dive deeper into what's driving your bookings with a visualization breakdown: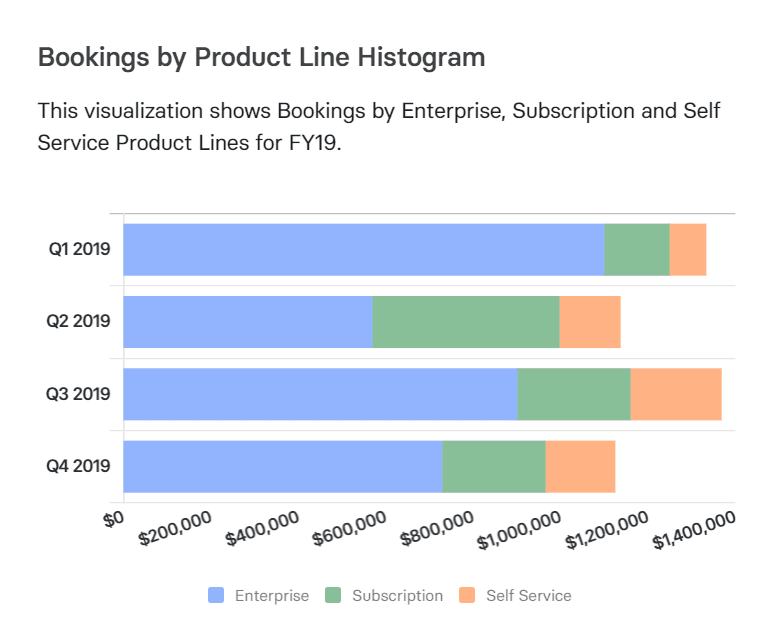 Bookings by product line in Mosaic
Mosaic also gives you more granular data to get a better understanding of your ARR: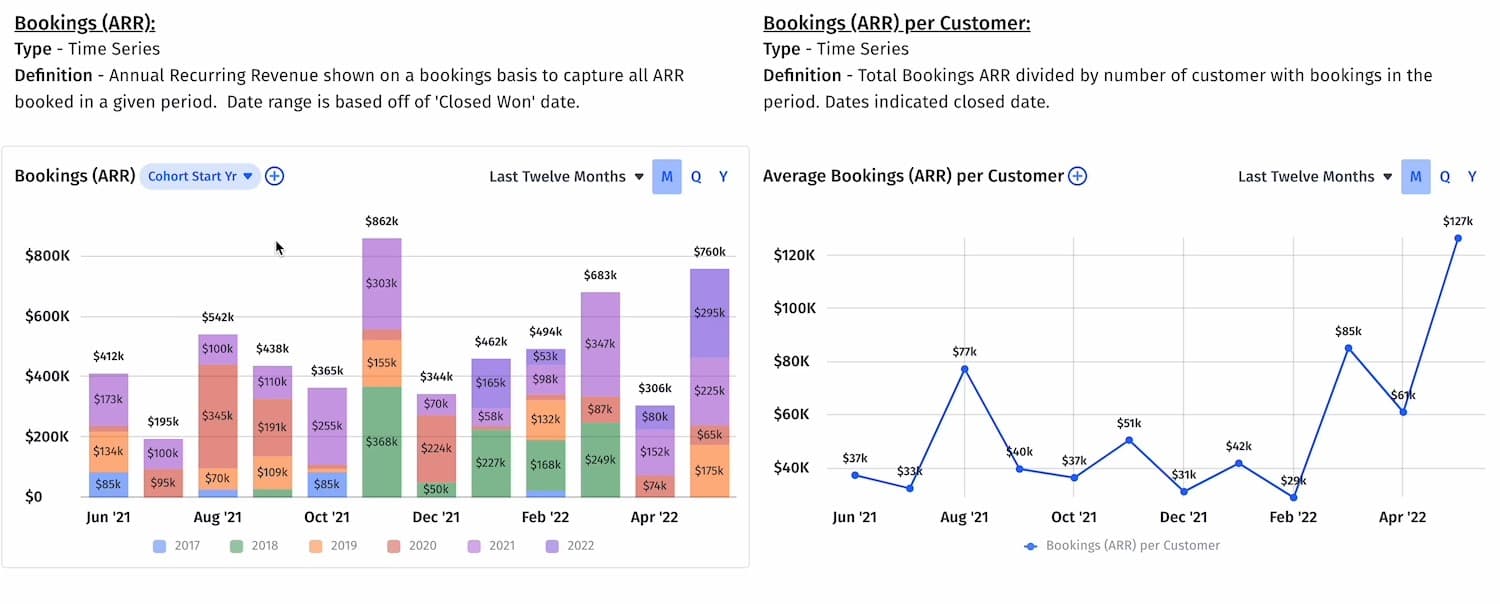 ARR and ARR per customer charts in Mosaic
SaaS Billings
Mosaic pulls data for billings from your ERP system. You can view time-series data for bookings, and right next to it, you get a contextual chart showing how much is collected each month compared to billings:

Billings and collections charts in Mosaic
Besides the billing data, you also get a visual breakdown of accounts receivable (AR) aging data and overdue invoices.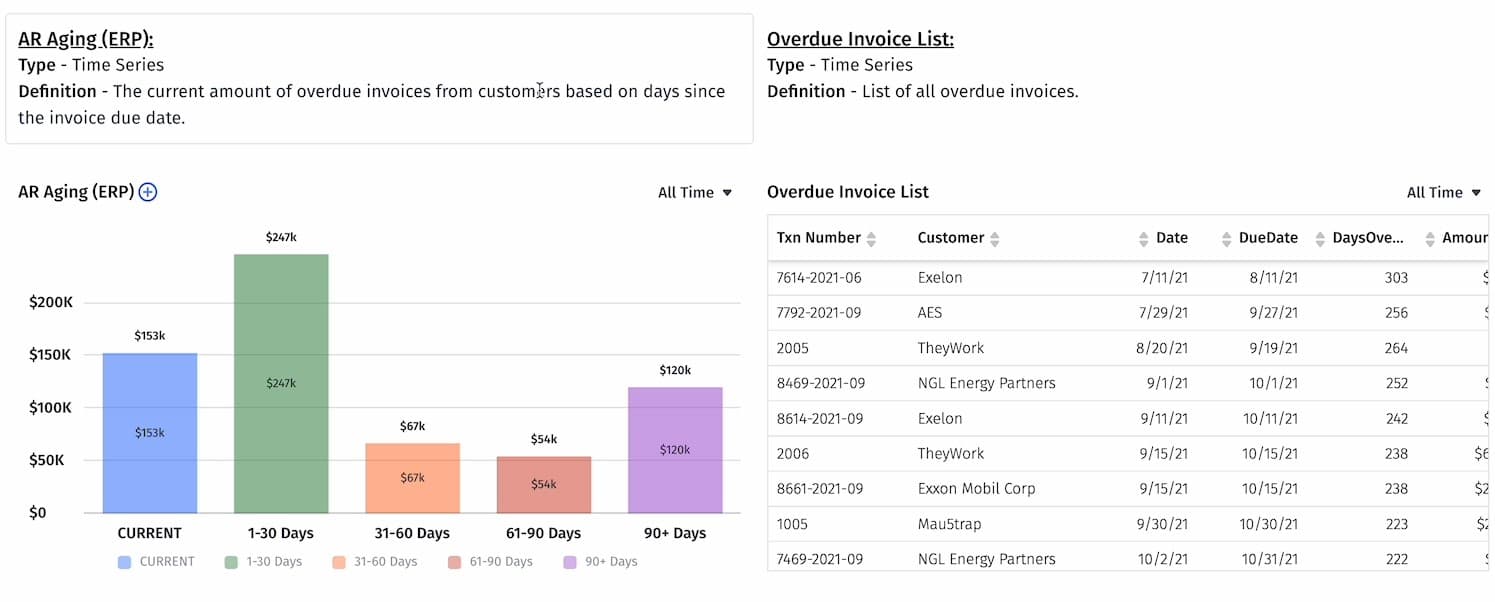 AR aging and overdue invoices charts in Mosaic
Real-time data on AR aging and overdue invoices enables the AR team to stay on top of collections and optimize the AR processes when required.
SaaS Revenue
For a straightforward look at your company's incoming revenue, you can access Mosaic's Revenue (ERP) chart.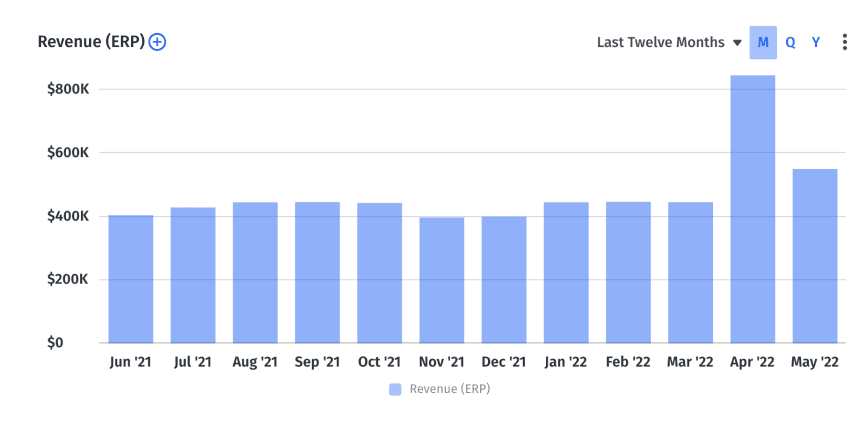 Revenue from ERP chart in Mosaic
Besides that, you can use your confirmed bookings and look ahead at a revenue schedule to plan your upcoming finances with the Customer Cohorts Scheduled Revenue chart.
Customer cohort scheduled revenue chart in Mosaic
You can also see how your contracts from previous years have contributed to your revenue over the years using the ARR Composition. On top of that, ARR vs. Contracted ARR helps you optimize your financial forecasting. Contracted ARR or CARR is an annualized revenue that accounts for future contracts and cancellations.
ARR composition and contracted ARR charts in Mosaic
Top-Line Planning
With Mosaic's top-line planner, you can customize the metrics you want to access at a glance for a complete high-level look at your finances. In one place, you can see your forecasted renewal bookings, billing, revenue, ARR, MRR, and more.

Mosaic Topline Planner overview with bookings, billings, and revenue
Tracking SaaS Bookings, Billings, and Revenue Shouldn't Take Hours of Spreadsheet Labor
Tracking your top-line metrics is critical to measuring your business's success. These metrics help you project future income, manage cash flow, and demonstrate a stable financial model.
While tracking these metrics in spreadsheets can be time-consuming, Mosaic provides a better solution. Mosaic can help SaaS companies track everything in one place in real-time. Request a demo today to see how simple it is to track bookings and get your business's strategy in order.
SaaS Booking FAQs
What is the difference between bookings and revenue?
Bookings are your customers' commitments to their contract, measured as total contract value (TCV) at the time they sign it but before you collect any money. Revenue, on the other hand, is the portion of the contract you can actually record and recognize at service delivery.
Should bookings be higher than revenue?
How do you convert bookings to revenue?