How to Build a Workforce Planning Process that Boosts Growth (+ Examples)
Workforce planning is an essential process for any business to proactively analyze its staffing needs and forecast finances as accurately as possible. But mapping out workforce needs can prove to be more challenging than you might think. Discover how strategic workforce planning helps your business grow and successfully meet your future goals.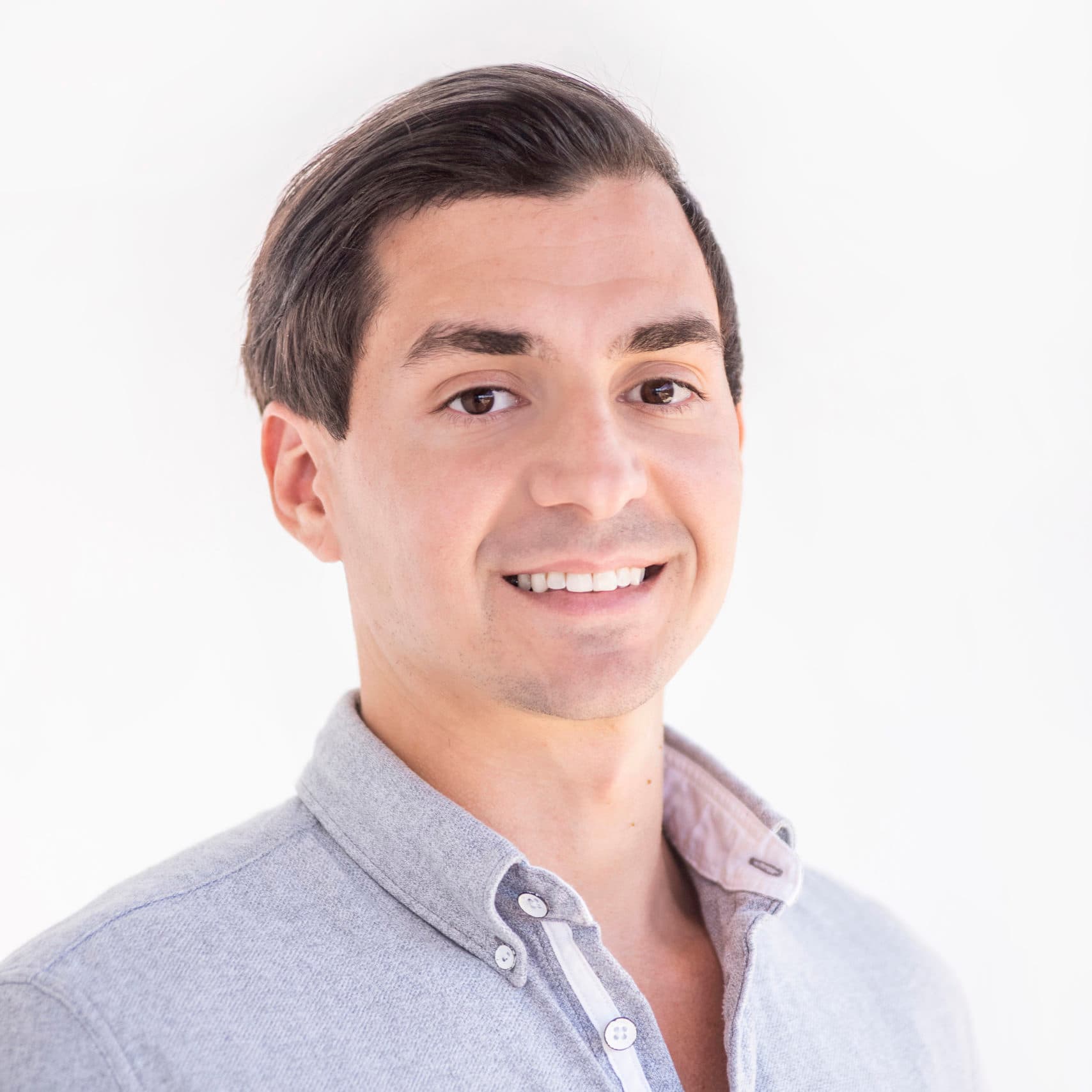 Joe Garafalo
Founder and COO
Published on February 2, 2022
Last Updated on November 14, 2023
Workforce planning is a necessary function for finance to ensure the company doesn't fall apart — especially since employees comprise about 70% of total spend for most SaaS companies.
Devoting time and attention to scaling your workforce planning strategy as the business grows builds a strong foundation and helps ensure the business remains effective, efficient, and stable through any market changes. Learn more about workforce planning below.
What Is Workforce Planning?
Workforce planning is the strategic process of identifying and addressing current and future workforce needs and procedures. Through workforce planning metrics, you identify, analyze, and forecast personnel needs across the company.

Other departments (and even executive leaders) may think that workforce planning is synonymous with headcount planning. Workforce planning extends beyond headcount because it looks beyond the "who" and "when" the new employee joins the organization. Workforce planning ensures the employee fits into the org's overall budget and annual plans, including compensation structure, benefits, role leveling, training, professional development, succession planning, and more. 
Workforce planning is an ongoing collaboration between finance and the entire org (not just the human resources department)  to ensure staffing needs are measured proactively and development goals are not just established but accomplished. to ensure the best ROI possible to support business performance. The strategic workforce planning process needs to align with the strategic goals of the business to ensure operations, now and in the future, don't overextend the business financially. 
The 4 Most Common Workforce Planning Models
While there are a number of different workforce planning models businesses can use, the key to a successful model is ensuring that it suits the marketplace trends and unique needs of the business.  Include any historical data available and collaborate with department and executive leaders to gather their needs alongside any feedback around workforce forecasts throughout the industry or specific hiring experiences that may impact successful hiring timelines. 
Here are some of the most common workforce planning models.
1. Deterministic Model
This model involves generalized forecasting of workforce changes in the future and planning based on those forecasts. This forward-thinking model can help leaders anticipate employees that may be looking to move into a new role, seek promotion, or plan for retirement. This helps ensure that the business is ready to fill vacant roles as soon as possible. 
2. Flow Model
This model gauges the need for workforce changes based on alignment with business plans and goals. The focus is on asking questions about plans for the future of the business, including the need for different or more experienced talent and the potential need for contractors or consultants. These questions help department leaders anticipate workforce needs, so they're ready to train, promote, or hire in a timely manner.
3. Equilibrium Model
This model builds plans on historical data about past workforce change patterns. While it could be viewed as backward-looking, the focus on previous data allows business leaders to make proactive decisions on how to adjust the workforce based on past experiences, such as promotions that lead to a position's vacancy.
4. Optimization Model
The optimization model starts with business goals and works backward from there. This helps you see what workforce changes will be necessary to achieve the organization's strategic objectives, which allows you to collaborate with HR and department leaders so they can take action and plan as necessary to reach those goals. 
The Benefits of Strategic Workforce Planning
The goal of strategic workforce planning is to find and retain employees with the right skills and talents the business needs to succeed in the long run. When your strategic plan succeeds, the organization experiences the following benefits of workforce planning. 
Workforce Gaps Are Filled Quickly
When a workforce planning strategy goes well, finance teams proactively identify gaps in the workforce by tracking turnover rate, attrition rate, and ramp rate. They can then collaborate with departments to understand and anticipate when they plan to fill those gaps, either internally or by hiring new employees. This type of workforce management helps maintain a stable business structure so that the business runs efficiently and effectively.

Employee turnover rate = (number of employee exits / total headcount) x 100
Employee Retention Improves
Retaining employees helps the business run smoothly. Workforce planning includes planning for benefits, raises, bonuses, and training so the workforce feels valued and supported throughout their employment. Strategic workforce planning also includes planning for promotions and succession within the company, as well as lateral moves to better position employees based on their skill set.

Track your employee net promoter score (eNPS) to measure employee engagement and experience. Tenure distribution also offers valuable insight into how long employees remain with your company.

Employee tenure rate = (total days worked for employees / total headcount) x 100
Increased Productivity and Performance
Strategic workforce planning helps keep the business well-staffed, improving productivity and performance across departments. Increased employee retention usually means employees are happy, which translates to better productivity and a better return on investment. Monitor your time-to-hire and ramp rate metrics to see how long it typically takes for new employees to move from recruitment and training to full productivity.

Supports Agile Decision-Making Throughout the Business
Because strategic workforce planning includes proactively planning for necessary workforce changes, it also benefits other planning and forecasts. You'll be able to better anticipate financial needs for the future and improve efficiency across departments. 
Improves Planning for Future Goals
The business needs to plan, prepare for, and work toward business goals, regardless of any changes within the workforce. Strategic workforce planning not only keeps the workforce as stable as possible, but it also helps the business fill roles quickly when turnover occurs. Salary scale distribution is essential to monitor and analyze to help the business plan ahead for financial needs.
The 5-Step Workforce Planning Process
Strategic workforce planning begins with business leaders setting goals for the business. Department leaders then determine how to achieve those goals by analyzing their teams and tools to determine if there is a need for additional headcount.  
These five steps for successful workforce planning require attention to detail and a clear understanding of the business's growth trajectory and the company's goals. Here's how to ensure your strategic workforce planning is as successful as possible. 
1. Link Workforce Planning to Business Goals
The most effective workforce planning is forward-looking, so it begins with the business's growth goals. But to get to goals that are not only attainable but sustainable, business leaders must factor in historical data around workforce trends, which finance can pull and lean into to collaborate across the org with pointed questions, like: 
What growth and revenue goals do we anticipate?

How can the current and additional workforce support the direction the business is going in?

What business activities (both short- and long-term) are necessary to carry out business goals?

Will we need to adjust current workforce plans to better suit our goals?

What's the optimal manager-to-direct report ratio for this role?

What's the expected onboarding and ramp rate for this position? 
2. Analyze Current Workforce to Identify Gaps
As the business matures, so do employees. It's essential to anticipate employees' desires to advance in their careers, which would potentially cause vacant positions and the need for new hires. To analyze the business's current workforce and identify any personnel or skill gaps, try the following:
Look at the current workforce and evaluate the expected turnover rate while also considering areas for training, promotion, and succession.

See what's missing in your workforce, and prompt department leaders to identify the best way to fill those personnel or skill gaps (new hires, internal team movement/leverage, or promotion).

Forecast in base, best, and worst-case scenarios to help department leaders evaluate how many employees are needed to achieve business goals.
Numbers won't tell you everything, which is why conducting a gap analysis with input from department leaders helps you gather the information you need to build your strategic workforce plan to fill the gaps that exist between the current workforce and forecasted workforce needs. 
3. Create a Strategic Action Plan to Close Gaps
Now you can combine the numbers, company goals, and departmental input into multiple models. These models consider the financial impact of an increased workforce alongside base, worst, and best-case scenario planning to evaluate whether more employees will provide a return on investment, as well as prioritize certain department needs.
As you gain even further insight and approval from executive leaders, keep in mind that agility and flexibility are key considerations. You must factor in how long the hiring process may take, as well as any ramp time to get an employee fully operational. 
4. Implement the Strategic Workforce Action Plan
Once your strategic workforce plan is approved, it's time to see it in action. While HR teams, recruiters, and department leaders set and keep a pace for filling the position, you need to keep an eye on the numbers to ensure the business has the necessary resources — from finances to tech needs to marketing to training — to implement the plan as intended. Implementation will involve: 
Recruiting, hiring, and onboarding new talent

Training and redevelopment of current employees as needed

Internal movement or promotion to fill roles

Outsourcing, consulting, or contracting 

Planning for succession

Incorporating new workforce planning software or tech

Defining KPIs to measure the success of the workforce plan
5. Monitor Progress, Evaluate Efficacy, and Revise as Needed
Check the workforce plan data against milestones to make sure goals and targets are hit. If not, assess the plan to see where strategic objectives are being or were missed. Any revisions or adjustments to the plan need to be brought to department and executive leaders' attention as soon as possible, whether it's been a longer timeline to hire (which may result in higher job advertisement costs), difficulties filling for a particular skill set,  or changing market conditions that impact the workforce. 
Workforce Planning Best Practices for SaaS Companies
When it comes to finance's role in strategic workforce planning, they help ensure the company doesn't fall far from revenue and profitability goals. Finance looks beyond financial model templates to observe and offer insights on workforce plans that help support the company's performance and growth.

The following are some workforce planning examples, including some of the best practices for workforce planning in a SaaS company.
Analyze Workforce Ratios and Optimize to Support Growth
Your workforce ratios may vary based on the stage of growth your company is in. Typically, there are five primary departments beyond executive leadership for SaaS businesses — general and admin (which includes HR and finance), sales, marketing, research and development (including engineers and product), and customer support — and follow general rules of thumb for hiring across these departments.

G&A spending typically comes in at 15-20% of revenue for SaaS companies, for example, while sales and marketing usually fall somewhere between 10% and 40% of ARR, depending on your company's stage and growth goals.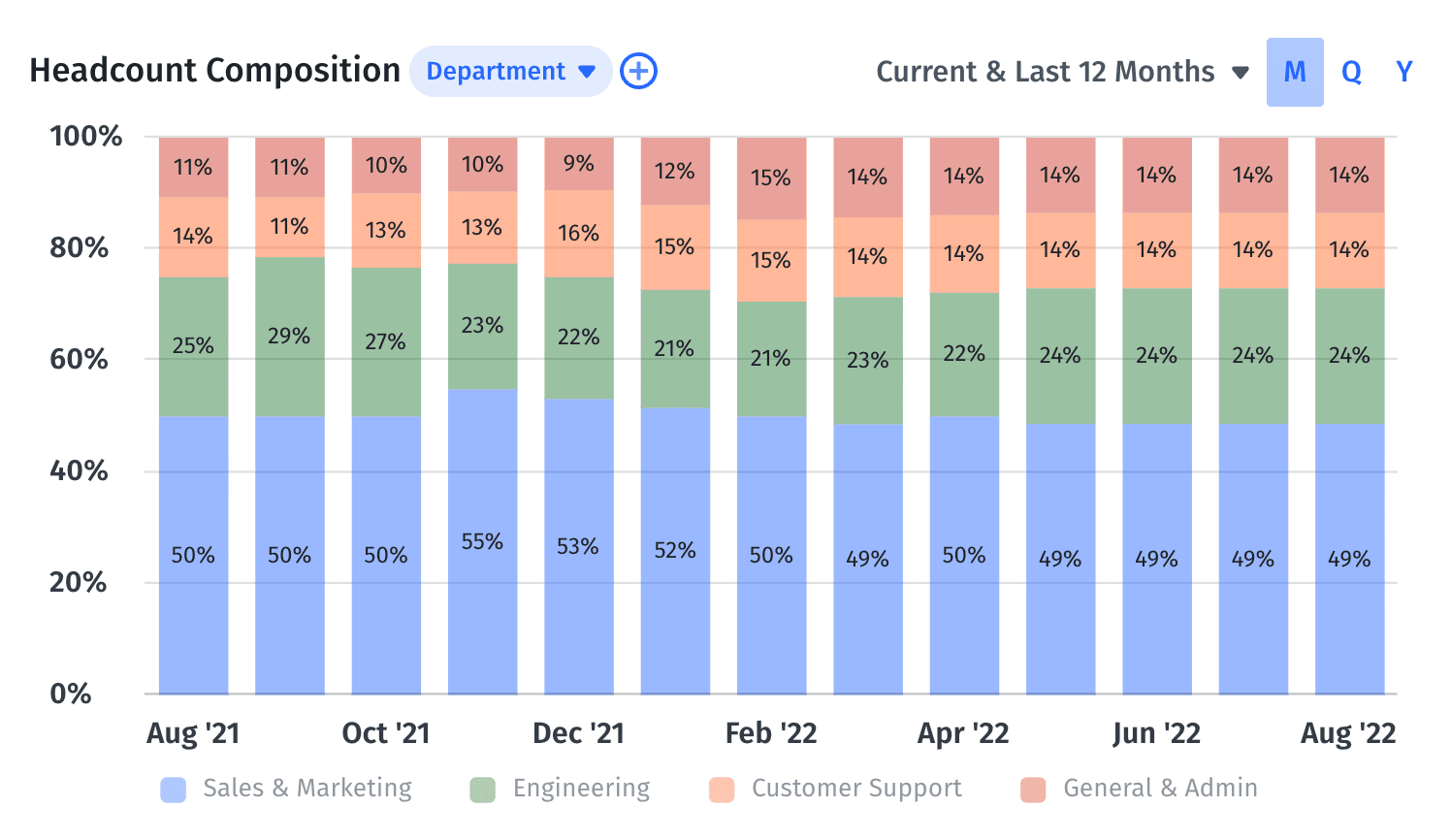 Headcount composition chart in Mosaic
Part of workforce planning is determining appropriate hiring ratios for your goals. Pay attention to your hiring ratios so you can create accurate forecasts and model drivers for sustainable workforce growth. Use relevant financial efficiency ratios and metrics to help you determine departmental spending, like the SaaS magic number for sales and marketing growth. And even with the SaaS magic number, you still need to consider gross margins, cash runway, and free cash flow to consider if investing in more marketing and sales personnel makes sense in terms of the business's growth trajectory.
Use Headcount Planning to Help Optimize Workforce Ratios
During any department's headcount planning process, finance can look at opportunities to fine-tune the plan to ensure operational efficiency. Optimizing workforce ratios, labor costs, and hours spent on the hiring process, from recruiting to onboarding, can all help offset the cost of workforce expansion. Anything that can be simplified or taken care of with automation is going to save the business time and money, such as a tool that pre-screens candidates' resumes. While you wouldn't be the person to identify these tools, HR can factor the spend and reason for such a tool within their overall budget.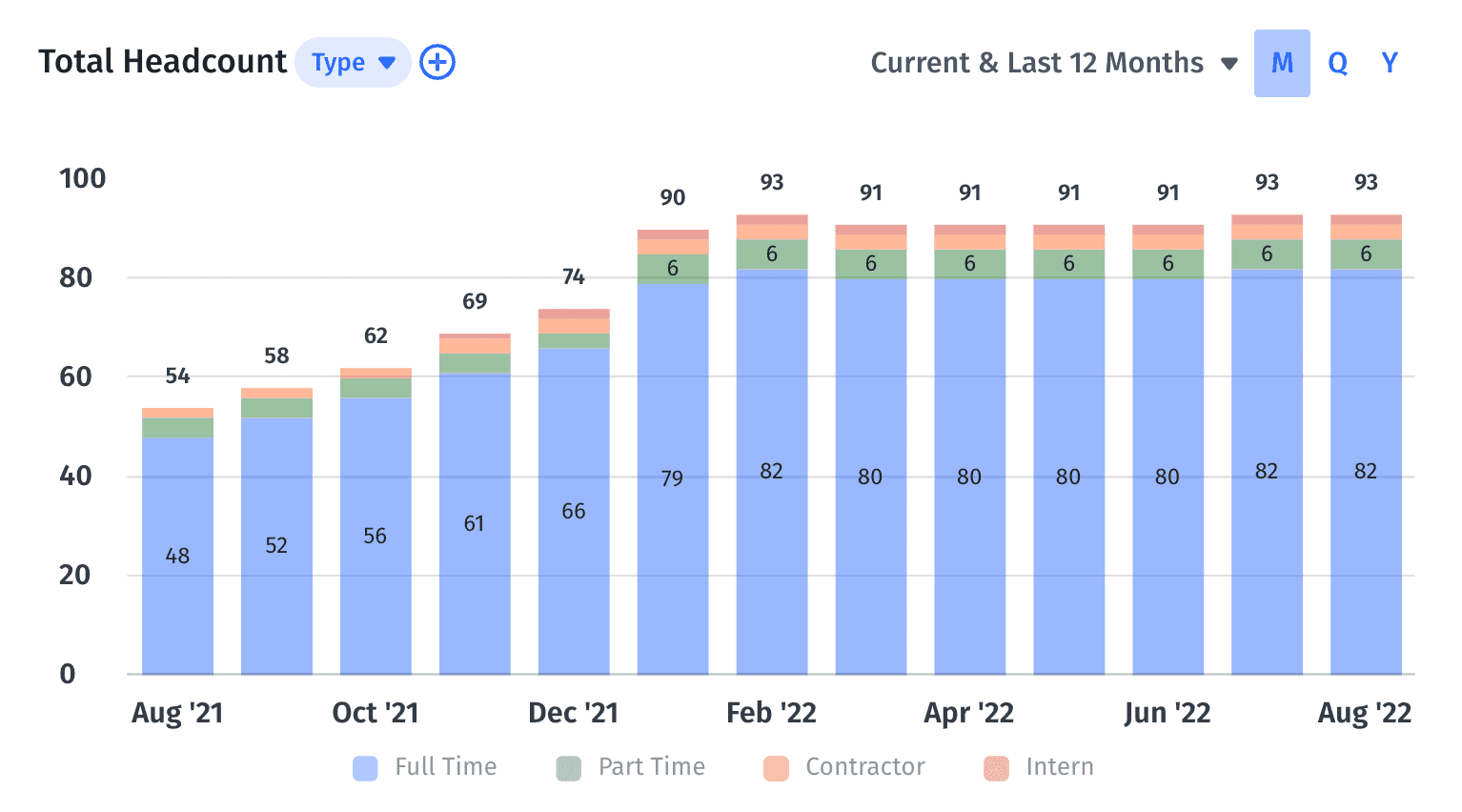 Total headcount chart in Mosaic
You also need visibility into whether your headcount planning assumptions are relatively accurate. Financial assumptions can snowball quickly into inaccurate forecasts. If the company planned to hire 12 people in the first quarter, but recruiting efforts were delayed for the first month due to not having a finalized job description, what needs to change? Headcount planning requires forecasting and collaboration with other departments to ensure the company adheres to the timeline or adjusts it proactively as other needs arise.
Offer Competitive Salary Bands
Offering the right salary to the right prospective employee is a must for attracting candidates with the talent and skill sets the department wants. But you still want to leave room for growth and leveling up because if the path to promotion is unclear, you'll lose strong employees. That's where salary bands based on leveling come in.

Take the company's location and industry into account to set the base salary, including benefits and bonuses, for each level. With remote work conditions, executive leaders can decide on a specific location that aligns with industry standards to base compensation around. Then factor in education, years of experience, and specialized skills. 
Salary bands attract potential employees, but they may fall in different places within your leveling. For example, imagine two applicants for an engineer position. One candidate has seven years of experience, while the other only has three. But, the engineer with three years of experience has a Ph.D., elevating their value. While each candidate can offer valuable contributions, t department leaders also need to consider how they could grow within the business. Hiring at the top of the salary band level could set a candidate up for dissatisfaction in the near future because there's not a clear path to promotion.

While finance may not have any input in this situation, it's important to continue collaborating with department leaders and HR for feedback around interviewee requests and reactions to the salary offer. This feedback feeds into growth goals for the company and allows further collaboration across the org to consider its pacing and refinement toward hiring the right people at the right time.   
Support Workforce Planning with Real-Time Headcount Data
Successful strategic workforce planning starts with the right data from across the company. Finance's role is to pull HRIS data alongside ERP, CRM, and billing data to create a holistic picture that tells the story of what the company needs from its workforce to continue to perform and grow. 
Mosaic helps you scale your workforce mindfully so you can anticipate the company's future needs. Rather than spending hours comparing multiple views and source systems, Mosaic integrates all your source systems into one comprehensive view. Mosaic also offers out-of-the-box dashboards and metrics that can be customized to your business, so you can track the headcount metrics that matter and will influence your workforce planning.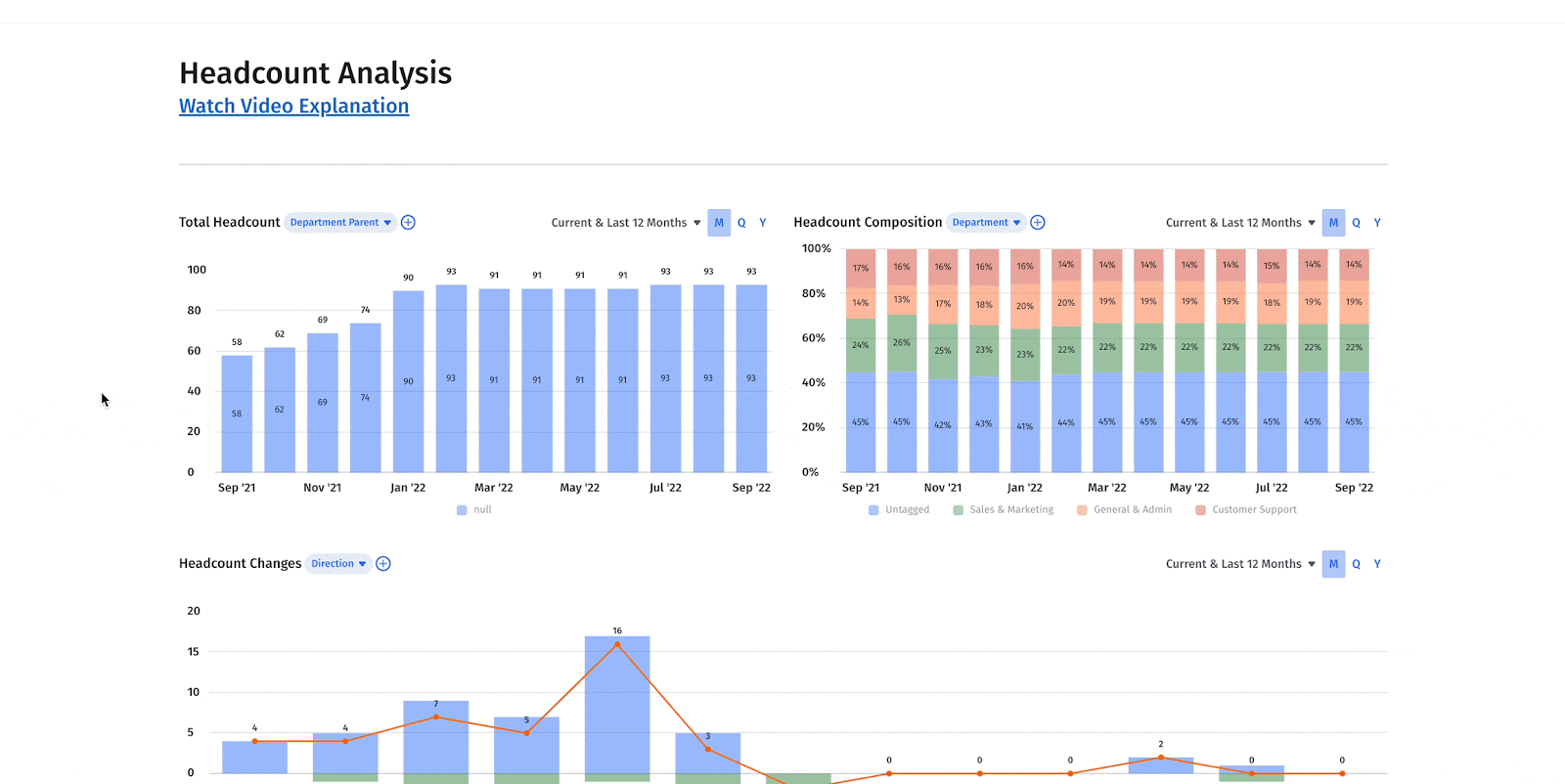 Headcount analysis dashboard in Mosaic
While the prebuilt dashboards have some workforce metrics that help with the analysis and adjustment stages of your workforce planning, you can also create custom dashboards to track specific workforce planning metrics to ensure your workforce plans remain well-informed in real-time and agile enough to adjust and put insights into action. You can then use these dashboards for future workforce forecasting. 
Ready to support your strategic workforce planning with real-time headcount data and other essential metrics? Request a personalized demo today to discover how Mosaic helps you access and analyze data faster and more accurately, so you can spend more time with business leaders on collaborative, proactive workforce planning that helps the company grow.
Workforce Planning FAQs
What are the goals of workforce planning?
The goals of strategic workforce planning are to:

Maintain a strong and stable workforce across the business

Retain valued employees

Increase employee performance and productivity

Support business goals

Anticipate and prepare for a variety of different workforce scenarios
How do you create a workforce plan?
What is operational workforce planning?