Strategic Finance: A Guide for High-Growth Companies
The modern finance function can be so much more than a backward-looking department focused on closing the books. Next-generation companies need a strategic finance function that can guide them into the future. Find out what strategic finance really means and how the right technology helps you take advantage of it.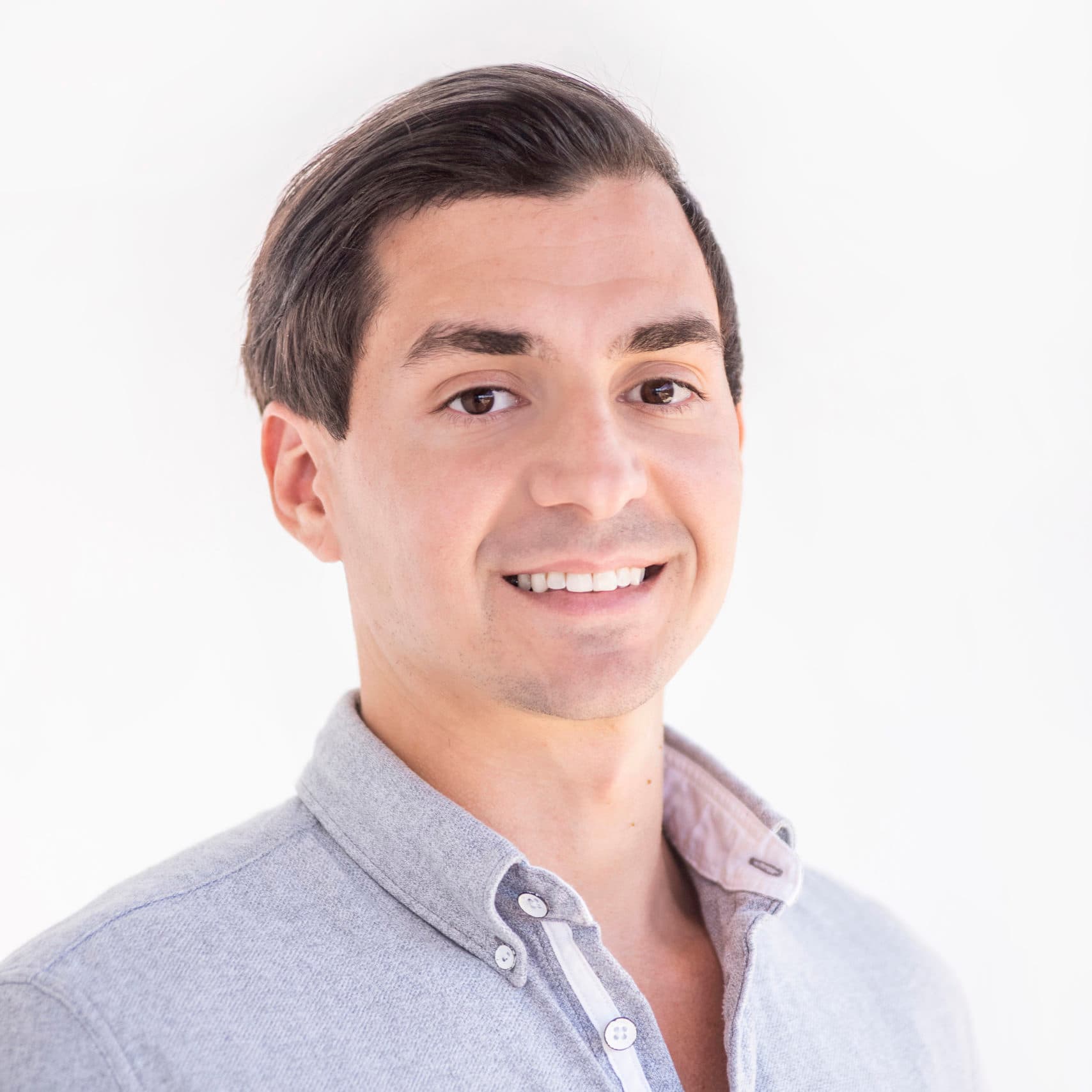 Joe Garafalo
Founder and COO
Published on January 18, 2021
Last Updated on November 14, 2023
Finance professionals spend upwards of 80% of their time on a broad base of transactional tasks necessary to keep businesses up and running. When so much effort is spent on these low-value tasks, it doesn't leave you with much time to consider important strategic and operational decisions that could improve business performance.
Building a strategic finance function flips the paradigm of traditional corporate finance on its head by leveraging the latest technology to free up time spent on low-value, backward-looking tasks, so you can identify (and follow through on) opportunities to guide your business into the future.
What Is Strategic Finance?
Strategic finance is the practice of translating operational finance data from across a business into sound financial insights in real-time. Many modern businesses, especially growth-minded startups, are embracing strategic finance because it leverages modern technology to support long-term goals and growth.
Strategic financial management turns the historically complex and siloed finance function into a clear, connected, and collaborative department—one that keeps a finger on the pulse of the business at all times while uniting departments and aligning them around the future. 
Why Companies Need a Strategic Finance Function
Strategic finance helps businesses move from outdated, backward-looking financial planning and reactive data analysis to modern, forward-looking strategic planning and proactive analytics. The traditional finance function revolves around the three-statement model. But your balance sheet, cash flow, and income statement aren't enough to power strategic financial decision-making. They provide snapshots of your organization's financial standing—but they don't give you a real understanding of what's going on in the business.
This is especially true (and problematic) for high-growth companies.
You use so many different SaaS tools to run your business—the ERP, marketing suite, CRM, HR system, payment systems, and the list goes on. These tools are constantly releasing actionable operational data that should power any financial modeling and forecasting. However, without dedicated financial data analytic software to consolidate and interpret this data, you may struggle to fully utilize this information. But if all you're getting is a snapshot of that data once every month or quarter, your financial analysis will always be a step behind your company's strategic needs. This is why high-growth companies are embracing strategic finance.
FP&A vs. Strategic Finance
FP&A helped traditional CFOs and finance professionals elevate their statuses from backward-looking scorekeepers to advisers in corporate development. But in today's SaaS-driven world, FP&A hasn't been able to keep up with the complexities of new systems, new metrics, and interconnected business functions.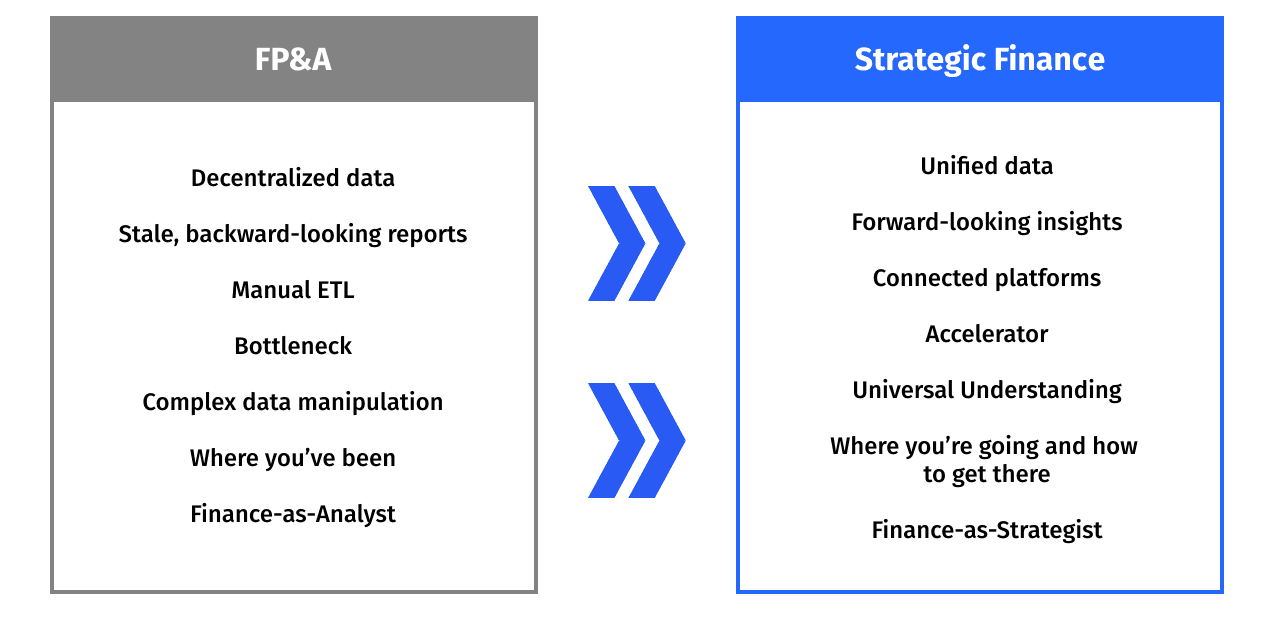 Comparison of traditional FP&A to modern strategic finance
Strategic finance is what helps you break through these complexities and take a more prominent, forward-looking role in the business thanks to:
Unified data from all areas of the business
Forward-looking insights based on real-time data
Connected platforms that act as intelligent building blocks for financial models
The ability to accelerate business decision-making
A focus on packaging financial data in a way the whole business can understand
Stopping short at FP&A still leaves you with a backward-looking finance function. Why? Because you're still dealing with decentralized data that takes too long to collect with manual extract, transform, load (ETL) processes. You still have to go through complex data manipulation to make sense of the operational information. And, ultimately, you're still a bottleneck for the business.
The Benefit of Strategic Finance for Growing Companies
The overarching benefit of strategic finance is that it enables the entire business to make smarter decisions about its future. When your strategic finance team spends the majority of their time looking forward instead of backward, they can provide strategic advice on challenges that are deeply rooted in your company's operations and economics.
A more strategic philosophy gets your top finance talent out of the waiting game—waiting for last month's numbers to come in, waiting to rebuild spreadsheets, and waiting to tell stakeholders what happened in the past. Instead, your strategic finance function gets ahead of the curve to advise on critical business decisions and resource allocation.
Andreesen Horowitz's Seema Amble and Angela Strange used this pyramid to show that the typical CFO and their finance department isn't able to focus on forward-looking tasks: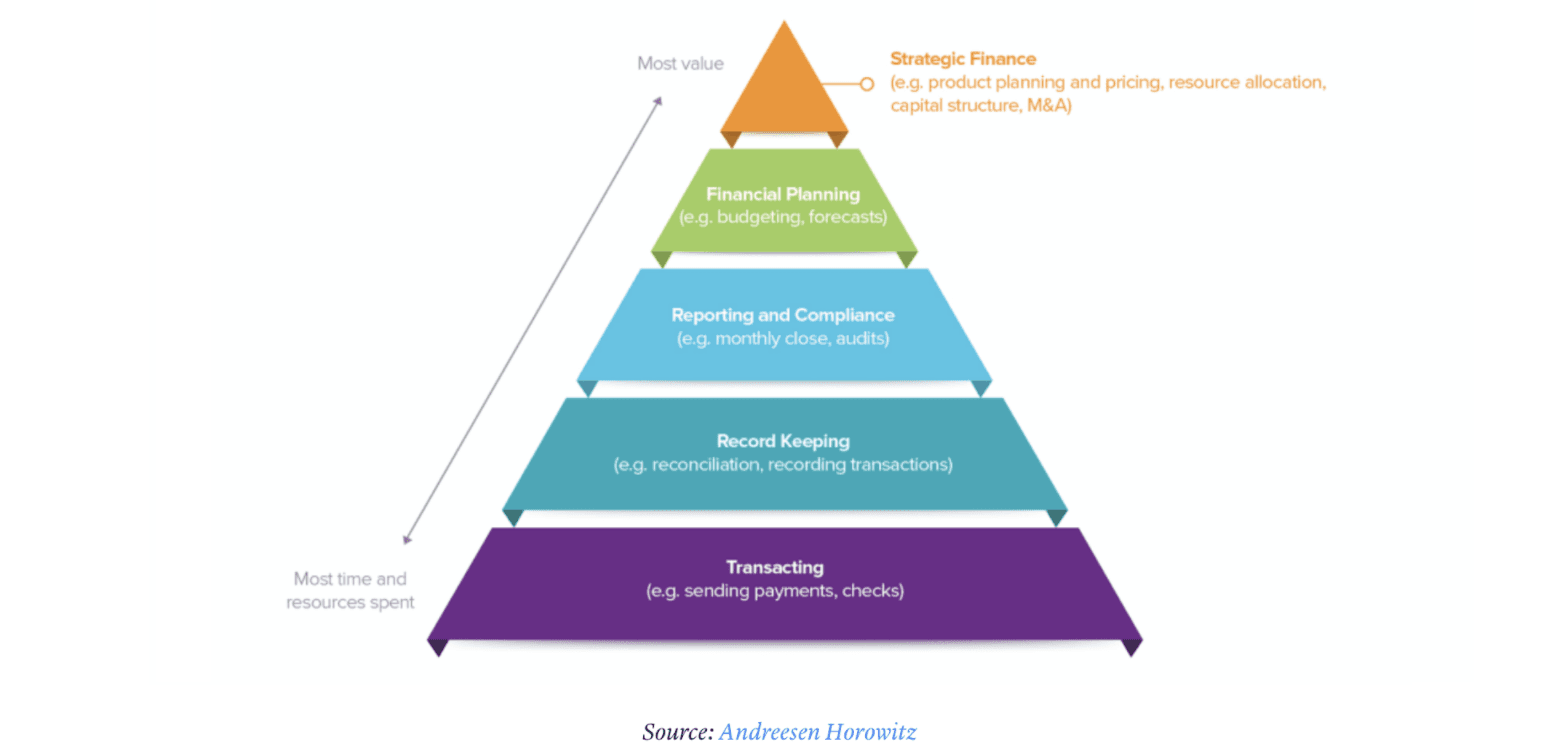 Hierarchy of finance responsibilities (from a16z)
The typical finance team spends 80% of its time and resources on transacting, record keeping, reporting, and compliance—the things that absolutely have to get done but that don't maximize your team's value to the business. That leaves just 20% of their time to actually focus on the future of the business.
A strategic finance function flips this pyramid on its head. It spends 80% of its time focusing on long-term planning for the toughest business and financial questions. What if, instead of constantly trying to get a handle on last quarter's numbers, you could dedicate more of your time to answering questions like:
What KPIs do we need to focus on to maximize the valuation of our next round?
How can we shorten our sales cycle to increase revenue and rep productivity?
What changes can we make to our business model to increase gross and net profit margins?
How do we make sure that we hit 120-130% net revenue retention with our customer base?
How does our marketing spend convert to cash collections? Which channels yield the most profit?
These are the kinds of questions finance professionals love to answer most. It's the most interesting part of the job. And it's why a strategic mindset and a focus on growth initiatives have become the most fundamental qualities of CFOs.
That's the benefit of strategic finance — it empowers your team to focus on these strategic challenges rather than the most menial parts of the traditional job.
The Tool That Powers a Strategic Finance Function
Normally, CFOs have to cobble together many tools to power their modern finance function. They use a host of point solutions for daily operations, an ETL tool to pipe that data into a database, a financial business intelligence (BI) tool for visualizations, and a financial planning tool for forecasting. Mosaic is an all-in-one strategic finance platform that replaces this costly, complex tech stack.
Without Mosaic, you'd spend millions of dollars and anywhere from six to nine months building that complicated tech stack. And that's only if you happen to have a degree in computer science in your back pocket to build it in the first place. In the past, finance teams that didn't have this kind of budget and technical skill have had a tough time getting out of the cycle of short-term, repetitive tasks.
We built Mosaic so that strategic finance could be accessible to all companies.
Mosaic integrates with your most important business systems—your ERP, CRM, HRIS, and payment systems—to enable real-time visibility into your financial data and automate many of the tasks that take time away from strategic finance.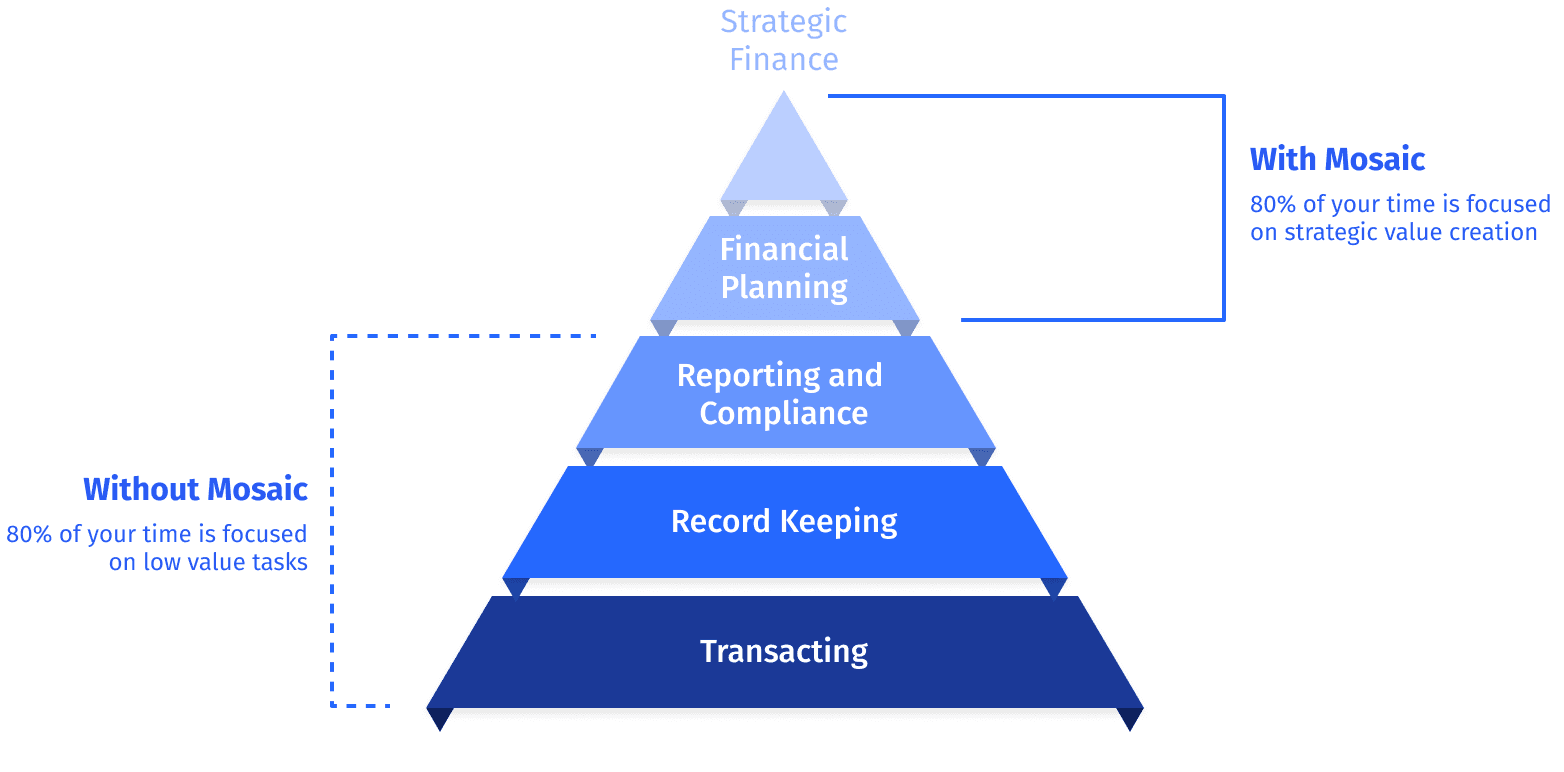 Strategic finance flips finance responsibilities on their head
There are two core components of Mosaic that help you take advantage of these integrations to power your finance function transformation:
Mosaic Analytics: Automated analysis and visualizations based on real-time data help you prepare board materials, answer key business questions, and compare budget vs. actuals in seconds. And with the Canvas feature, you can add commentary to simple data visualizations to improve collaboration with business partners outside of finance.
Mosaic Planning: Flexible planning means you can easily manage your financial assumptions and model multiple scenarios without spending countless hours fighting with spreadsheets to do spend forecasting, revenue forecasting, or departmental budgeting. Being able to model and adapt to the rapidly changing conditions of your business ensures you're always making the most informed, strategic decisions possible .
With this newfound freedom, finance teams can embed deeply with their business counterparts and truly understand how to drive operational excellence.
The Next Generation of Finance Is Strategic
Everything your company does has financial implications—and it's your job to translate those implications into actionable insights for the business. That's why the next generation of finance teams can't be stuck in the repetitive cycle of backward-looking, low-value reporting.
When all your business data automatically translates into clear and actionable insights, you don't have to worry about connecting the dots day-to-day. You can focus on identifying strategic opportunities to maximize your growth rate and assume your place as a true adviser to the CEO.
Want to learn more about what a Strategic Finance Platform can do for your company? Request access to Mosaic, and see how it can help you strategically manage your business.
Strategic Finance FAQs
What's the difference between FP&A and strategic finance?
Strategic finance is a more modern iteration of FP&A (financial planning and analysis). Whereas data silos and manual processes forced traditional FP&A teams into reactive analysis and short-term monthly budget planning, strategic finance leans on more automation and data integration to maximize business partnerships. A strategic finance function balances both short-term and long-term planning, surfacing insights that help senior executives, department leaders, and C-suite decision-makers drive growth.
What does a strategic finance manager do?
What tools do companies need for a strategic finance function?