How to Get More Out of Your Salesforce QuickBooks Integration (and Steps for Setup)
Data integration, such as connecting your Quickbooks ERP with your Salesforce CRM, is essential for ensuring you have access to all the necessary data for tracking your company's growth and success. But integrating these source systems with a strategic finance platform like Mosaic allows you to truly get the full picture of your business.
Customer relationship management (CRM) and enterprise resource planning (ERP) tools help businesses track vital data sets like their general ledger, revenue, billing, and opportunities. But with two separate systems, you end up with two separate sets of data that don't communicate with each other.
Even with well-designed, user-friendly ERPs like Intuit's QuickBooks and CRMs like Salesforce, finding a way to successfully compile sales and accounting data from two separate platforms is difficult. You spend hours tracking down the right metrics from each system and manually entering them into spreadsheets. Those disconnected spreadsheets are then e organized and broken down into meaningful metrics, which you continue to inspect to deliver insights to business leaders and stakeholders.
When you integrate QuickBooks and Salesforce, your data is shared across platforms so you get the bigger picture — but you don't get the full picture. But when you integrate with a strategic finance platform like Mosaic, you're on your way to stronger financial storytelling that keeps the entire business's needs in mind.
Why You Should Integrate Salesforce with QuickBooks
Integrating Salesforce with QuickBooks allows you to observe your business performance without having to dig for data through separate systems. You benefit from a broader view of the business, along with these additional benefits.
Saves Time and Improves Productivity
Manually searching through two separate systems for data then manipulating and reconciling it in Excel is a time-consuming business process.  Rather than spending time on data entry, a Salesforce QuickBooks integration streamlines productivity by accessing data faster, which allows you to dig deeper into the data and get closer to finding proactive solutions for the business. Whether it's through running an analysis on your sales conversion rate, tracking sales rep performance on an individual basis, or any number of use cases, you gain a holistic view of your sales team's progress and how it impacts overall business initiatives.
Identifies Areas for Improvement Faster
Once you've integrated QuickBooks with yourand Salesforce reports and dashboards, your workflows are more efficient and it's easier to see the bigger picture. Seeing the combined view of financial and sales metrics helps you identify missed goals, gaps, or inconsistencies faster.
Promotes Opportunities for Collaboration
Salesforce QuickBooks integration opens the door for more productive collaboration between teams to develop proactive strategies for improving metrics in each department and addressing overall business needs. You can focus on sales funnel metrics so that marketing and sales can have more informed conversations around marketing's campaign efforts, the sales cycle itself, and where each department sees opportunities for improvement and further collaboration on sales enablement materials that get prospects across the finish line.
The Limitations of Salesforce/QuickBooks Integration
While the Salesforce QuickBooks integration provides a fuller picture of business performance, it's important to understand that there are limitations to the integration — some of which boils down to ensuring you have the right version of each system.  Here are the limitations of integrating QuickBooks and Salesforce.
You Need the Right Versions of Each Program
In order to integrate Salesforce and QuickBooks, you need to have QuickBooks Online rather than QuickBooks Desktop. There's no way to integrate without the online platform. Additionally, you'll need the higher tiered versions of each program, like QuickBooks Advanced and Salesforce Professional, for integration to work.
You Need a Way to Integrate the Systems
Integrating Salesforce and QuickBooks requires a connector app. There are several options, including QuickBooks Online Salesforce Connector and QuickBooks Online Advanced application programming interface (API), available on Salesforce AppExchange.
You Need to Flag Duplicate Data
If you're using the QuickBooks Online Salesforce Connector, it's more secure as a built-in component of QuickBooks, but there's no API to help QuickBooks understand the sales and customer data brought in from Salesforce. This can cause duplicate data to appear in QuickBooks, which could result in inaccurate data and metrics.
You (Still) Need to Rely on Manual Data Entry
With most integration platforms, you'll still need to manually do some of the work. You may need to manually go through to eliminate duplicate data, manually enter Salesforce data that QuickBooks was unable to understand, or schedule meetings manually with calendar software like CRON.
How to Integrate Salesforce with QuickBooks
Learning how to integrate Salesforce with QuickBooks requires some patience and manual set up at the beginning. Most people choose to connect the two systems using Salesforce Connector by QuickBooks, which integrates the two data sets so that you're able to access them simultaneously.
The integration process for the Salesforce Connector by QuickBooks follows four steps:
1. Instigate the Connection Between Salesforce and QuickBooks
Sign into your QuickBooks Online Advanced account as an admin. Select apps, then search for the Salesforce Connector and download the app to begin. Choose how far back you'd like QuickBooks to start downloading transactions from Salesforce.
2. Choose how Salesforce Opportunities Will Appear in QuickBooks
Once the app is connected to Salesforce, you choose what opportunities to bring in. Select what you want QuickBooks to do with the imported sales and customer information, then sync your Salesforce opportunities and download them into QuickBooks as draft sales orders. These drafts won't count toward reports until they're approved.
3. Assign Fields From Salesforce to Your Fields in QuickBooks
This ensures QuickBooks organizes your data so you have the same information in both systems. If information fields in the systems don't match up, you can leave them blank. Alternatively, you can setup a custom field in QuickBooks for fields that exist in Salesforce accounts, but not in QuickBooks data. These custom objects help ensure that you're seeing all the data reflected from both platforms.
4. Use Each System as Usual
At this point, the two systems should be connected and information should be shared across both platforms. You should see Salesforce products and services in QuickBooks, along with accounting information.
Get More Out of Salesforce and QuickBooks with Mosaic
Even with the more cohesive view of finance and sales data, the Salesforce QuickBooks integration doesn't provide a holistic view of the business. A Strategic Finance Platform like Mosaic gives you the full picture of the business. And with out-of-the-box dashboards and templates, you get to choose how to present that data to get everyone on the same page faster.
Mosaic ensures data from both systems is compiled automatically, so you get a clearer, cleaner view of your data in real time. This saves your team days or even weeks of time that would otherwise be spent manually pulling and compiling data and entering it into spreadsheets.
The platform also provides ample ways to tell your financial story with prebuilt dashboards and templates.  You can select dashboards that focus on your sales funnel metrics, sales pipeline metrics, or sales performance metrics, among other metric sets. Like the sales cycle dashboard below, these visualizations are easier for stakeholders to look at and quickly understand.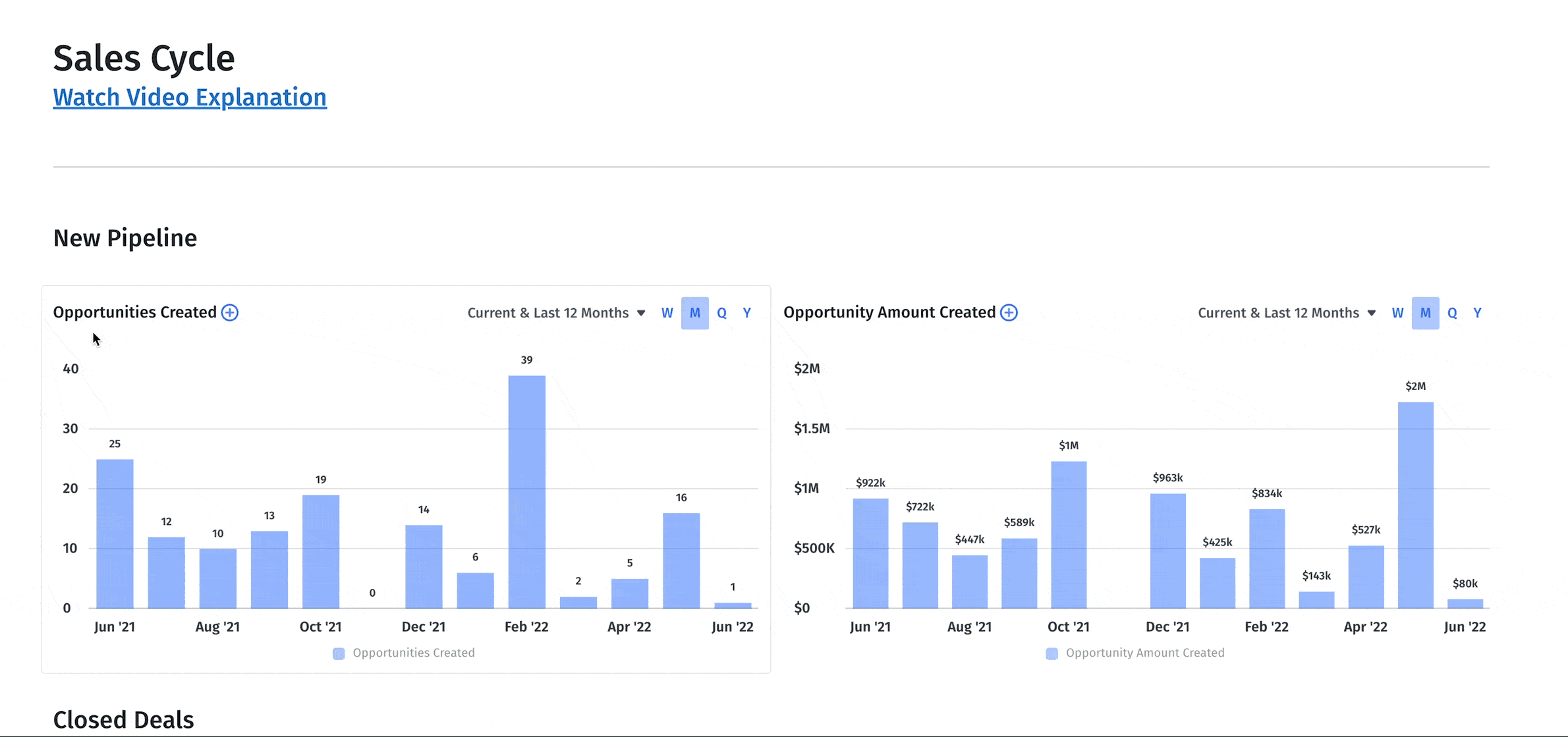 Example of a sales cycle dashboard in Mosaic
You can also customize dashboards to have the metrics that matter to your business front and center.
Rather than having a bunch of separate systems that don't talk to each other, Mosaic allows QuickBooks and Salesforce to communicate effectively and come together with your HRIS and billing systems for maximum functionality and financial consolidation. You'll get clean data and a more efficient and effective way to access essential metrics, giving you the fullest, most informed picture of the business from every angle.
Ready to find out how Mosaic can free you from frustrating, time-consuming data entry by giving you real-time metrics and automated dashboards that integrate data from your business's tech stack? Get the complete picture of finance, sales, and business performance with Mosaic. Request a personalized demo today to find out how Mosaic gives you the time and the tools to collaborate across departments to drive strategic decision-making and improve the business.
FAQs About Salesforce QuickBooks Integration
Does Salesforce integrate with QuickBooks?
Salesforce can be integrated with QuickBooks to combine sales and financial data and provide a better overall picture of your company's performance. You'll be able to access both data sets simultaneously, which will lead you toward more strategic insights into how to optimize workflows and encourage sustainable growth across the business.
How much does it cost to integrate QuickBooks with Salesforce?
Can Salesforce be used for accounting?
Can you use QuickBooks as a CRM?