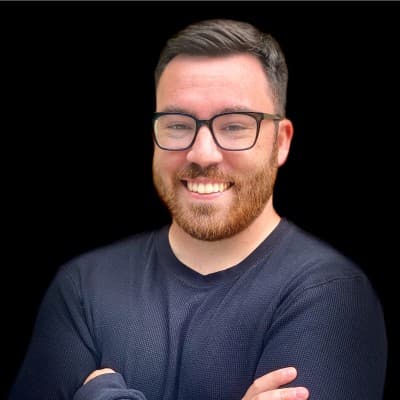 Joe Michalowski
Director of Content
Published on May 7, 2023
Last Updated on September 26, 2023
When you sign up for the life of a founder, you're signing up for a never-ending cycle of fundraising.
Even when you're between rounds, and your cash runway is looking strong, you never really get out of fundraising mode. At least, that's what SaaStr founder Jason Lemkin says.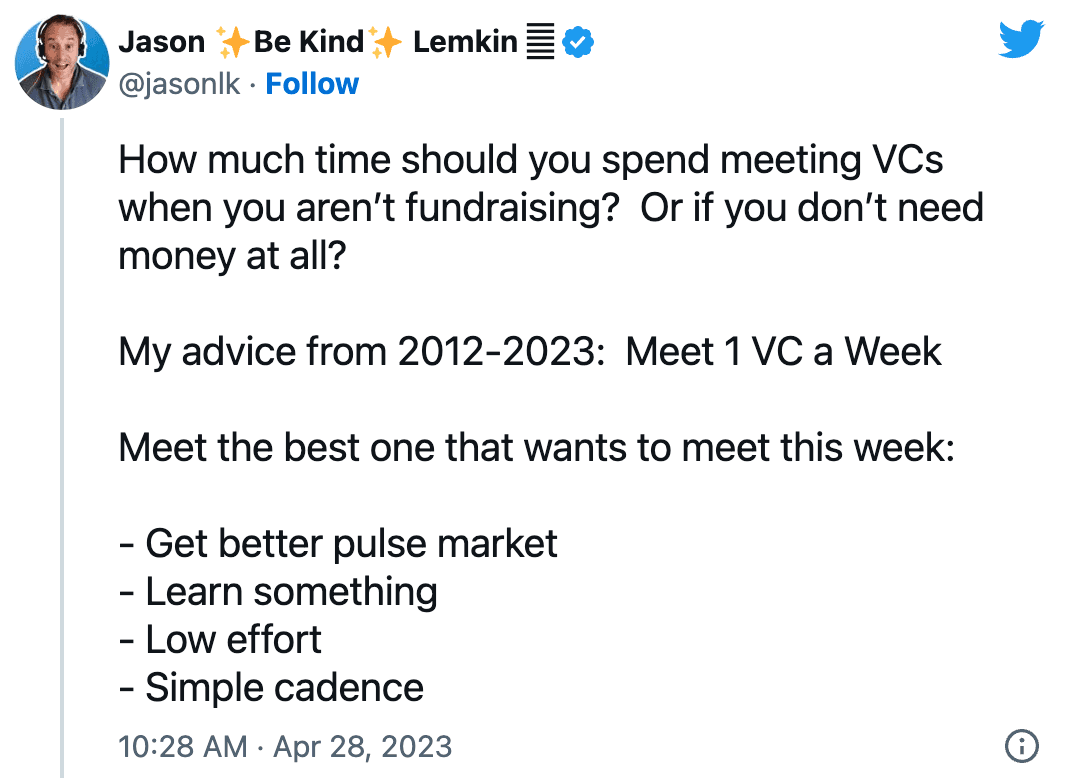 Jason Lemkin's 1-and-30 rule
Lemkin's 1-and-30 rule for connecting with investors is a good one. But there's one outstanding question — how do you connect with investors in the first place?
Whether you're just looking for a seed round or you're looking for new investors for the late stages of growth, finding investors to connect with shouldn't be a daunting task. Follow these tips to make connecting with investors a bit easier.
The Importance of Investor Networks in SaaS
"Always be connecting" should be your motto when it comes to investor conversations. While there's nothing inherently wrong with cold outreach, you don't want your investor connections left to the chance of getting noticed in a VC's inbox out of the blue.
If you're continuously building out your network of investors, you'll have an easier time getting in touch with the right ones when it comes time to raise money. But that's not the only benefit of a strong investor network.
Maintaining a solid investor network is also beneficial because investors bring knowledge about the field and what it takes to succeed in the SaaS market. Investors interact with many other companies throughout the year. They see what works for those companies and what doesn't. Businesses can leverage that wealth of experience to help decide where to best spend their money and how to plan for the months and years ahead.
John Luttig, a Principal at Founders Fund, shared an example of this with us on a webinar, discussing how investors can help with scenario planning. When it comes to a focus on high growth versus a focus on a baseline conservative approach, it can be difficult to decide where to spend. John said exampled that, "If you're debating… do we really step on the gas, I think the investors will have a good sense of whether the market is rewarding growth at all costs versus being more conservative."
Even if you're not in fundraising mode, this kind of insight could be invaluable to your planning processes.
7 Tips to Connect with the Right SaaS Investors
Whether you're just looking for a casual introductory chat or hoping to give an official pitch in a fundraising cycle, you need to be able to stand out from the massive crowd of founders fighting for investor attention. Here are a few tips to help you do just that.
Present a Compelling Business Plan and Pitch Deck
Investors want to see a solid business plan outlining the product's target market, the potential for growth, competitive advantage, and how you have or will achieve traction. A successful business plan and pitch deck show how previous experiences have prepared business leaders for success.
They also identify potential pain points and outline plans to solve them, as well as demonstrate a thorough understanding of how the product fulfills a need for the target market. John Luttig suggests using your pitch deck to "address the investors' biggest concerns and then frame your metrics around that."
Demonstrate Management Team Expertise
Startup founders' knowledge and expertise in the field are essential to the success of a startup. Investors respond to management teams with strong skills and backgrounds that prepared them for running this type of business. Team members should be experts when it comes to executing growth plans, scenario planning, and strategic decision-making for both short and long-term goals.
Demonstrate that expertise with focused communication and metrics that show management is focused in the right places. It's also beneficial to show that you know how to engage successfully, whether with your customers, stakeholders, or Board.
Be Disciplined and Consistent
Running a startup takes determination, discipline, and consistent work. And investors want to see that discipline from the start.
A new business or product may go through several adjustments as you learn the market and how to truly meet customers' needs. What investors want to see is the determination to do the work required and the discipline to consistently get things done. Show that the business knows where to focus time and attention to ensure that things move forward efficiently and effectively.
Demonstrate Confidence in Your Business
Investors are wary of uncertainty, and with the current economic downturn, cautious capitalism is the name of the game. Show investors confidence in what the company has to offer, and share the data to back it up.
Demonstrate expertise clearly and often, whether that's on a platform like LinkedIn or via the metrics included in your pitch deck. Confidently project what the business can do with the capital it can offer. Use financial storytelling to build a narrative around the company's growth so far by getting into the "why" behind the numbers.
Find the Right Match for Your Company
Seek investors that typically invest in companies like yours. For example, there are a lot of different growth equity firms out there, and they typically work with late-stage companies prior to IPO. These investors aren't going to be a great fit for SME companies in their earlier stages, so it's not beneficial for a startup to spend time trying to woo this type of investor. Similarly, a Series B company shouldn't be looking for seed funding from angel investors.
Company leadership should seek investors that match your:
Funding stage: Make sure any investors the business pursues work with companies at the same stage as your company.
Industry experience: Investors who understand the SaaS industry are better able to understand what lies ahead and what pain points the business might encounter.
General business values and investment philosophy: If the business is focused on long-term, sustainable growth, but an investor is talking short-term "growth at all costs", your philosophies and values aren't aligned. Find investors with the same priorities as the business.
Use Your Resources
Whether investors are coming to the business or the business is seeking out new investors, the key is to use the resources you already have. Leverage current investors to help the business find the right investor fit. Current investors can either make recommendations and introductions to potential new investors, or they can help narrow down or vouch for investors the business is considering.
Social events can offer networking and investment opportunities, too. If you attend an industry event, offer a warm introduction to investors the business may want to pursue further.
Look Beyond Raising Funds
Investors have more to offer than capital, so look for investors that can offer the kind of support, resources, or guidance that can help bring the business to the next level. Take investors' reputations into account, too, because their track record with other businesses can tell you a lot about how they'll work with you.
Also, consider the types of connections they may have that can help you network in the industry. It's often about who you know, so consider all introductions offered. These may lead to new investment opportunities, partnerships with other small businesses, and more.
The Best Platforms to Connect with Investors
Once the business is ready to meet investors, you'll want to know where and how to contact investors. It's possible to connect with investors in several ways, depending on your current situation. Whether you need to start from scratch or you can leverage your current relationships, connections help the business thrive.
Mutual Contacts
Making connections through mutual contacts is generally the best, most reliable way to meet investors that'll be a good match for where the business is now. You can network through friends, family, colleagues, or current investors. If your mutual contact is a current investor, that's especially ideal as they'll know exactly what the business needs to succeed.
Remember that Silicon Valley is one big community. Investors talk, and they hang out with other investors. So, if your current investors make referrals for firms they believe would be a good fit, listen. If they offer an introduction, take it. Even if friendly investors who passed on your company offer an introduction, trust that they're making that recommendation for a reason and take the meeting.
Networking or Investment Platforms
Brand new businesses can look for angel investors on investment platforms like AngelList. These platforms connect you with potential investors, employees, and more. For new and established Series A, B, or C startups, platforms like Crunchbase can be a useful place to look for information about investors, partners, entrepreneurs, or comparable businesses. Crunchbase provides tools to help your business, whether you're searching for angel investors or late-stage venture capitalists, and offers information about investment and funding to help you find startup support.
LinkedIn and other networking platforms can also be valuable for seeking out information and investors, particularly if you're not sure where else to start. Networking platforms and social media can also be helpful for doing a little extra research on potential investors. Use these platforms to find out more about their backgrounds, experience, and track record with other companies to see if they seem like a good fit.
Inbound Investor Emails and Calls
In some cases, businesses get cold calls and emails from investors interested in the company. That said, these investors aren't always a good match for your company's stage or industry. Take note of the cold calls and emails, even if you're not interested in responding right away. Building relationships before you need them can be beneficial, and they may be a good fit for the business down the road.
If you find that a potential investor is especially persistent and trying to connect repeatedly, do your homework. Ask your existing investor base about these potential new investors and see if they feel it's worth an introduction. Again, building relationships is always a plus.
Community Events
Networking events, conferences, investor meet-and-greets, and other community events are excellent places for initial introductions to a wide variety of investors. Peter Nesbitt — an early-stage startup advisor, investor, and founder — likens these types of events to speed dating. He says, "I find them generally helpful to get initial intros and quickly weed out those that aren't a fit for the existing funding round."
Peter also points out that junior venture capitalists often attend startup ecosystem events like networking nights and pitches. He suggests getting to know junior VCs with the goal of getting an initial meeting with the investment firm. The goal after that meeting is to pitch the partner covering the same stage and industry as your company.
Connect with Investors by Sharing the Right Metrics
Learning how to contact investors is one thing. But once you have interested investors, it's all about showing why they should invest their capital in your company. You need to share the metrics that matter to investors so they know the business is a good investment. Pitching investors with the right metrics gets them in the door, but learning how to connect with investors in a meaningful way can really get them excited about the business.
In this time of cautious capital, your investors need to feel aligned with your business plan and comfortable investing in the business. You need to build a strong strategic bond. Financial storytelling is a big piece of this puzzle because it goes well beyond sharing data and North Star metrics and digs into the "why" behind the numbers. If you know how to properly frame your data, you have the opportunity to set yourself apart from other businesses.
Mosaic can help you do just that. Whether you need guidance for building a strong SaaS pitch deck or you need an impactful way to communicate your data with investors, Mosaic can help. Our customizable financial dashboards help you organize and share your data, so it's easily digestible and demonstrates your financial narrative to your investors. Whether you opt to start with our templates or fully customize your decks, dashboards, and reports, Mosaic helps you highlight the metrics that matter.
For example, our Executive Financial Dashboard offers high-level visibility into the financial health of the business. This dashboard offers at-a-glance access to many of the most relevant KPIs to your investors, including ARR/MRR, expenses, and net burn.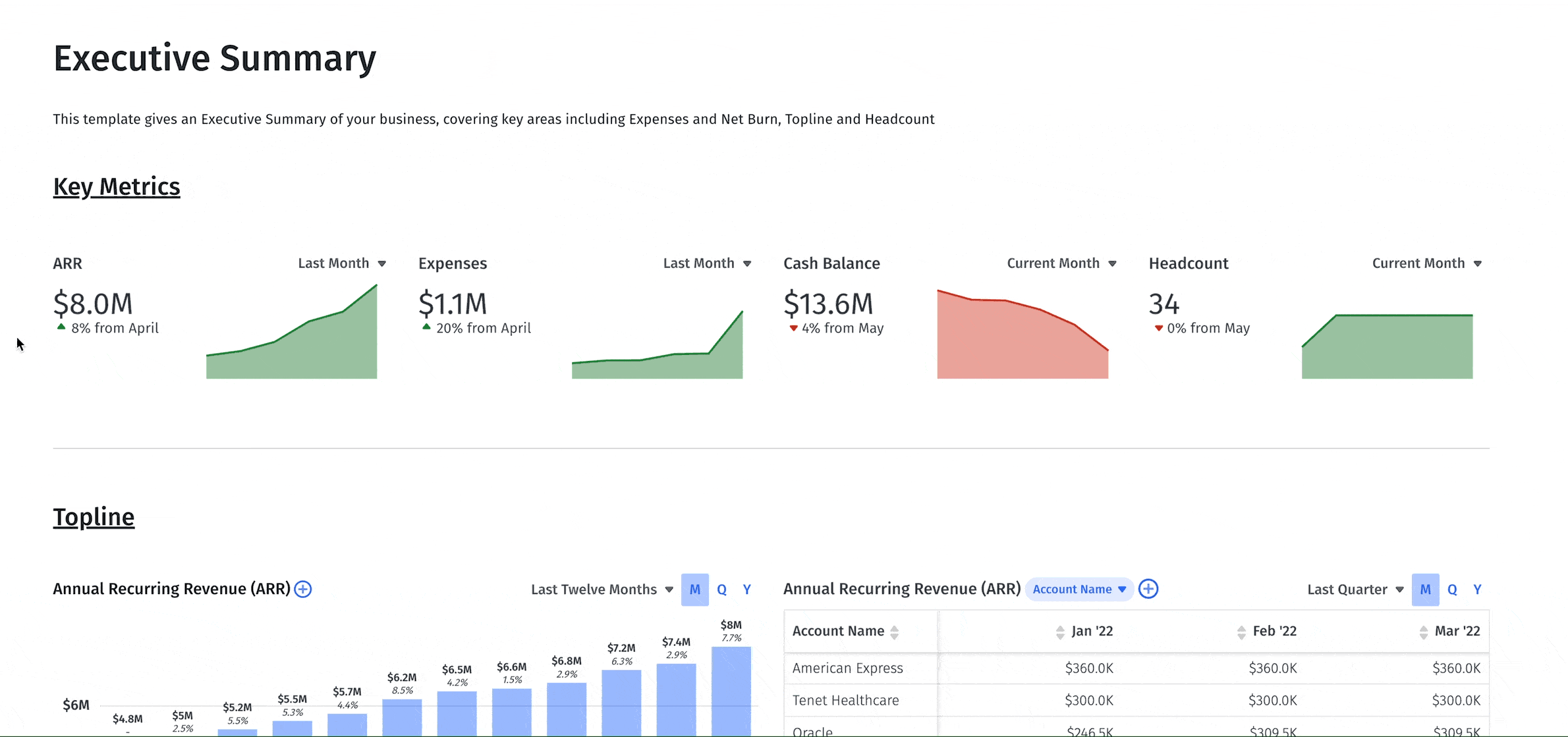 Example executive financial dashboard in Mosaic
Our SaaS acquisition metrics dashboard offers a complete overview of the efficiency and effectiveness of all efforts to drive growth. From CAC and CAC payback period to LTV and the SaaS magic Number, investors will be able to assess the company's growth.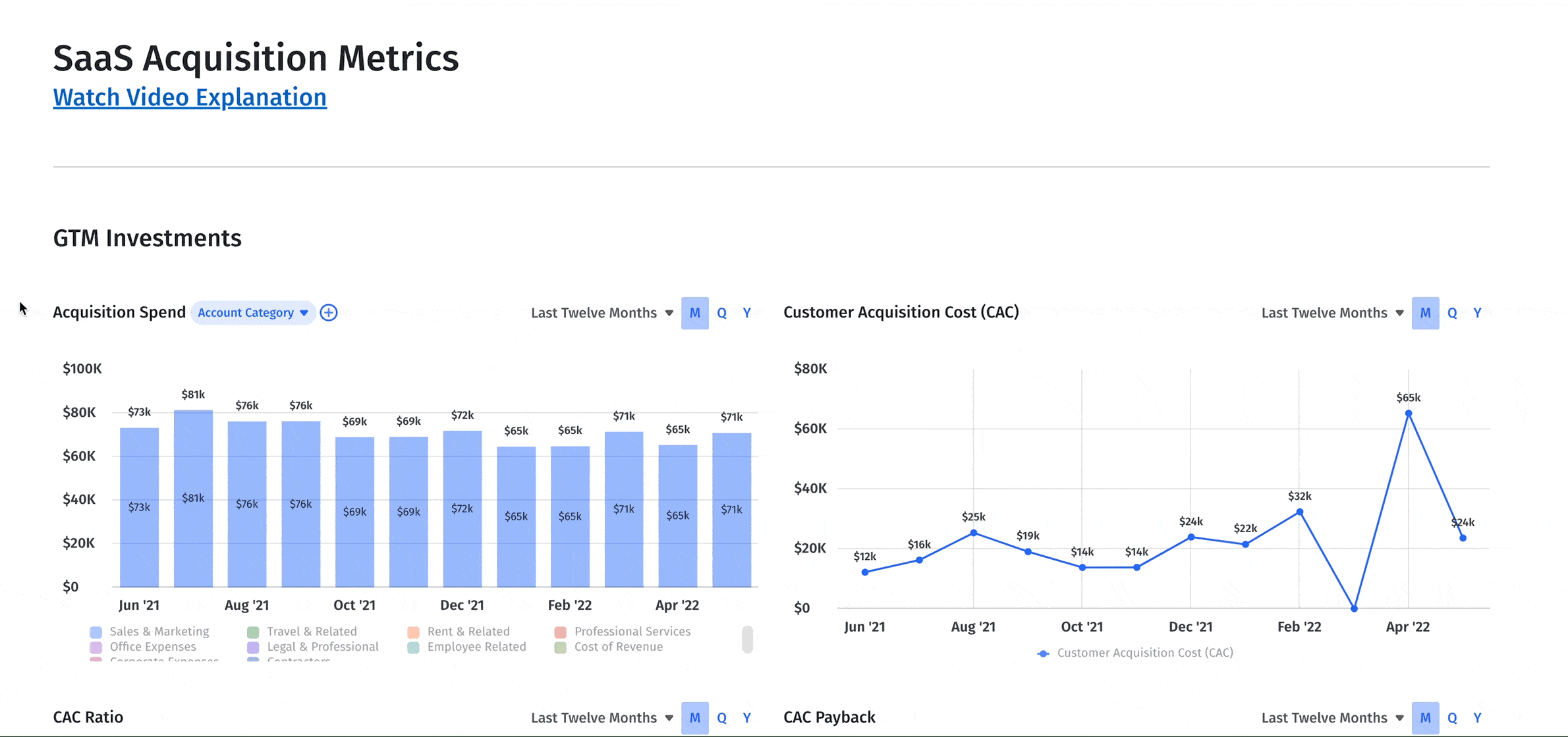 SaaS acquisition metrics dashboard in Mosaic
Our canvas supports collaboration by helping you create, monitor, and share the right financial information with the right people at the right time. Part dashboard and part living document, Mosaic canvases make financial analytics more accessible, so you can communicate more effectively with potential investors. They'll get the full financial picture, and you'll get the strategic functionality of a financial platform that helps move your business forward.
Ready to learn more? Get a personalized demo and find out how presenting the right metrics the right way helps you tell investors your financial story.
Investor Networking FAQs
Why should I reach out to investors?
Whether you're seeking an angel investor, late-stage investor, or even crowdfunding or peer-to-peer lending to fund your business, investors are a vital part of any startup. Your investors offer important venture capital to keep the business growing and moving forward.
But they can also be mentors, offering informed guidance, strategic insights, and industry relationships to strengthen and support the business. Reaching out to investors shows that you're ready to take the business to the next level. Have your elevator pitch ready and start making connections.
What should I prepare before connecting with investors?
What sparks a SaaS investor's interest (outside of ROI)?
How often should you send investor updates?