The Battle of SaaS Billing Platforms: Top Choices and the Missing Piece
Finance and accounting teams have to move far too quickly to keep pace with business demands for a home-grown billing system to work well. But the market for SaaS billing software is crowded and can be difficult to navigate. Here's everything you need to know about the top options.
The market for billing platforms is mature enough that you can't go terribly wrong picking between the major vendors. You'd be hard-pressed to find one that can't provide the table stakes functionality you expect from a billing tool.
But table stakes aren't enough when it comes to SaaS billing software. The complexity of SaaS billing makes choosing between vendors a bit more nuanced than it might be for other industries.
We've spent years implementing various SaaS billing platforms. Here's what you should know when choosing one for your business.
Why the Right Billing Platform Matters for SaaS Companies
Even the most basic SaaS subscription model introduces a level of complexity to billing processes that makes choosing your system mission critical to business success. 
From simple tiered pricing to per-seat models, usage-based pricing, multi-priced products for international products, and beyond, there are countless variations of pricing strategies you might put in place to grow your business.
And while each SaaS billing platform will offer the basics of subscription automation (quote-to-cash management and accounting automation), choosing the right tool comes down to more advanced considerations.
Customization.

As your business becomes more complex, so will your billing requirements. SaaS billing tools will vary in terms of how customizable they are with workflows. If you have a complex product and billing architecture, you'll need a highly-customizable system to help automate it all.

SaaS reporting.

Most billing software falls short when it comes to understanding the intricacies of MRR. They don't let you dig into the granular details of how recurring revenue is defined. But some are better than others. Go into the evaluation process with a clear understanding of how you're going to pull MRR out of billing data.

Integrations.

We've seen many SaaS companies mix go-to-market motions and, therefore, require hybrid billing systems. They might have one system for self-serve products and another for invoicing enterprise customers. If you have a complex stack of disparate systems and data, evaluate the flexibility of each vendor's APIs and integration options.

Add-ons vs. included.

Platforms like Stripe and Chargebee include a massive set of add-on offerings to support unique billing needs. Go into the buying process with a clear understanding of what you need. There are all kinds of ways you can bundle billing, payment processing, subscription management, and accounting automation modules to meet your needs at a price that makes sense for you.
The choice between SaaS billing platforms won't make or break your entire business. However, choosing the right one can make all the difference between a smooth operation and one that frustrates you to no end. And the last thing you want to be doing is spending your limited bandwidth fighting against a billing system that isn't quite right for your needs.
The 4 Top Billing Platforms for SaaS
While the market for SaaS billing software is fairly crowded, there's a clear "Big 4" in the space that we see just about every company choose between — Stripe, Chargebee, Ordway, and Maxio (formerly Chargify and SaaSOptics).
There are other popular billing tools like Bill.com, Zuora, Zoho, and Recurly. However, these tools aren't as prominent in SaaS as the four primary options. 
In our experience, you can't necessarily go wrong with any of the "Big 4." But each tool has strengths that may make it more appropriate for your business.
Stripe
Stripe is the biggest billing and payment platform on the planet. And in the SaaS world, it is the de facto king for all things billing among product-led growth (PLG) companies. 
Users typically praise Stripe for the strength of its APIs and documentation. But because the system is rigid and fairly simple, it's not uncommon for people to complain about the UI and limited specialized functionality. Enrique Esclusa, Co-Founder of Assemble, recently started searching for Stripe alternatives with some specific functional requirements.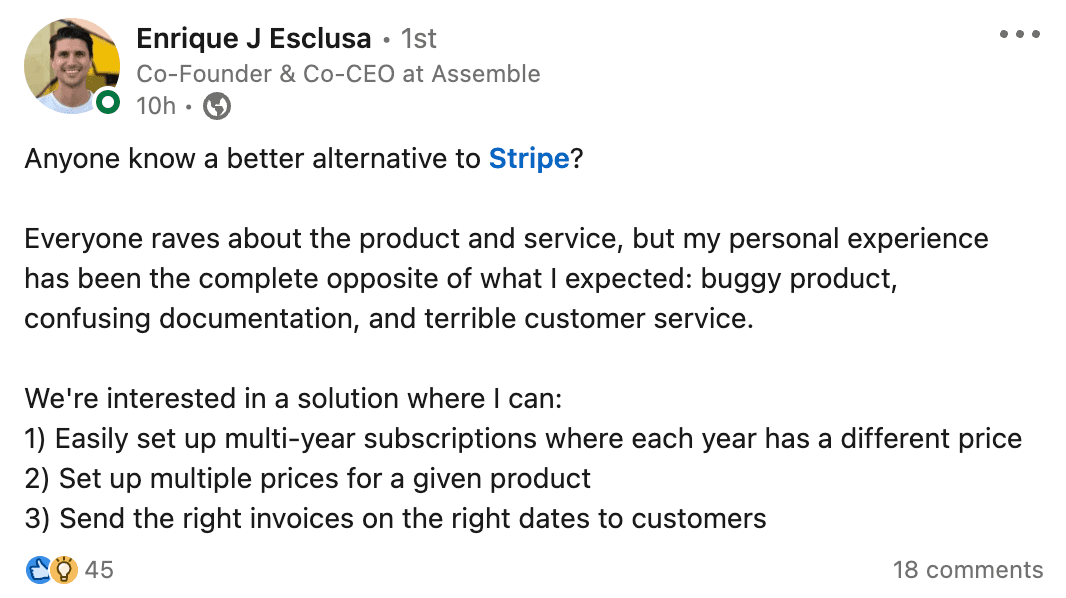 Enrique Esclusa searching for Stripe alternative
Chargebee
Chargebee offers many of the same benefits as Stripe (namely a strong set of APIs) with the ability to handle high data volumes while also adding greater flexibility in billing workflows. We also believe that Chargebee offers a better user experience than Stripe through a more streamlined and modern UI.
The real difference between Chargebee and Stripe at the top of the SaaS billing software list is the invoicing function. Chargebee offers a simple invoicing structure that is better suited for companies that have a traditional subscription aspect to their business as opposed to the PLG model Stripe is renowned for supporting.
We've seen some customers go as far as to use Stripe for its self-serve billing workflows and Chargebee for enterprise invoicing. This mixing-and-matching becomes more common as your business matures and potentially uses a stronger mix of PLG and sales-led motions.
Ordway
Ordway is a newer player in the field of SaaS billing software but they've quickly made a name for themselves in the upper echelon of options. The value of this platform is in the strength of its APIs and its ability to handle the most complex SaaS billing workflows.
Because Ordway was built initially with SaaS in mind, it has addressed some of the biggest pain points of automating subscription management for enterprise sales. Complex upsell and contract changes are easy to manage in their UI. And Brian Weisberg, CFO of Tidelift, has gone as far as to say "it's the first time in my career that I have not had buyer's remorse with a billing and subscription management solution."
That's high praise for Ordway. The only potential pitfall is that Ordway doesn't have the history of vendors like Stripe or Chargebee. However, we've partnered with Ordway over the last couple of years and have confidence in their team.
SaaSOptics / Chargify / Maxio
In early 2022, long-standing SaaS billing software vendors SaaSOptics and Chargify combined forces to become Maxio.
One reason these tools came together is that the traditional SaaS billing tools weren't keeping pace with the advancement of APIs that companies like Ordway, Stripe, and Chargebee were offering. However, these tools have been working with SaaS businesses longer than most and have a deep understanding of the needs and pain points.
The result is two key benefits of working with SaaSOptics/Maxio. First, the level of customization and flexibility in this platform matches the advancements made by the likes of Ordway. If you're doing complex enterprise deals with multi-year contracts and pricing step-ups, you can be sure Maxio will handle it.
The second benefit is that SaaSOptics has always offered more control over MRR than other billing platforms. Instead of trying to derive MRR numbers from billing data, SaaSOptics lets you set the MRR for specific contracts. That way, you can always trust the recurring revenue number from the platform and make better use of features like their built-in momentum reporting.
While Stripe, Chargebee, and Ordway cover a wider array of use cases, we still think SaaSOptics/Maxio is a good option for companies focused solely on lower-volume enterprise contracts.
The Mosaic Difference: Filling Knowledge Gaps for SaaS Billing Data
No matter what a SaaS billing platform promises, there will always be a glaring problem for finance teams — how do you take the massive amount of transactional data from a billing system and make sense of it from an MRR perspective?
The billing process doesn't exist in a vacuum. Taking care of invoicing, payment processing, and subscription management is just the first step. You then need to understand that data and put it to use in your reporting and planning cycles. But billing systems are too rigid to make sense of complex MRR definitions.
This is where Mosaic comes into play. We take a standardized approach to billing data integration, mapping your transaction-level data to metric definitions for the business as a whole. And this starts with a granular understanding of MRR.
While subscription management tools are valuable and the likes of ChartMogul or Profitwell can give you some level of visibility, they aren't enough to meet the needs of FP&A workflows. That's what Joel Blachman, finance and business operations lead at Amper, found out when evaluating potential planning and analysis platforms.
"I spent a lot of time evaluating tools like Chargebee and SaaSOptics. And I thought that's what we needed. They had a lot of great capabilities on the revenue side, handling complex account structures and revenue recognition. But I realized that was only part of the picture."
Mosaic integrates your billing data with your other critical source systems — your CRM, ERP, HRIS, and data warehouses — to provide a holistic view of financial and operational data in your business. We make sense of complex SaaS billing data so you don't have to. And we pull it together with context from the rest of your business so you can focus more on strategic planning and analysis.
Want a deeper dive into how Mosaic standardizes billing data to improve finance and accounting workflows? Request a demo and let us know which billing platform you're on.
SaaS Billing Software FAQs
Why is specialized billing software necessary for SaaS businesses?
The recurring revenue and subscription model in SaaS makes a specialized billing platform critical to operations. Complex requirements for recurring billing, usage-based pricing, discounts, upsells, step-up pricing, and more are almost impossible to handle manually and surpass the capabilities of non-specialized billing software like QuickBooks Online or Bill.com.
What are the common limitations of SaaS billing software?
How does Mosaic differ from SaaS billing software?