The Financial Model Template Trap (and How to Build Your Own Model)
A one-size-fits-all financial model template might sound like a good resource for saving time and getting control of your numbers. But it doesn't exist. What you really need is something flexible that captures every unique aspect of your startup and makes it easy to collaborate with stakeholders—and that kind of financial model can't live in a spreadsheet.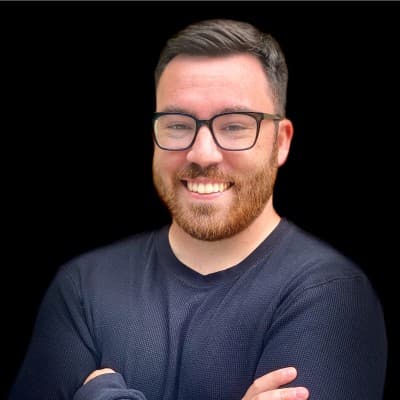 Joe Michalowski
Director of Content
Published on December 1, 2020
Financial modeling is a way to paint the picture of your company's current financial situation, including its revenue and expenses, as well as the plan for the future.
But organizing all the financial data necessary to build an accurate model is complicated and time-consuming. It's why so many startup founders and early-stage finance leaders (and even CFOs) search for a financial model template to get a head start.
Don't get sucked into the idea of a one-size-fits-all financial model template. To truly capture the uniqueness of your business, replace Excel templates with a solution that connects to the systems you use to run your business to provide real-time access to financial data.
What Is a Financial Model?
A financial model is a framework that businesses use to predict likely financial outcomes based on a set of defined goals and historical financial data. Financial modeling is part reporting and part forecasting. Done well, a financial model helps startup leaders take control of their numbers and make better strategic business decisions.
How to Build a Financial Model for Your Startup
There's no one-size-fits-all way to build a financial model for your startup. That's why, when you look for a financial model template, you find a seemingly endless list of different models to choose from.
Should you build a 3 statement financial model to link your primary financial statements together? Should you take the corporate finance approach to come up with a SaaS valuation based on discounted cash flow in a DCF model? Do you need a sales capacity planning template for top-line modeling? Or, should you put together a standard operating budget model to get a handle on your revenue and expenses?
Depending on whether you're raising a new round of funding or just bringing more rigor to financial planning, the answer might be yes to all of the above.
Financial modeling as a means to better understand your business doesn't just require individual templates for specific use cases—it takes an overarching model that details the entire business.
And to build one of those, you need to focus on the four basic building blocks of a financial model.
4 Components of a Financial Model
There are four distinct components of a financial model—headcount, top-line, expenses, and balance sheet.
The strength of your financial model will depend on your ability to connect these components to the underlying business systems that supply them with the necessary historical data.
Headcount: Connect to your HR system to pull employee and salary data as well as any information about your hiring plan.
Top-Line Revenue: Pull CRM data to assess your sales pipeline metrics and map out your plans for revenue growth rate.
Expenses: Sync all accounting records from your income statement, funneling information from your ERP and billing systems to understand all operating expenses.
Balance Sheet: Connect to the ERP to run real-time cash flow analysis, create a more accurate cash flow forecast, and maintain up-to-date balance sheets and cash flow statements.
High-growth startups can't waste time updating financial models with actuals from their ERP, HRIS, CRM, and billing systems every time a stakeholder wants to see the latest projections. You could go straight into these systems to get some basic data in the moment, but individual data sources on their own aren't enough to support strategic financial decision-making.
Strategic finance starts at the intersection of these core systems of record. With Mosaic, the four building blocks of a financial model become intelligent building blocks that connect to go beyond the abilities of a basic Excel file or Google Sheet. Real-time actuals automate 80% of the work of traditional modeling, so you can easily change your assumptions and customize business plans for new business situations.
1. Headcount Planner
Mosaic integrates with your HRIS, so your financial model captures the fully-loaded cost of employees. This visibility is incredibly important for headcount planning, general financial analysis, scenario analysis, and sensitivity analysis in a SaaS company because headcount is the biggest driver of spend, accounting for as much as 75% of total expenses.
The Headcount Planner pulls data from Gusto and other HRIS solutions to ensure you always see updated information about active employees—their names, departments, roles, start dates, salaries, benefits, taxes, and more. Right from this view, you can add information about your hiring plan and start projecting out headcount growth. Below, you can see we added five forecasted hires to the sample model as an example.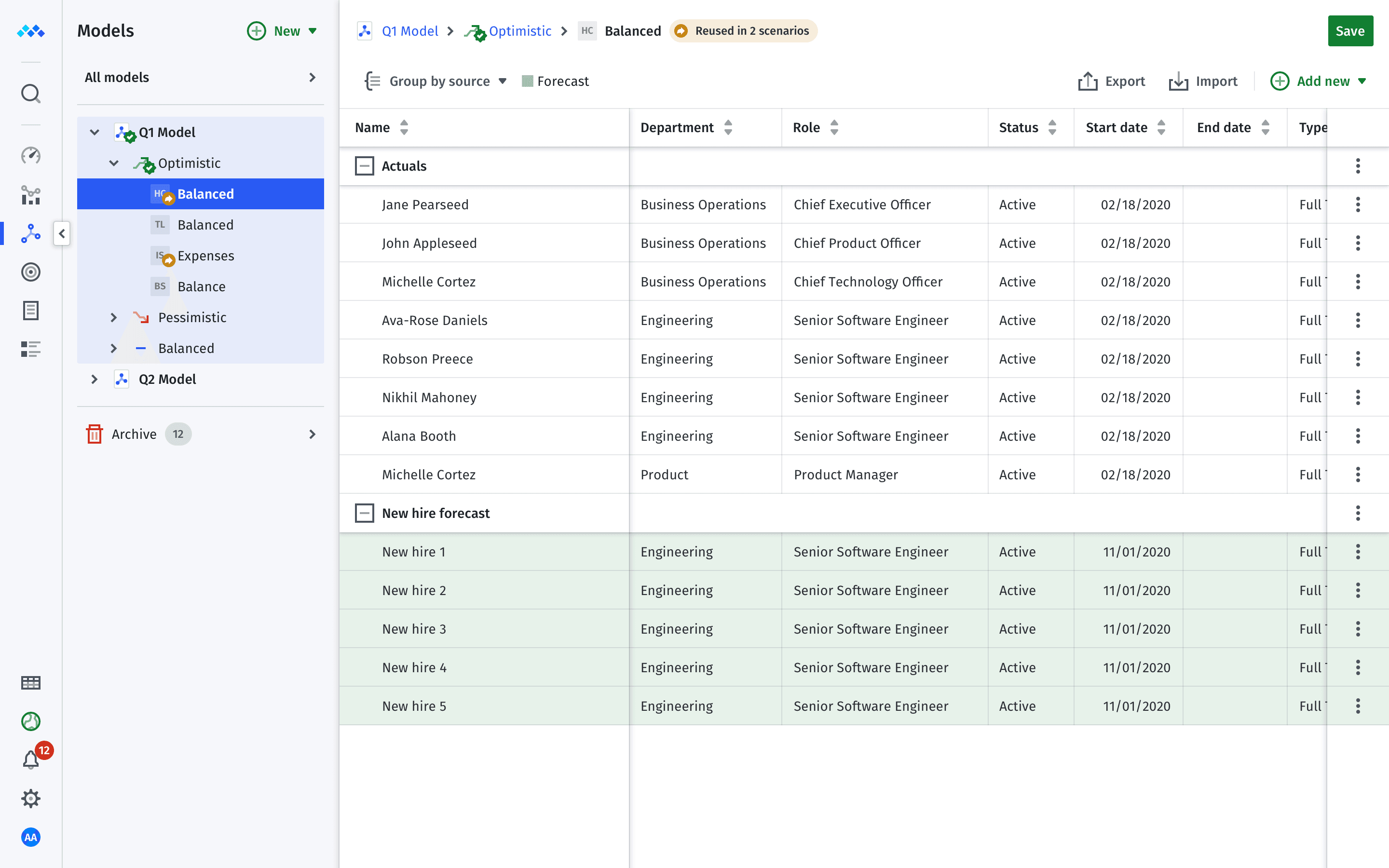 Forecasting new hires in Mosaic
Mosaic keeps up with the latest actuals, matching new employee records with expected hires in your forecasting model. When the Headcount Planner recognizes that new records match one of your forecasts, it will slot the employee into your actual headcount so that your model stays in sync with the business.
2. Top-Line Planner
A strategic financial model requires visibility into new and existing customers as well as data from your sales pipeline, which lives in your CRM.
Mosaic connects your financial model to CRMs like Salesforce and HubSpot to give you the building blocks necessary for accurate revenue projections. In the screenshot below, you can see how Mosaic leverages data from your CRM to help you map out revenue growth and your top-line plan for next month, next quarter, next year, or over the next 5 years. You can see ratios and metrics like new business bookings, the number of opportunities created, conversion rates, customer acquisition cost, the average length of your sales cycle, and the average sales price of each contract all in one section of your model.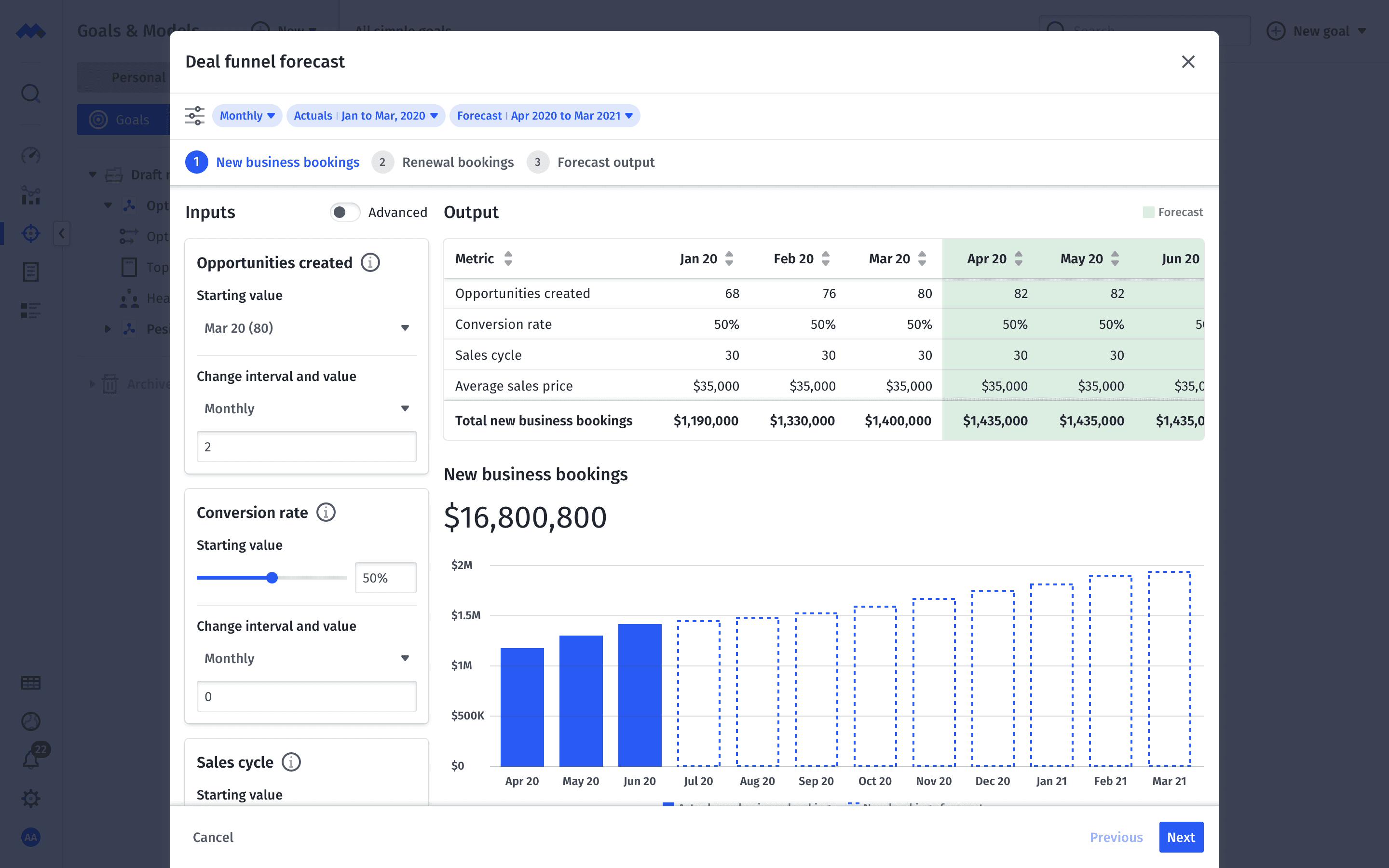 Topline Planner for revenue projections and pipeline planning in Mosaic
From here, you can change inputs like sales price and number of opportunities to start testing assumptions in your forecasts. We've prebuilt a few best-practice templates for sales quota attainment and renewals/upsells to help you plan top-line scenarios based on your specific business model.
3. Expense Planner
Mosaic connects to ERP systems like QuickBooks to automatically map GL accounts into customizable categories that flow through to your financial model.
This can often be the most time-consuming part of building a financial model—going through and manually entering data for hundreds of GL accounts in your Excel model. Even if a template gives you some generic categories and dummy accounts to work with, they won't reflect your business. Mosaic pulls actual expense data from the ERP in real-time, so you're always working off of the best chart of accounts structure.‍
Mosaic's integration of ERP data establishes the structure of your financial model and gives you the flexibility to change assumptions at the account and department levels. For example, if your sales and marketing departments travel more than your G&A function, you can easily model that.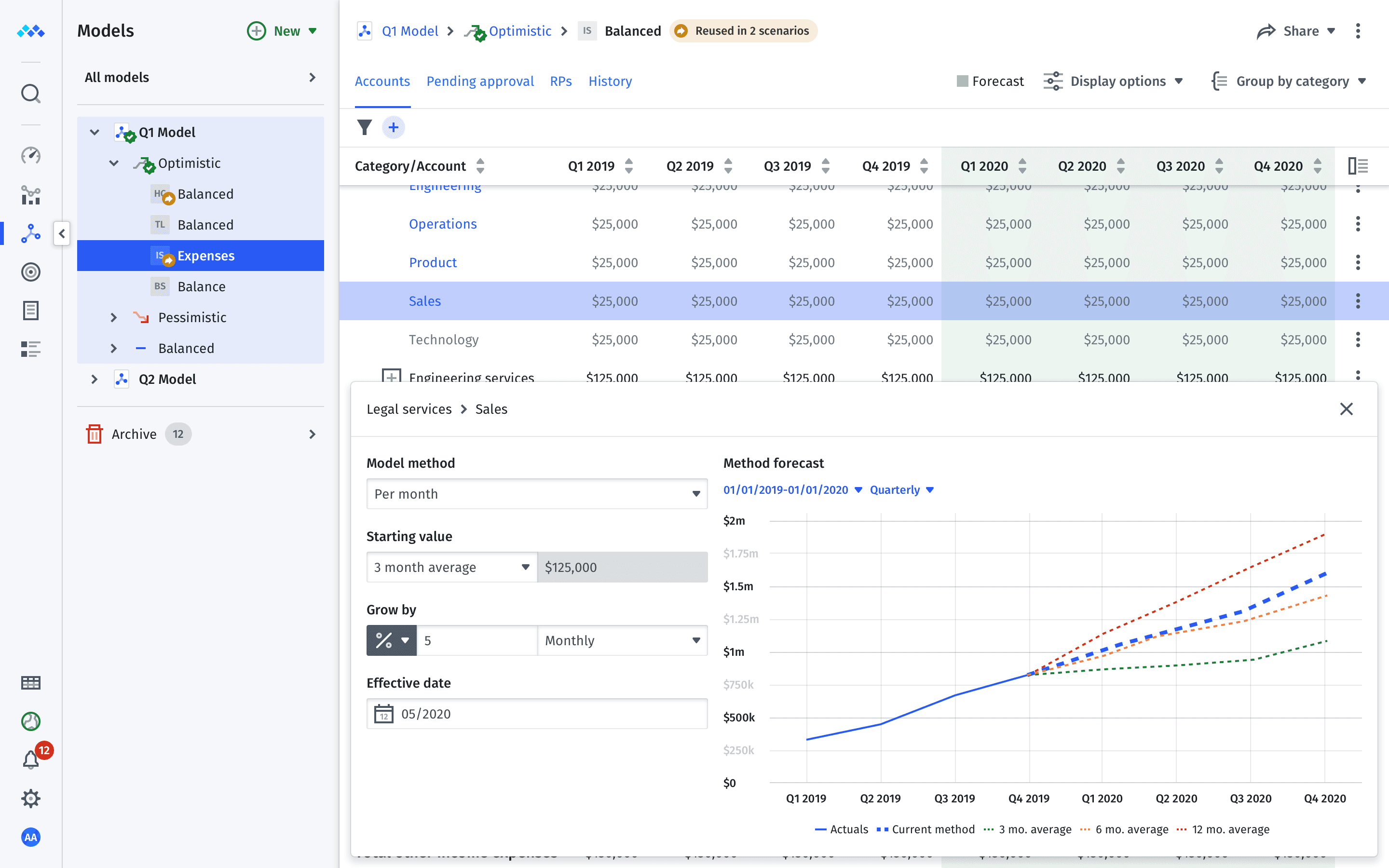 Modeling expenses at the account category level in Mosaic
Within the Expense Planner, you'll find prebuilt model methods, like per month value, per head value, and percentage of account. Mosaic automatically calculates historical averages that dynamically update, saving you dozens of hours each month. You can apply these model methods to forecast for any GL account. For example, you can use the software to model payroll taxes as a percentage of salaries or commissions as a percentage of revenue.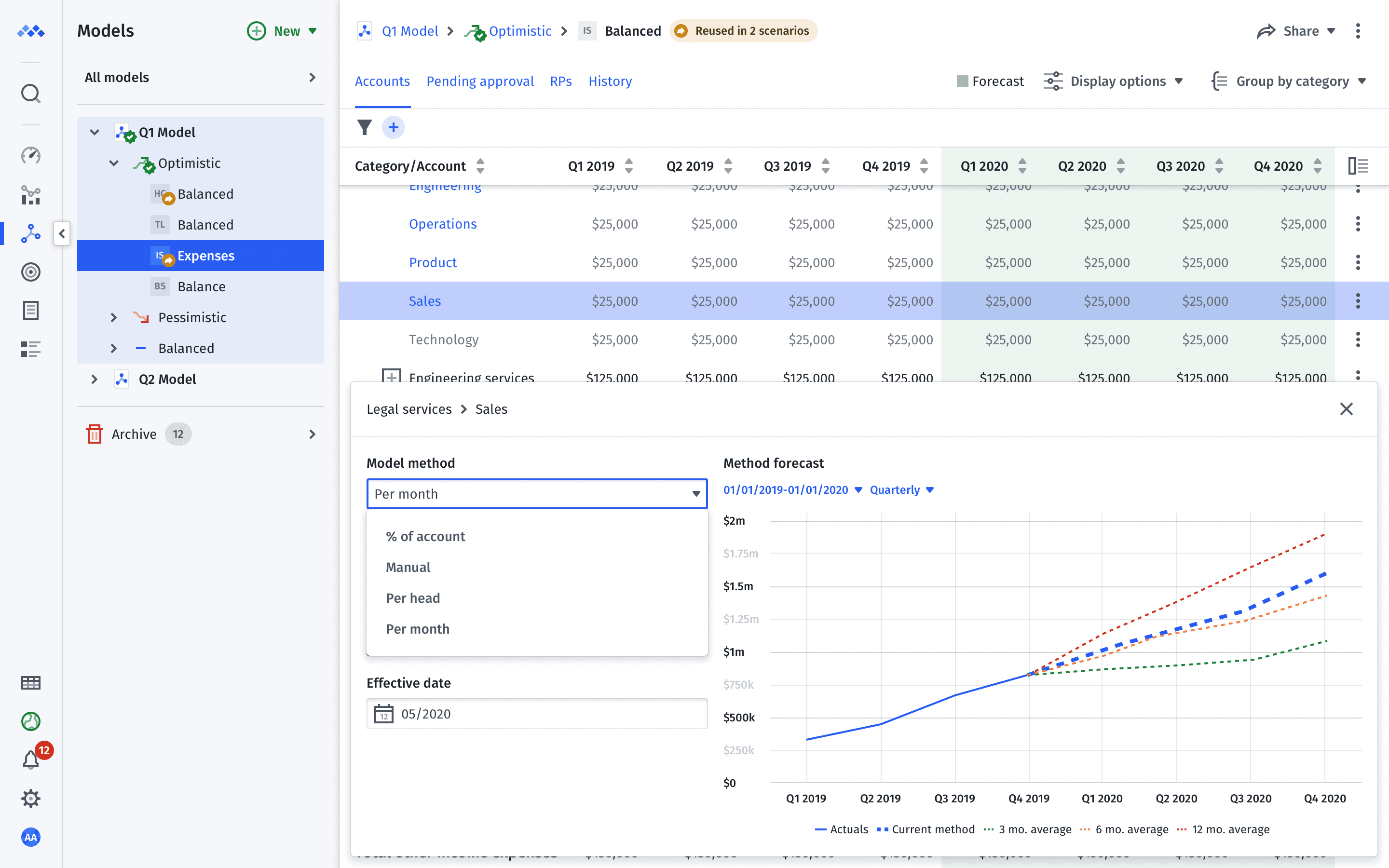 Model methods for expense planning per head, per month, or as percentage of account in Mosaic
4. Balance Sheet
Mosaic's Balance Sheet makes it easy to understand your net working capital and cash collections.
Maintaining precise control of your cash and keeping everything balanced will make your financial forecasts more reliable and support your position as a strategic business partner. You can also easily add major outlier events that impact cash inflows and outflows, like major capital expenditures (i.e. a big software purchase) or raising capital in a funding round.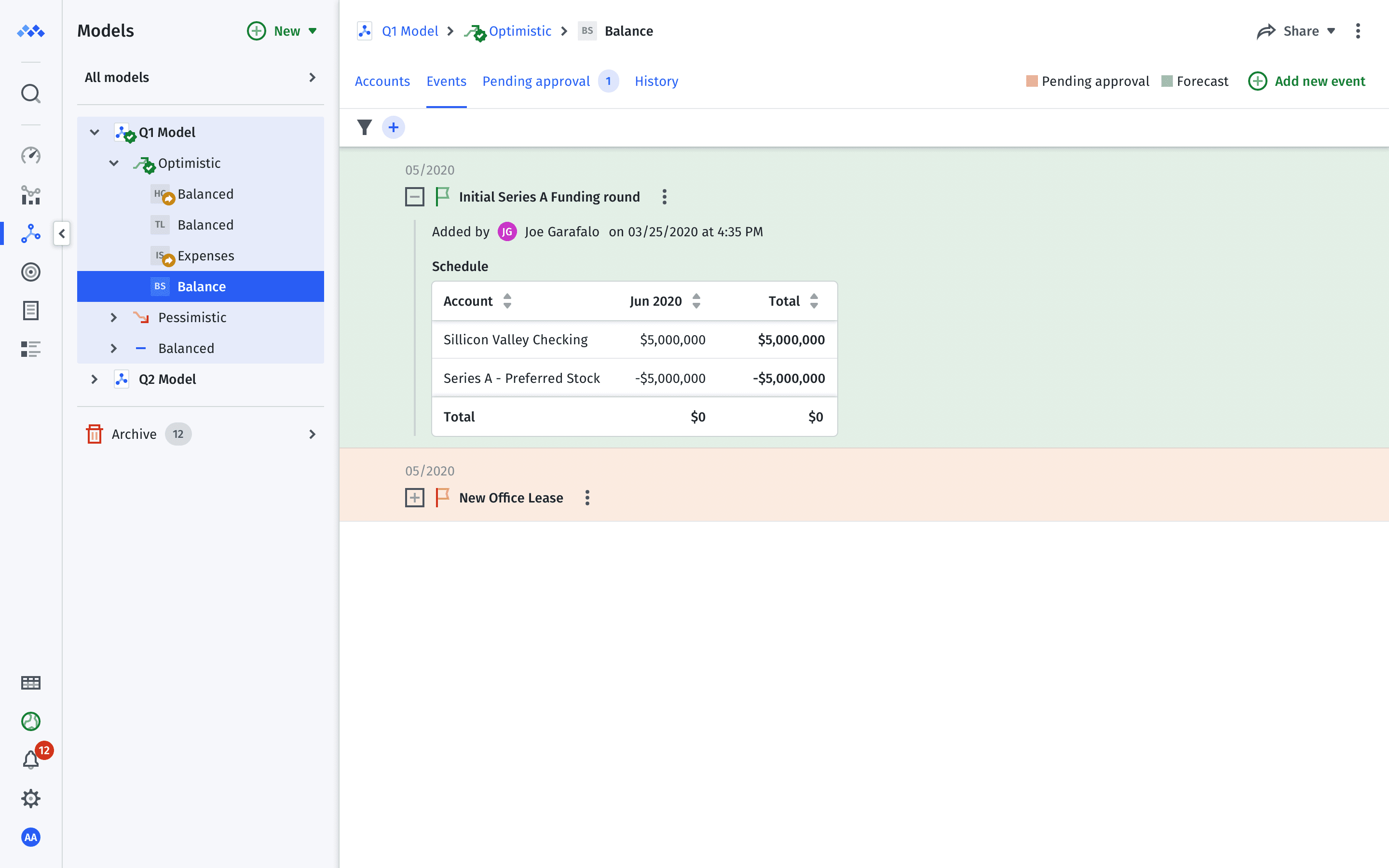 Cash flow control using the Balance Sheet planner in Mosaic
Because the Balance Sheet connects to the Headcount Planner, the Top-Line Planner, and the Expense Planner, you'll see the cash impact of different scenarios, assumptions, and hiring forecasts in real-time. It's a way to do your balance sheet forecasting on a more granular level and maintain an accurate view of your cash.
Excel Financial Model Templates vs. Financial Modeling Software
If you're looking for a financial model template, it's because you want to short-circuit the complex and time-consuming process of building a spreadsheet from scratch. But trust me when I say, it just doesn't work. No matter how great that financial projections template looks on the surface, you're going to spend countless hours tearing it apart to account for the assumptions that are unique to your business.
The problems with downloadable templates stem from the fact that they still force you to do your modeling in spreadsheets. Even if you take the time to tear a revenue model template apart and make it reflect your business, you're left with a confusing spreadsheet loaded with assumptions that make it difficult to collaborate with other business leaders.
This level of complexity has consequences, including:
Error-Prone Modeling: With so many interwoven financial assumptions and hardcoded cells, all it takes is one mistake to cause a ripple effect that throws off metrics across the model.
Limited Collaboration: By the time you finish building out your bespoke financial model, you're the only one who can understand all the assumptions powering the outputs. This makes collaborating with key business stakeholders frustrating or altogether impossible.
Inability to Track Performance in Real Time: It could take days to pull your actuals into a spreadsheet-based financial model, making it impossible to answer critical performance questions at the pace your business demands.
Strategic finance requires dynamic financial modeling software that automatically updates with actual data and reflects the ever-changing assumptions across your business in real-time. These things just aren't possible in a spreadsheet.
Don't Settle for a Spreadsheet-Based Financial Model
Don't settle for a spreadsheet-based financial model template that can't keep up with your business. When you create models with our Strategic Finance Platform, intelligent building blocks give you the real-time insight and flexibility to build forecasts step by step and ensure you're always hitting your numbers — no matter how quickly your startup grows and evolves.
Want to see how you can automate the most tedious parts of financial modeling so you can focus on everything else that's more strategy? Get a personalized demo and learn more.
Financial Model FAQs
What is financial modeling?
Financial modeling is the practice of forecasting financial outcomes for a business based on historical data and a set of defined goals. Financial models offer insight into a company's financial situation, including revenue, expenses, and estimated future performance.
Why is financial modeling important?
What are the types of financial models?
What makes a good financial model?